Brighten Up: We Have A Slot For YOUR Favorite Color!
Are you passionate about the intensity of a fiery red? Are you a cool, calm, and collected blue, floating on a wave of serenity? Or are you unapologetically brazen and ready to take on the world like the boldness of pink?
You can find every hue in the entire spectrum of colors beaming all around you right now. Inspiration is everywhere!
So, what color will you be today?
If there's a color you always veer towards in a clothing store or if you're simply loving the yellow sunshine or the bright blue sky today, then scroll down to find that color in this list. We'll shine a beam of light smack dab on the perfect SlotsLV online slots to match it.
It's a colorful lineup of online slots to go with such a colorful world. The only question left is which color will determine your top slot online. There's only one way to find out – let's Pantone it up!
PINK: Cyberpunk City
If you love pink, you may be tender-hearted, compassionate, and kind…but then again, you just may be totally punk rock! Pink all depends on how you wear it.
In Cyberpunk City, the cyborg chick who rules the reels has her own idea of pink. Sure, she's feminine, but you'd better believe that she can blast your socks off with that laser gun she keeps poised over the reels.
The city she lives in is a dark one, to be sure. It always feels like nighttime with an eerie atmosphere and neon lights shining hazily from the smoke. But the moment you see her tall pink mohawk saunter from around a dark corner, you know it's about to get good.
Expanding Wilds, random Wilds, and a random progressive jackpot will all have you tickled pink as you discover them within her slots game. And if pink typically stands for love and affection, there is no doubt that you'll be loving prizes like that!
ORANGE: Oasis Dreams Hot Drop Jackpots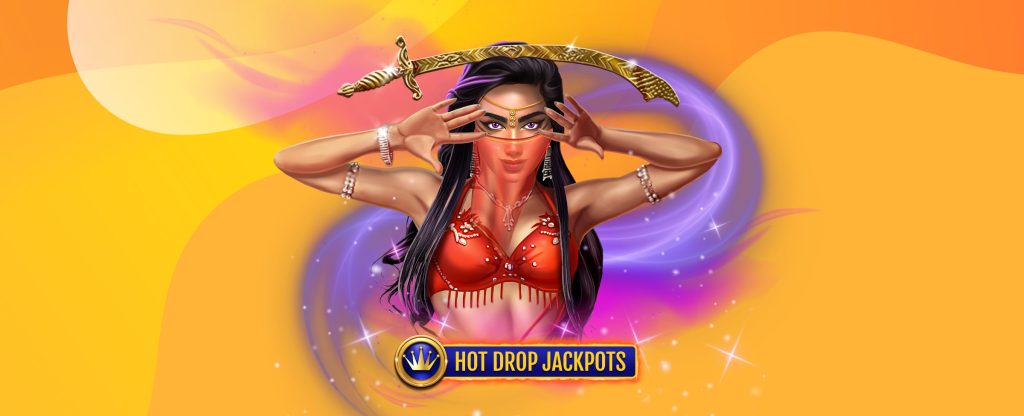 If anyone's ever told you how warm and fuzzy you make them feel, you just might be the type of hue-man who loves the color orange.
In that case, you'll need a slot like Oasis Dreams Hot Drop Jackpots that simmers with the same pleasant zest for life that you do.
An enchanting orange-purple hue paints the sky, and orange-gold sand creates small mounds throughout the Arabian desert. A royal palace stands erect with its towers of glowing orange, and you follow your instincts to slowly wander inside.
Two treasure chests beckon you to open them and claim your slots prize of a hold and spin game or free spins. You may also win one of three Hot Drop Jackpots, two of which are required to trigger by a certain time!
Anyone who loves the color orange is sure to attract like-minded friends with their positive warmth. If you refer some of those friends to SlotsLV, you can get one of our top casino promotions via the referral bonus. That means you get a bonus just for having them sign up and successfully deposit!
YELLOW: Bonanza Billion
Someone who is attracted to the color yellow must be feeling upbeat and happy. Well, we're taking that vibe and spreading it around with this next slot.
In Bonanza Billion, it's all smiles since you don't have any paylines to worry about. Inside this classic fruit slot, all you need is the same symbol to appear a certain number of times to win. You'll continue to feel happy-go-lucky when you trigger the free spins round with at least four colorful Pinwheel scatters. During this bonus round, multipliers of up to 100x sprinkle some with extra cheer and happiness on your play, too.
If you want to get into an uplifted mood a little faster, you can select the Chance x2 feature – a cool new feature that maybe you haven't tried before – which increases your chances of starting the slots free spins!
RED: Caishen's Fortune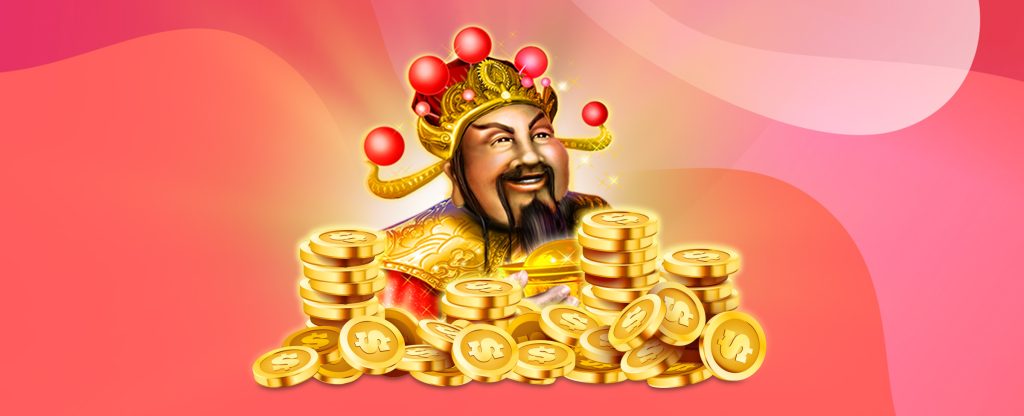 Dear red-lovers: your passion burns as red-hot as a fiery flame. Your aura emits power in brilliant, crimson waves, rolling outward until they meet with the only other force in the universe that can match your own command for attention. It's the god of red himself, Caishen!
But hang on a minute! Red is not only the color of passion and power; according to Chinese tradition, red is also the color of prosperity. In Caishen's Fortune, prosperity flourishes on the reels, and anyone who embraces the color can embrace the challenge to find it.
The Chinese character "Fa" symbol triggers one of Caishen's favorite slots features which is a selection of free spins and multipliers, bursting forth from a rich red backdrop and the steady melody of a Chinese pipa.
PURPLE: Luxe 555
When you love the color purple, you expect nothing short of the highest standards of royalty and luxury. If you're feeling purple today, please accept this luscious silk robe and follow us to the golden swinging doors of the Luxe 555 slot.
There's a plush leather sofa to sink into and luxuriate in the prestige of free spins with your choice of an added feature. If the multipliers on the reels don't suit you, your Highness, feel free to reach out and adjust them up to 5x each.
Since SlotsLV is a best Bitcoin casino, you can enjoy an elevated experience of online slots with a crypto deposit. It takes just minutes to complete a transaction with crypto, and there's bigger bonuses too. That's the type of luxury a lover of purple would expect!
BLUE: Lady's Magic Charms Hot Drop Jackpots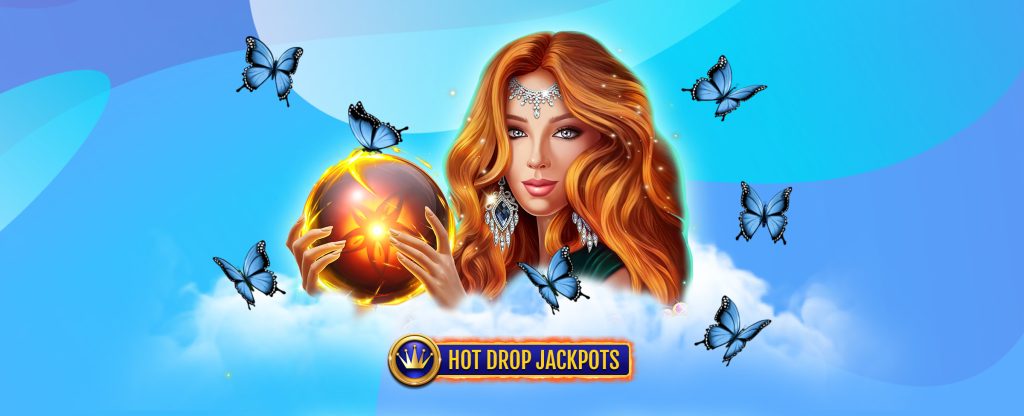 A blue day is far from a day that's sad. It's a day that warrants calm introspection that's still like a forest lake. A moment of tranquility. Take a deep breath and smell the aroma of flourishing nature topped by a clear blue sky. You're inside the Lady's Magic Charms Hot Drop Jackpots!
The red-haired lady is surrounded by shades of gentle blue. Her presence alone has you melt like water into her home. When she rubs her scatter crystal ball, three of them trigger a major prize out of the blue – like 15 free spins with tripled wins.
If you manage to find three crown symbols while meandering through her forest, the lady will invite you to spin a special wheel for one of three SlotsLV Hot Drop Jackpots. A jackpot is won every hour and every day. You might even win the big Epic Jackpot before it hits, which will drive those blues far, far away!
GREEN: Larry's Lucky Tavern
If lush, green nature fills your soul with joy, then Larry's Lucky Tavern is the green game for you!
Larry the Leprechaun has a traditional Irish pub in the middle of a flourishing green field. No one knows exactly where it's located; possibly somewhere between a dream and a wish. To find it, just close your eyes, think of the color green – the color of the money, of course – and use your thumb to hit "spin". You won't even mind if it turns that thumb green!
The slots prizes in Larry's bar grow like grass, including 10 free spins with tripled wins and an expanding wild on reel 3. You can even rub the four-leaf clovers playing card symbols for that green-filled luck of the Irish. Then who knows? You might find yourself in the bonus round selecting beer kegs to collect a prize!
Well, color me rich! These slots online based on your favorite colors are sure to brighten your day. Remember, your favorite color can change on a whim just like your favorite game, so don't hesitate to paint the town red (or green, or purple!) and try every one of these games at SlotsLV Casino!