Badda Bing, Badda BIG Winners at SlotsLV!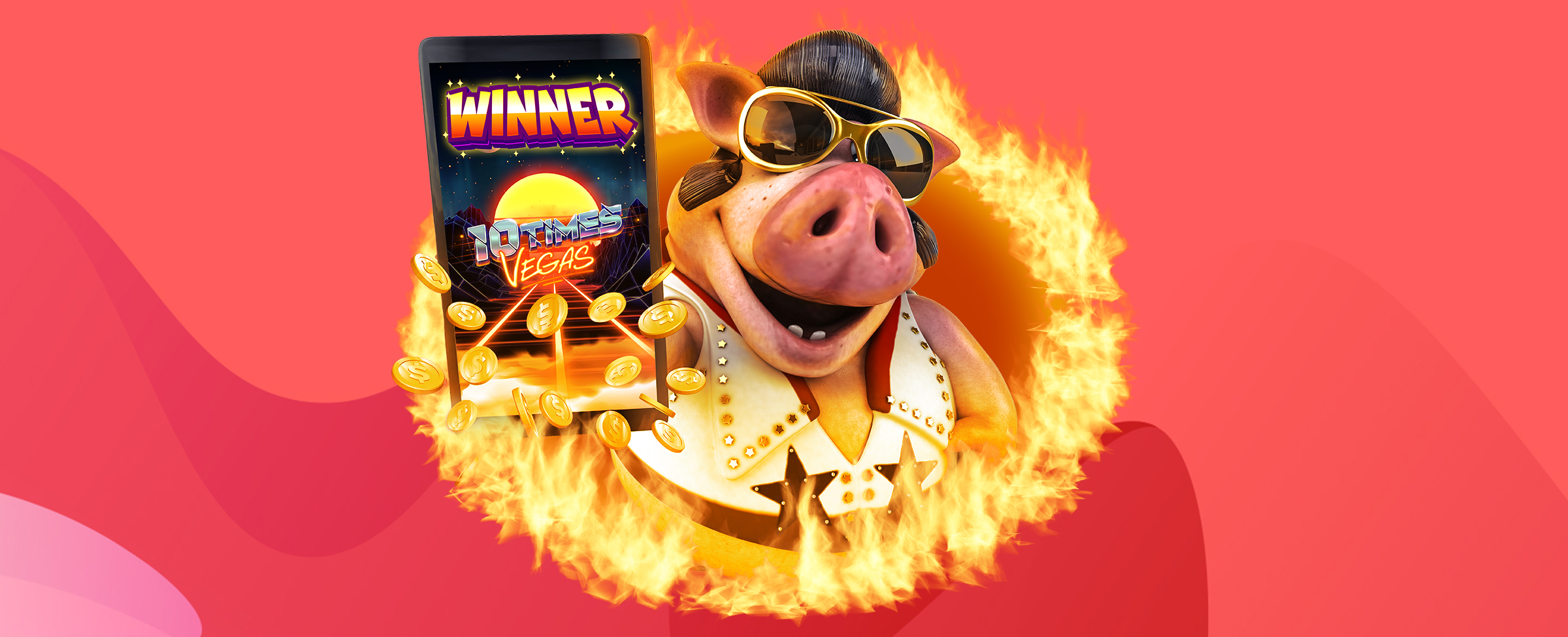 The weather might be getting colder, but these latest SlotsLV big winners are getting hot hot hot with blazing wins!
Among the 100+ online slots we offer, a few of our heavy hitters have struck again – like Reels and Wheels XL and 10 Times Vegas – but you'll also see some other games this time around, and they are carving out their legendary status by supplying their own massive SlotsLV big wins.
It's time to celebrate with cheers all around before we flip the focus back onto you and ensure that you have the know-how to win these games for yourself.
At SlotsLV Casino, fresh big winners are sprouting up every single day, and like you, they began with a single spin.
Hip hip hooray! Let's see who's rolling in the dough from last month.
Alex V. from TX won $508,644 on Mystic Elements
They say that everything's bigger in Texas, and it seems that Alex V. would know the truth behind that saying quite well!
Alex was living it up inside the magical world of Mystic Elements, dreaming of a place with prizes as big as the Lone Star state. Over 5 reels and 3 rows, Alex witnessed the elements of earth, water, wind, and fire release their power over the slot paylines.
Alex may have gotten up to 150 free spins inside the free spins round after retriggering, but it's far more likely that the progressive jackpot swooped in when five light symbols appeared during the feature. Then Alex sprung from the chair into the sky, and gave a big shout of woo-hoo! and thanked the elements that had set the universe on fire, then rained cash down upon the earth before a gust of wind blew it all in Alex's direction for this mammoth win!
Brian K. from MN won $225,000 on Cyberpunk City
Minnesota may be known for its 10,000 lakes, but now, thanks to Brian K., Minnesota is known for even more!
It's now the home of one of our big slots winners from last month, who won a whopping $225K on a very popular slots game.
Inside Cyberpunk City, Brian had to get chummy with some half-human, half-machine friends as they pillaged the dark alleyways for loot. He stayed strong as scary cyborgs expanded into Wilds and random people in the city turned Wild at any given spin.
Then when he least expected it, the random progressive jackpot fired up from the gutter, and Brian became $225,000 richer than before.
If you have enough courage to brave the reels inside Cyberpunk City, be sure to refer a friend to join you. We'll give you a casino referral bonus for every friend who successfully deposits.
Jermaine M. from FL won $193,050 on Reels and Wheels XL
When it comes to colorful games that are full of good luck, no one knows a great game better than Jermaine from Florida.
Jermaine won $193,050 when he took a deep dive into the sea of colors inside Reels and Wheels XL, and came back up for air a few minutes later with gobs of retro colors decorating the cash dripping off his drenched clothes.
And Jermaine wasn't the only one who benefited from this ever-paying slots game…
Jason C. from CA won $140,248 on Reels and Wheels XL
Jason C. from California, clear on the other side of the country from Jermaine, also got his share of good times and good wins from Reels and Wheels XL!
How did they do it? Like we cover in our Reels and Wheels XL slot review, all it takes is two bonus symbols on reels 1 and 3 and a wheel symbol on reel 5 to take the first step toward the jackpots with the Bonus Wheel. Then you can spin for either multipliers reaching 500x, or the Jackpot Wheel itself.
If you make it to the Jackpot Wheel, you can get one of five progressive jackpots, and join Jason C. in the ranks of SlotsLV winners!
---
If you want an even more thrilling way to win a jackpot, you could try our SlotsLV Hot Drop Jackpots. They come with a jackpot that must drop every hour of every day.
---
Viken K. from CA won $165,010 on Caesar's Victory
Viken, from California, collected some victorious wins inside one of our most profitable games: Caesar's Victory.
When you enter the colosseum to spin for your prizes, you just might catch Viken sitting beside Caesar himself, both in togas in the stands.
Then you might notice their approving glances as you spin and collect the 10 free spins when one or more Caesars appear alongside the Horse symbol on reel 5.
While you're engrossed in the fight for more slots prizes, at any minute the random progressive jackpot could strike, and Caesar, Cleopatra, your horse, and Viken will all cheer you on as a hero for having the biggest victory of all.
Andrea G. from IL won $102,438 on 10 Times Vegas
We don't know for sure if Andrea was actually in Vegas when she scored it BIG on the 10 Times Vegas slot, but we can safely assume she most certainly was feeling as grand as any of Sin City's iconic landmarks.
In true Vegas fashion, this game is one of the best classic slots with a modern twist. There are dazzling lights and sounds, but only 3 reels and 3 paylines to grip your attention. While that may be modest among some of the more beefed-up slots online, like most things in Vegas, the experience is spectacular, and you don't need much else to make it big – just ask Andrea!
Wild Multipliers are your biggest prize here, and landing just a few can catapult your balance. If you land the right series of spins via the Wilds, you can be rewarded a Jackpot Spin with special symbols that can award the big progressive jackpot. Then you'll join Andrea on the podium of SlotsLV big winners!
Get Your Winnings Faster with Crypto
So what happens when you've spun the reels and won big like these big slots winners? Well, you get to withdraw your money and spend it however you want!
If you want to get hold of your money as quickly as possible, then the best way is to deposit and withdraw through cryptocurrency. Since SlotsLV is a crypto-friendly casino, you can choose the right crypto for you and have your payday ready within a matter of minutes once your transaction is approved.
Then you'll be dancing a jig and singing a song for the ages, because you're the latest big winner to make a splash at our online casino, and you didn't even have to wait for your winnings to celebrate!
We are more proud than ever to present to you these recent SlotsLV big winners! Tons of players are spinning the reels every single day, and when that jackpot drops and showers cash on a lucky player, they get a special audience and all the fanfare right here. With every spin comes that chance to have your own name up in lights, so future winners will want to run to the front of the line to play these SlotsLV online slots. We can't wait to celebrate with you!