10 Games To Love On Valentine's Day
If you're looking for a place to celebrate Valentine's Day, then look no further! With these SlotsLV slots to play in February, we know you'll LOVE it here, especially since "LOVE" is almost part of our name (in fact – it's closer to lots of love!).
Love is pretty much our motto, whether we're talking about Valentine's slots, loving new features, or loving you for coming back to your happy place again and again. There's always something to love at SlotsLV Casino, and we want to show you the best Valentine's Day slots as the whoa-mance! of big wins wash over you throughout the entire month of February and beyond.
Ain't love grand?
Golden Buffalo
If you're looking for something new and interesting to do this Valentine's Day that goes beyond your typical dinner and a movie date, why not go on an adventure?
With Golden Buffalo, you can see a whole new side of things as you bound through the canyons in search of the elusive buffalo with his glistening gold fur. You will be working as a team with the buffalo when you find him, to cover more ground over 4,096 ways to win, stopping occasionally to warm up by the fire before the whole canyon comes alive again with multipliers reaching up to 3,125x.
777 Deluxe Hot Drop Jackpots
Whether you're celebrating Valentine's Day by practicing self-love, or by loving someone else, everyone deserves to live it up in February with the finest life has to offer.
Inside 777 Deluxe Hot Drop Jackpots, you discover what it truly means to be deluxe. Seven is not only the number of luck; it's also a symbol that can bring you wealth via a multiplier bonus game awarding up to 50x. And, with three must-drop jackpots that are configured to trigger every single hour, day, and by a set dollar amount, there's no doubt you'll be experiencing a deluxe time with the prospect of a massive win that must trigger dangling before each and every spin!
Instant Inferno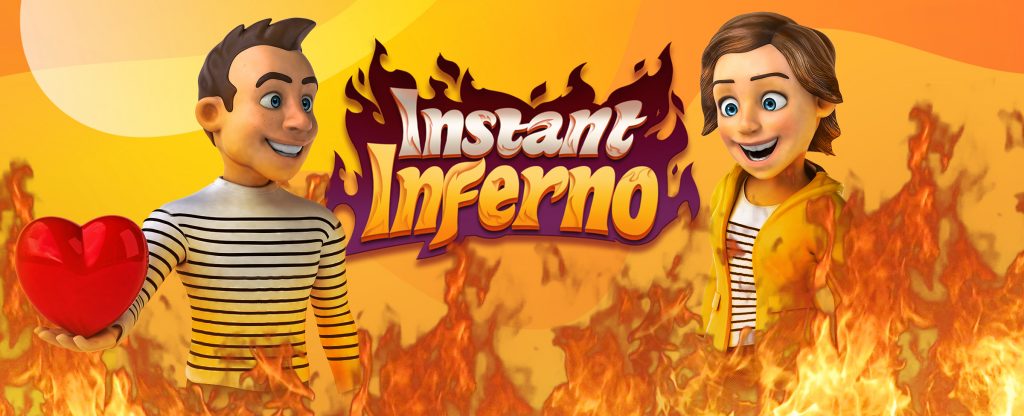 Anyone who's ever been in love is familiar with the burning desire that simmers from within, which is why Instant Inferno is one of the greatest Valentine's slots you could play. The flames lick the reels in a fiery passion just like the ones inside of your heart when you first laid eyes on your Valentine.
The prizes in the online slot are just as scorching hot as your romantic love is, with its two scatters, and a Pick Me bonus game where you turn over matching tiles to uncover up to 20 free spins with a set of multipliers.
Gold Rush Gus
Now that your Crazy Christmas, Thanksgiving, and New Year is over, it's time to move onto your next holiday (Valentine's!) – but you won't want to go it alone for this trip.
Gus is the perfect date for Valentine's Day slots: he's friendly, reliable, and rather handsome with his bushy white mustache and killer smile! He'll sweep you off your feet inside Gold Rush Gus, but he won't be using a broom – he'll use a pickaxe! The two of you will hit it off and hit the mines to dig for gold, interactive bonus rounds, and a progressive jackpot.
10 Times Vegas
Love Vegas slots? Then what better destination for a date to celebrate your love than Vegas?! Not just any Vegas trip, however, but one that amplifies the experience! It's time to turn the dial in 10 Times Vegas, where you'll feel 10x the love with each spin.
You just might spot an Elvis impersonator in the distance beyond your 3 rows and 3 reels, and Wild multipliers reaching up to 100x, and, who knows, he just may convince you and your Valentine's date to get hitched!
Since we're a Bitcoin casino, you can then withdraw your winnings ASAP to spend on a Vegas Valentine's date. It doesn't have to be Bitcoin, either, as there's a type of crypto for everyone to use, so take your pick!
Mystic Elements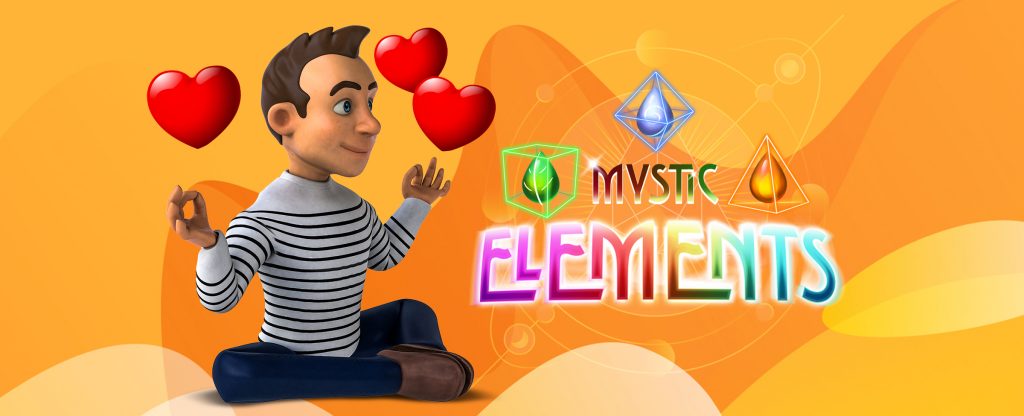 When you're in love it feels like the entire world is changing, bending in magical ways to accommodate your enlarged happiness. When you're blissed out in such a state, that's a great time to fall into the midst of an otherworldly wonder of an online slot like Mystic Elements.
Your singing heart will feel right at home as the universe dances with ethereal light all around you, awarding up to 150 free spins and a huge progressive jackpot when you collect five light symbols, proving that your love really does go to the moon and back!
Reels and Wheels XL
Do you remember your first kiss with your one true love? Your head was spinning, fireworks were lighting up the sky, and you thought this was the greatest moment of your entire life. That magical moment is no longer merely a faded memory, because in Reels and Wheels XL, the captivating, dizzying magic is ignited all over again.
You'll be pucker and smack-dab in that first-kiss moment again with colorfully spinning reels that transform into a multiplier bonus wheel, and then a jackpot wheel. You could possibly even join the list of big winners at SlotsLV, since this game frequently produces big slots wins!
Lawless Ladies
GALentine's Day, anyone? Sometimes the best Valentine's Day is spent with good friends, and that's exactly how these Lawless Ladies see it.
When you get together with these tough and triumphant ladies, you feel unstoppable! In fact, in the case of this slot online, you'll be taking over a small Western town, running from the Sheriff, shooting up saloons for free spins, and having a standoff for the random progressive jackpot.
One thing's for sure: if love doesn't blossom here, you can embrace all the lovable SlotsLV characters. You're going to want them permanently in your friend group!
Panda Pursuit Royal Edition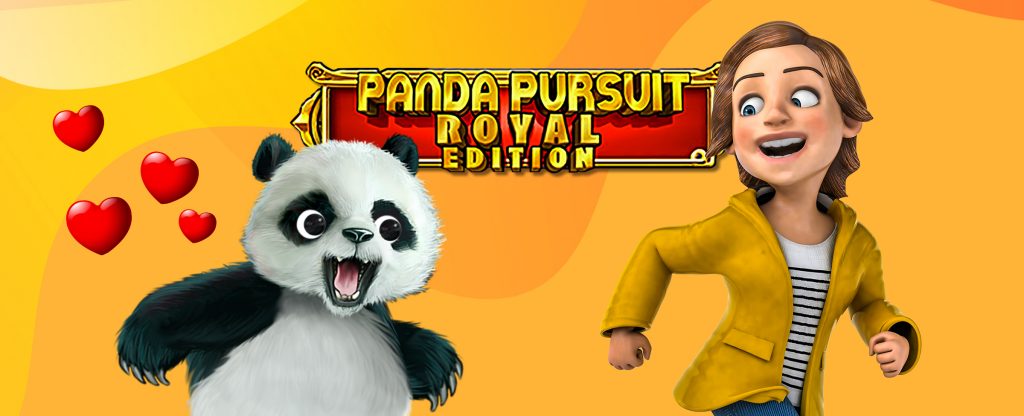 It's the most classic Valentine's gift of all! A big, cuddly bear to make you feel warm and loved, which is especially welcomed whenever you're playing online slots.
This panda knows you love slots! Jump inside the Panda Pursuit Royal Edition game to get to know our perfect Valentine's panda.
He's waiting with big, open arms, and since it's the Royal Edition with 1,024 ways to win and 25 slots free spins with multipliers reaching up to 64x, he's giving you even more to love! How sweet!
Larry's Lucky Tavern
Somewhere on the list of activities you've planned with your Valentine's date, you're bound to have written "drinks". You might even have thought to invite some more friends to come along for a double date with slots. If you do, be sure to grab our casino referral bonus! Love is everywhere…
Pick out a lucky barstool and get settled in at Larry's Lucky Tavern. Larry is the perfect wingman for date night because he'll never leave you dry and he'll help you impress your date with expanding Wilds, a bonus round, and 10 free spins and tripled wins. Larry knows love, to be sure.
Valentine's Day is a moment to celebrate those who you love, whether it's your friends, your romantic partner, your family, colleagues, or your good ol' self! It's also a time to arrange a date with SlotsLV online slots giving you even more games to love! Your heart is safe with us: we'll help you find endless romance on the reels of these Valentine's slots at SlotsLV Casino because, remember, we're the casino of lots of love!