Get Animated With These Fun Cartoon Slots
If you thought that hand-drawn entertainment was only for the kids' table, think again!
Age goes out the window when it comes to animation. Cartoons of all kinds – from Scooby-Doo to South Park – will always beckon you to the screen for a giggle and a way to escape. In fact, it doesn't even have to be on the TV.
With SlotsLV cartoon slots, we have frame after frame of animated pals to hang out with and stories to get lost in with your next online slots gaming session.
You can get silly with a fur bear like the kung-fu panda. Or explore the sea with a dynamic Viking duo. All while jumping through the screen and gathering up free spins, progressive jackpots, expanding Wilds, and more.
Look at your hands: are they starting to outline and animate yet? If they are, just roll with it! You're about to become a slots-happy caricature of yourself and bring some cartoon-themed slots prizes to life. Cowabunga!
Vikings
The seafaring folk of the Middle Ages have been sketched back to life on the reels of the Vikings slot.
Leading the pack is a stern and intimidating man with a bushy red beard and crooked white horns protruding from his brown metal hat. He's not the boss, though. It's the thuggish Viking lady who wears the pants in this cartoon with long locks of blond hair in practical braids and a fur-lined shawl.
On these 5 reels and 4 rows, you get on board and help the Viking duo ravage your spins in search of 10 free spins with locked Wild shields.
Since you're playing at a best crypto casino, you won't have to wait long at all to visit the Vikings and ransack their reels. Depositing with crypto takes just a few minutes. Then you view your online slots game balance in USD, and withdraw in crypto again to see your payday faster.
Gold Rush Gus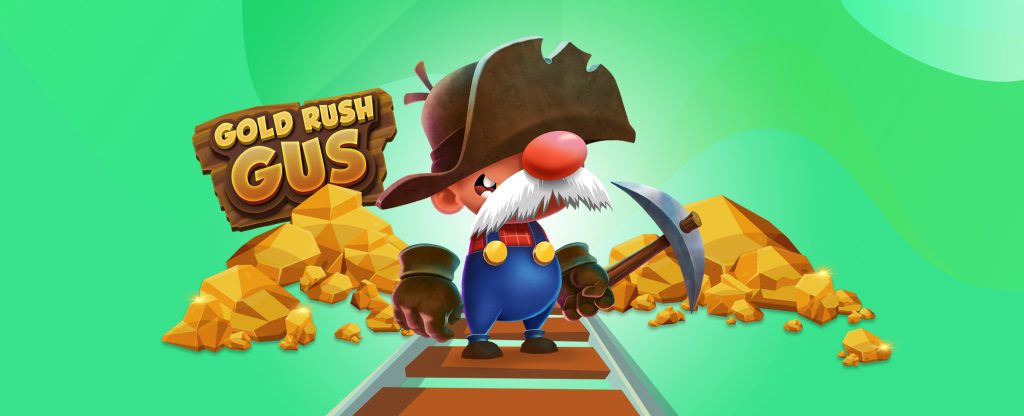 Cartoons are known for being friendly and a little goofy, with exaggerated features and over-the-top displays of their fun personalities. That couldn't be a better way to describe Gus!
In Gold Rush Gus, a prospector named Gus has a big, floppy brown hat and a wide, toothy grin peaking out of his oversized and bushy mustache. He's accompanied by a silly little gopher with glaring bucked white teeth, a long pink nose, and bulging, surprised-looking eyes.
This is the gold-diggin' team, and they're here to show you how to play slots online, the cartoon way!
Gus will grab you by the hand and zoom you around his 3-D game. If you manage to land key symbols on reels 1 and 3, the goofy gopher will boink! on top of the reels and open a special treasure chest, offering you the chance to win one of many prizes, including the progressive jackpot!
Lawless Ladies
In Lawless Ladies, you've never seen a more diverse group of animated cowgirls since Jessie from Toy Story. Instead of shouting yee-haw like bubbly Jessie would, these rough and tough five cowgirls are more likely to exclaim, Stick 'em up!
When you join the cartoon crew, you get fitted in a pair of boots and a weapon. How are you with a slingshot? You're about to find out.
Your job is to help the gals track down expanding Wilds on reel 3 and a sack of 10 free spins blowing around with a tumbleweed. When you stick to these gals' side, they'll shoot up the saloon and help you lead you straight to the random progressive jackpot.
Invite more friends to join the gang at SlotsLV. You'll get a referral bonus for each one, as an extra thank-you loot!
Multiplier Man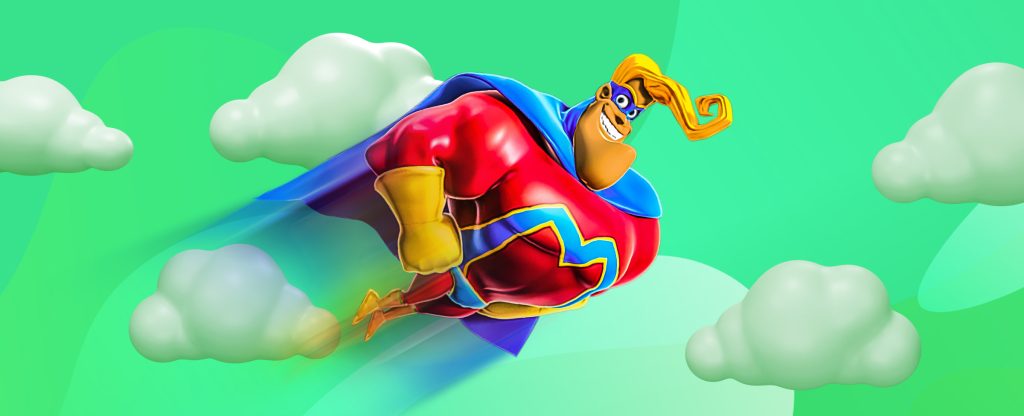 Superhero cartoons from Marvel and DC are a dime a dozen. They've been going strong since all the "Mans" in the 1990s like X-Men, Spiderman, Batman, and Superman. But can any of those heroes swoop in to save your account? We think not!
That is, until…
MMMUUULLLTIPLIER MMMAAANNN!!
Multiplier Man is the hero you've been waiting for. He's got a flourish of blonde hair, a strong, durable chin, and a day job as Ken Kash in an office, just like Superman.
Whenever your account cries out for help, Multiplier Man transforms into your hero when a Wild lands on reels 1, 3, and 5. Once he's on the reels, there's just no stopping his good deeds that can fill your wallet! He may expand to cover the entirety of reels 2 and 4, or make it rain with slots multipliers up to 150x your bet.
Oasis Dreams Hot Drop Jackpots
In Oasis Dreams Hot Drop Jackpots, you'll ride through the sands on a camel to meet your animated Arabian Princess, who reminds you of Jasmine with her long dark hair, rubies and magic lamp. Together, you'll search the castle for new treasures to add to your growing collection. Priceless riches like a Treasure Bonus, with your choice of a Hold and Spin game or free spins round. It's better than a magic carpet!
This cartoon Princess gives you a secretive stare, indicating this just might be your lucky Arabian night thanks to the Hot Drop Jackpots. This game has three jackpots, triggered by just three crown symbols anywhere on the reels, and they must drop at certain times. If you don't shy away from this animated adventure, then you may even end up with the Super Jackpot which has to trigger before it reaches a six-figure amount!
Fortune Keepers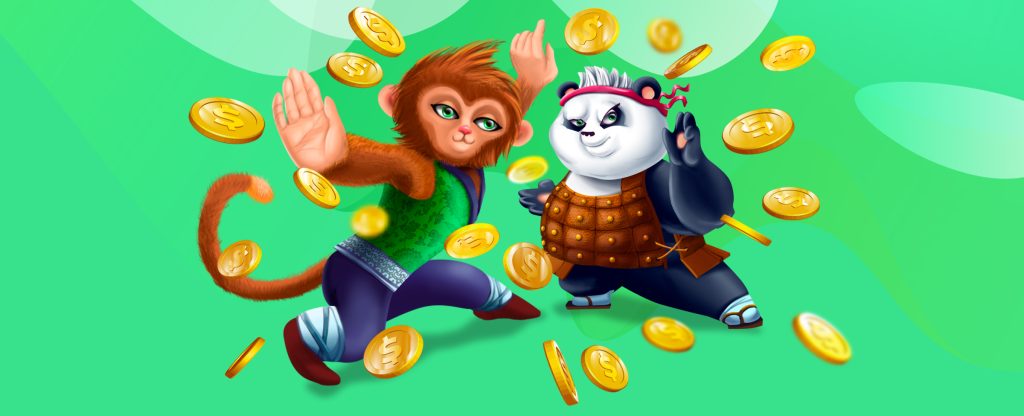 Somewhere in an Asian land far, far away, the kung-fu loving Mighty Monkey and Powerful Panda practice their best hand strike and round-house kick inside the Fortune Keepers slot.
A Disney-style battle is imminent, and the tension is brewing as these two prepare to have a showdown on the reels to see who is the sensei. And you get to see the whole battle as you play from your phone!
Before the match in this cartoon slot machine, you can choose which direction the lines pay. Three or more Wilds can multiply your wins by up to 5x, the cartoon animal fighters can expand on reel 3, and you can choose your free spins and multiplier pair when you land three or more scatters. The battle might be between the monkey and the panda, but it sounds like the real winner here is you!
Monster Manor
In the Monster Manor up on the hill, a gaggle of kooky cartoon monsters stalk the hallways and await your arrival, ready to make you scream "Aaahh!!! Real Monsters!".
A vampire sips on blood-wine and cackles as you cross his path, Frankenstein's monster leers toward you from his lair, a werewolf dressed in Grandma's clothes peeks out from behind his bed, and a mischievous mummy taunts you with his wrappings – but like you, he just wants to play!
Behind them all is the beast that everyone truly fears… a tiny black cat who purrs against your leg. Because when the cat lands on reel 3 during free spins, it expands to cover the entire reel and transforms into the magic witch!
You're never too old to get in touch with your silly side, and that's the part of you that has a good old-fashioned, fun-filled time playing cartoon slots… especially if they reward jackpot prizes like these ones!
Hot Drop Jackpots, multiplying Wilds, and free spins galore are all illustrated right there on your screen, right alongside the cartoon characters who offer them! Dive inside your own animated show with these best cartoon-themed slots from SlotsLV Casino.
As Porky Pig would say: tha-th-tha-th-that's all folks!