WOW! These Slots Have the Best Graphics
WARNING: This article contains graphic content. You will be exposed to high level slot scenes that may blow your mind.
Think you can handle it? Then read on!!!
Slot games have come a long way since the days of clunky machines, plasticky buttons and brick-like graphics, as though they were built from Lego blocks on the reels themselves. Even the digital versions – when online casino gaming was just starting out – were, well, basic. No one was writing home to rave about the visuals.
But now, thanks to state-of-the-art design software, these games are something you can fully immerse yourself in. They're a sensory experience more like a console video game or 3D animated movie.
Now, you don't just play online slots games. In those with the best graphics, you jump inside and live within the story.
If you could use a bit more pizzazz in your slot gaming, then stick around. We've put together an immersive tour of the best graphics online slots offers… and all at SlotsLV Casino! Come with us and set your sights on dinosaurs, landscapes, go-karts, and wheels that pop off the screen and into your bank account. No 3D glasses necessary!
A Night With Cleo Hot Drop Jackpots
Ancient Egypt was already stunning when it, y'know, existed. But seeing its pyramids and precious jewels come to life on your game screen gives its beauty a whole new lease on life, just as vibrantly as you'd expect from one of our best graphics slots.
In A Night With Cleo Hot Drop Jackpots, it's as if a painter has dipped their brush in moonlight and carefully crafted ancient Egypt just for you. In tones of deep blue and gold, your translucent game screen sits just in front of three great pyramids, pointing towards a sky filled with shooting stars.
While the backdrop and the symbols are magical, they're not even the main attraction. That would be Cleo herself, perfected with finesse by the steady hand of an artist. It's this depiction of her that makes this slot one of the best graphics casino games.
When she appears in the gamble feature or the free spins round, you are given the chance to be face to face with a 3D image of her and lose yourself in her deep and sultry eyes.
Adding to the allure of the high-end graphics are the three SlotsLV Hot Drop Jackpots. These jackpots MUST drop at certain times throughout the day, which even includes an Epic jackpot that can trigger anytime!
Gold Rush Gus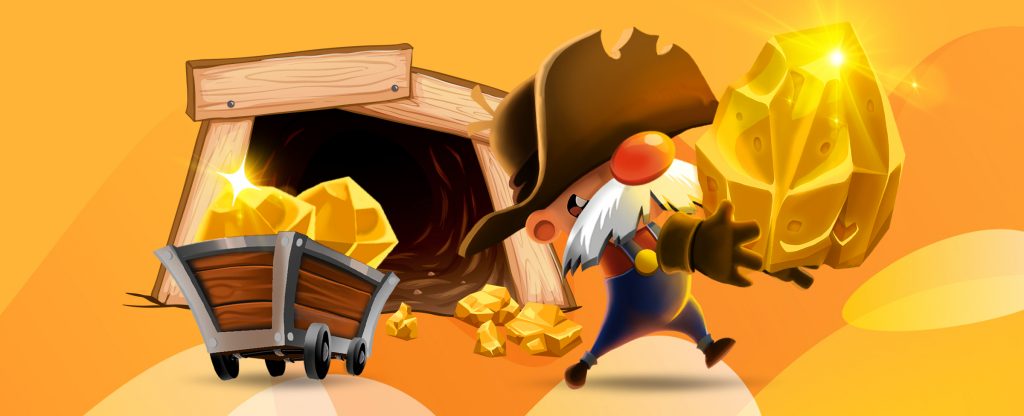 What if a video game on your console could flow real money into your bank account with every successful quest? Would you ever be able to put it down?
It just so happens that we have a game that offers this exact experience, and it's called Gold Rush Gus!
This is one of the best graphics slots out there. Not only because of the characters and symbols that come to life in 3D, but also because it offers interactive bonus rounds as well. It's almost as visually impressive as what you'd see in a regular video game.
When you trigger the bonus game via the map in the treasure chest, for example, you are dropped into the driver's seat of a go-cart that goes careening over a rickety track, while you use your best skills to pick up gold coins.
Even in the base game itself, you can forget about your average spinning reel. These symbols of sparkling gems crumble and crack off the screen. Even the "spin" button isn't your average feature – it's a swinging pickaxe!
The best part is that the graphics work just as well on mobile, so you can dig for treasure AND win the slots progressive jackpot even while playing on the go.
Genesis Island
Imagine you're watching a movie like Jurassic Park. You're sitting in the front row (but not the very front, because you don't want to be a wryneckosaur), and the dinosaurs are roaring into the big screen with saliva dripping off of their razor-sharp fangs. You can practically smell their carnivorous breath.
Now imagine the same graphics in a slot game: congrats, you've just discovered Genesis Island!
This slot online takes place in a dense jungle that first flourished with the earliest signs of life on a much younger Earth. The rich green backdrop of trees, rocks, and scattering creatures stretches beyond your screen and seemingly into another realm.
You're on high alert as the reels spin, with animated gorillas and dinosaurs leaping out of the reels, startling you out of your seat. Then suddenly a Wild appears, transforming a reel into a flood of volcanic fire.
The Mega Reel feature takes hold, and either two or three reels combine to form a MEGA reel, exploding into a frame of fire and popping off the screen. Holy moly – what a rush!
The graphics are so good, you'll want to bring a friend to show them. Even better, if anyone joins you at SlotsLV and successfully deposits, we'll give you a referral bonus!
Clash of Queens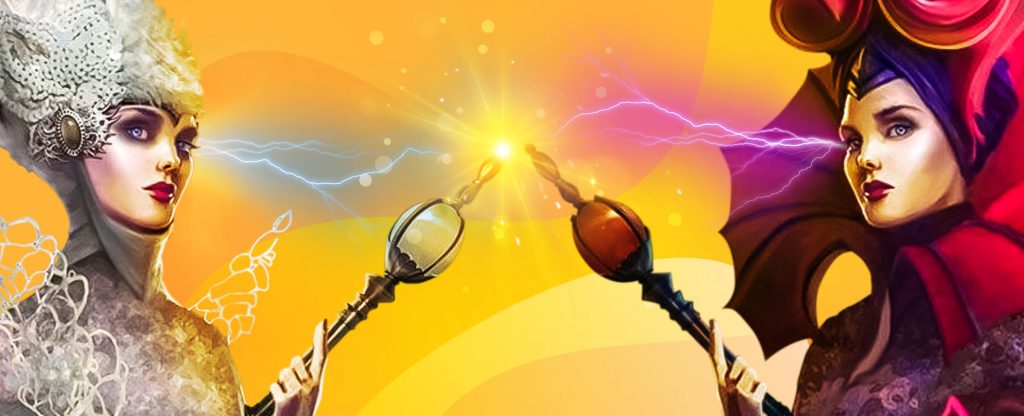 Anyone who's laid their eyes on the fantastical, dreamlike illustrations in Lewis Carroll books will have wondered what it would be like to frolic through that world.
Thanks to the outstanding graphics in the Clash of Queens slot, you'll get the same feeling. But this time, you can finally fulfill your wishes and dive through the mirror to see for yourself!
This is one of the best graphics online slots based on Carroll's Through the Looking Glass. In the story, Alice had to be brave to face the Red and the White Queen. And in this online slot, your bravery will be needed in much the same way.
As you journey towards the big showdown, you'll be able to experience the dreamy (and delightfully bizarre) green fields behind your totally transparent reels. You'll quickly get acquainted with friends from the story, all displayed in the sharpest of detail – right down to the texture of Tweedle Dum's bushy hair.
When it comes time to meet the Queens, you'll find yourself swept inside a sprawling marble palace. A tiny shiver travels down your spine as the two of them stare you down from their positions on a life-sized chess board and ask for you to join them. You must pick one or the other to win in the battle and collect your special slots prize.
And when you do win your battle, and because SlotsLV is a Bitcoin casino, you can withdraw your winnings via crypto. You can still see your balance in USD as you play, but your transactions are completed A LOT faster and safer, and the benefits flow more freely!
Reels and Wheels XL
While many of the best graphic slots are elaborate games with life-like interactive bonus rounds, others let their graphics shine in a different way.
Take Reels and Wheels XL. The overall theme is based on retro slots visuals, with familiar slot game images of fruits and diamonds. But now, in this rare gem of a game, each classic symbol injects a modern twist that brings the reels to life like never before.
The diamonds glimmer right off the screen in dynamic bursts of color. Even the fruits look better than ever, as if they've been polished and shined to show off their ripe winning potential.
When you make it to the bonus round or the jackpot wheel, the wheels rapidly spin, blending their colors together in a thrilling blur. It feels just like a carnival ride!
But that's not the only bonus: as long as you bring your lucky charms, this also gives you the chance to win up to 500x multipliers from the bonus wheel, or one of the five progressive jackpots from the jackpot wheel!
With these, the best graphics casino games, the journey to winning is like nothing you've experienced before. Your wins will pop, sparkle and shine right off your screen – into your eyes and into your balance! Say goodbye to the days of lifeless, 2D symbols fading into dusty old reels that clink and crunch… and say hellooo to the show-stopping designs of the best graphic quality in our SlotsLV online slots!