What Slot Should I Play Next? (Our Fall Quiz Will Guide The Way!)
Heellooo fall! Nice to see you again. And goodness, aren't you glowing?
Indeed, it's now that time of year when amber and gold leaves sway lazily to the ground, and we start dreaming about the best SlotsLV online slots to play with the new season.
There's so much to love about autumn that it's hard to pick just one thing from the apple tree. The air is crisp and earthy, you've reunited with your favorite scarves and sweaters, and pumpkin and apple begin to spice up your life in sight, smell, and taste; from the seasonal throw-pillows to your mid-morning latte.
There's one more place where the magic of autumn flutters and floats and sets hearts adrift, and that's from deep within the burnt orange hues of our fabulous fall slots!
Depending on the characteristics of fall you like best – be it the fresh weather, the ambiance, the indoor social huddles, or the changing activities – we've got the best fall slots to complement the season. And we've got one just for you!
Answer the questions below to find out which of our online slots was made with you in mind. Simply jot down your answers, and then at the end, see which slot to play next.
Questions
1. What would you consider to be the perfect fall getaway?
A haunted house tour in a spooky abandoned town… after sundown, by flashlight.
I would love a stroll through nature with nothing but the sound of leaves crunching under my boots.
Who needs to getaway? Give me hot cocoa, fleece-lined everything, and my favorite recliner. I could do this all season long.
Call up the whole crew! New seasonal craft beers are officially out, and I want to be the first to test them.
2. What type of online slot makes you feel warm and fuzzy like a fleece pullover?
Spooky slots with real-life sound effects that make me question whether or not I'm really alone…
An upbeat theme that takes place in the great outdoors. Extra points for cute symbols!
One that features treasures worth protecting, with me as a formidable leader, of course.
A good time in a sociable atmosphere with boisterous laughs and company. Snacks are always welcome!
3. It's late morning, 55 degrees outside, and you've got nothing on the agenda. What do you do first?
Turn on Monster Mash and prepare the great Halloween-ing of my front porch.
Throw an empty pale in my truck and head to the orchard. It's a prime day for apple picking if the forecast is to be believed!
The only thing that makes sense: crawl back under the warm covers and crease the spine of a thrilling new book.
Invite some friends over for a cookout later in the day; everyone is bringing a fall-themed dish.
4. Which slot game feature causes the loudest shrieks of delight?
Games with a lot of features. Like, the more winning explosions, the better.
No paylines. How cool is that? Conventions are for the conventional.
Hold and Win games for extra chances at treasure.
Double scatters. Whoever came up with that deserves a cheers!
5. Your fall clothes are officially making their debut. What's your go-to getup when the chill hits the air?
Do Halloween costumes count? Why not go all-in on the fun, ya know?
Plaid, plaid, plaid. And overalls, of course. There's a little tartan in all of us.
Soft, snuggly sweaters and fuzzy socks. Comfort is bliss!
Anything festive and hip, because you only get one shot to make a good impression.
Results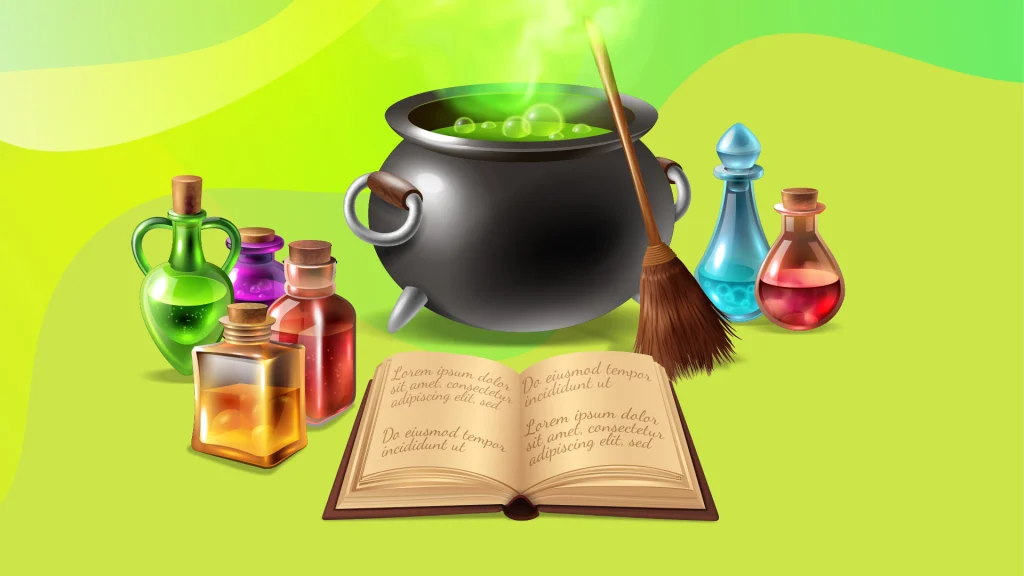 Tally up how many you got of each letter and discover the slot game to play next. In the event of a tie, play both!
Mostly A… Celebrate Halloween with Potion Spells
As the days drop off the calendar and creep closer and closer to the depths of October, your shoulders mysteriously hunch over, warts balloon up on your nose, and a tall, pointy hat sprouts from the top of your head. It looks like with the arrival of fall, you are slowly becoming a witch in one of our favorite Halloween slots, bwahahaha!
Standing in your lair, you may think the distant bubbling of liquid is your hot chocolate on the stove… but a closer look reveals a far more sinister brew in the cauldron. There are Potion Spells of regular symbols transforming into Wilds, randomly matching symbols, and low symbols obliterated from the screen.
Maybe such a whimsical storyline and cutting-edge features are why this slots game was featured as the hot slot of the week!
If you love a jackpot pail full of winnings, there's another game worth checking out. Hot Drop Jackpots feature slot games with jackpots that must drop every 60 minutes and every 24 hours. You can't beat treats like that!
Mostly B… Go Apple Picking with Lucky Farm Bonanza
The perfect day in your book involves roaming through rows of apple trees on a farm. The sweet scent of fruit mingled with the earthy aroma of fallen leaves makes you smile warmly while the pigs and cows graze contentedly on the sidelines.
With your quaint wicker basket in tow, you fill it up with the fresh harvest of apples, dreams of apple pie and hot apple cider cooking through your head.
In the case of Lucky Farm Bonanza, the more fruit baskets you can fill, the more of your dreams will come true. That's the multiplier symbol on this whimsical farm full of cutesy farm animals. It appears in the slots free spins round, awarding a random multiplier value from 2x to 100x.
Apple picking is a wonderful time to enjoy the solitude, but it's also a fantastic opportunity to bond with friends! Go ahead and refer a friend or two to join you. If they come along to SlotsLV, we'll set you up with another basket of autumn treats, which you'll recognize as a bonus!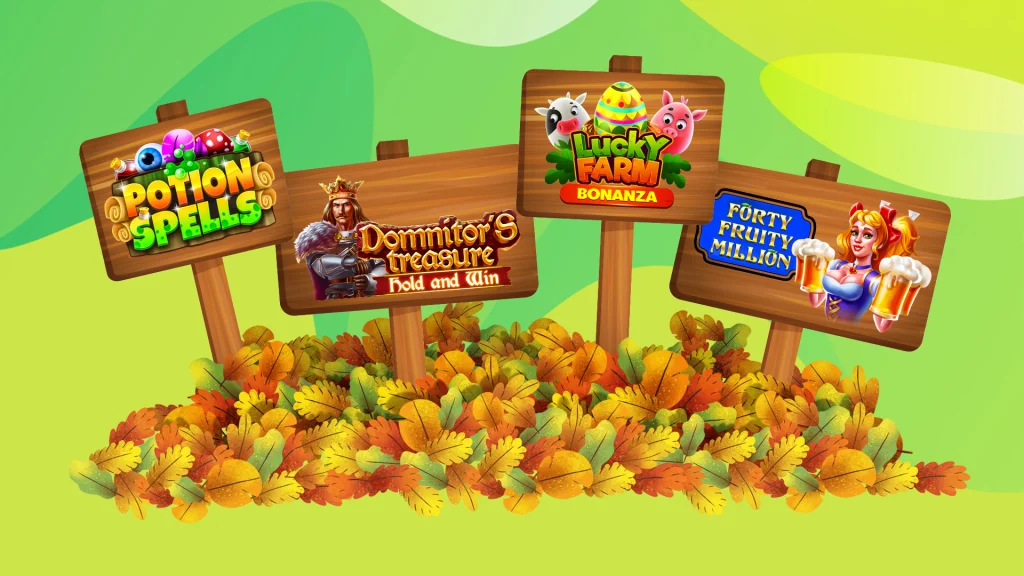 Mostly C… Cozy up in Your Castle with Domnitor's Treasure
There's a certain allure to staying at home while the world outside bustles under the falling leaves… but we didn't have to tell you that!
You're the type of person who gets giddy at the prospect of a perfectly planned night in: cooking up something hearty and satisfying, watching a movie, and safeguarding the castle you call your home. The walls of your living room are the fortress that protects from the howling winds outside, and your plush blankets and pillows are the Domnitor's Treasure.
The next time you're living it down in the luxurious comfort of this slot online, unleash the powers of the Hold and Win game by landing six or more coin symbols.
New coins flow through the reels like a fine wine and remain sticky during the bonus game, helping you win a fixed jackpot of 1,000x your bet if you can collect all 15.
As the best Bitcoin casino in the realm of online gaming, such shimmering treasures can be found just by making a simple deposit using crypto in order to play. When you do, you're rewarded with easier deposits, fewer fees, and bigger bonuses. To top it all off, your in-game experience doesn't even change, and your balance stays displayed in USD!
Mostly D… Party the Day Away at Oktoberfest with Forty Fruity Million
There's a unique delight that comes with autumn, and for some, it's more satisfying than Halloween, apple picking, or curling up with a real page-turner.
That delight comes from joining a festive atmosphere with laughter and merriment in the Forty Fruity Million slot, complemented by a few delicious brews! Oktoberfest is technically a holiday in early October, but that doesn't mean you can't enjoy an outdoor beer fest all autumn long.
The beer runs freely from 5 reels and 4 rows in one of our top seasonal slots for fall. The mugs are replenished attentively by the tall blonde server as your Wild, who expands to cover an entire reel, and tops off your lager with a wink, a flip of her traditional dirndl, and a random multiplier up to 3x.
With two scatters in play, the fun will chime on throughout the long day and into the night. It all ends with a final, hearty laugh as you make like a tree and leaf, hopefully with a knapsack containing the max win of 6,000x your stake.