8 Lucky Slots for Lunar New Year (New Year Round 2!)
January 1 may have come and gone in a mere flash, and the reverberating boom of the confetti poppers may still be quietly buzzing in your ears, but it's no time to embrace the daily grind just yet! Keep those dancing shoes on standby, because the celebrations aren't over! We're ringing in the Lunar New Year to keep the party going a little bit longer. You're invited, too!
The Chinese New Year starts on January 22, 2023 and it's the year of the Rabbit! It's predicted to be a hopeful year for all signs. The rabbit symbolizes mercy, elegance, beauty, and a little luck, which, as you're about to see, can all be found inside these eight SlotsLV Chinese slots.
Tradition tells us that good fortune and wealth come with the number eight, too, so having eight slots on your lunar list of games surely doubles down how to have good luck at the casino.
So retrieve that party hat from the closet, and gather 'round for New Year's party, round two, at SlotsLV Casino for a year of extra good luck!
1. Year of the Rabbit
It's no surprise that the first online slot in our list is our: Year of the Rabbit Hot Drop Jackpots.
The Rabbit welcomes you to his Lunar New Year party to celebrate his year. It's filled with firecrackers, golden ornaments, lucky red envelopes, and more. The rabbit himself can lead you to a bonus game at random, where you can win one of four different jackpots, ranging from mini to grand, which offers 1,000x total bet.
This new and thrilling game features three Hot Drop Jackpots that must trigger every hour, every day, and anytime. You'll have three more great opportunities to kick off the New Year with the kindly rabbit in your favor!
2.    Lion Dance Festival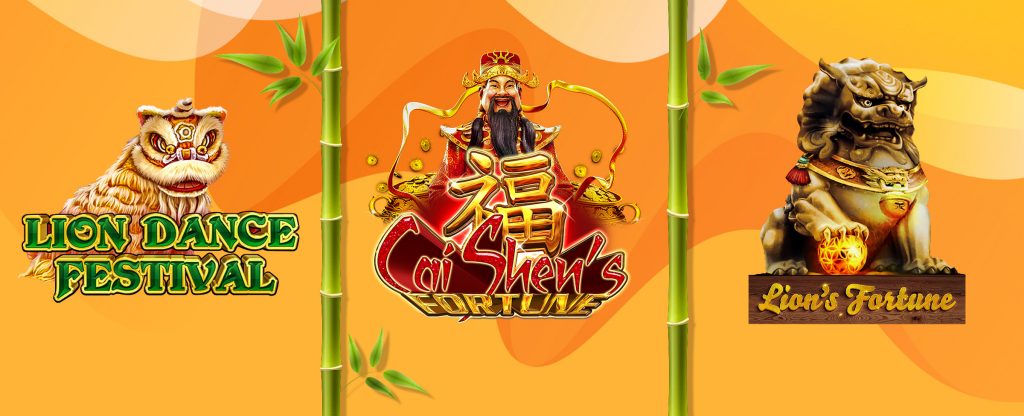 The lion is considered a most auspicious animal in Chinese culture, symbolizing power, wisdom, and superiority: all qualities you'd want to have on hand when facing an entire year packed with new adventures!
In case you couldn't make it to China this year for the festivities, we've got a piece of the festival right here inside the Lion Dance Festival. You'll get to see the famous dancing dragon in brilliant red and gold hues as the dancers inside make it wave and sway to the beat of festive drums.
Three of those dancers will serve as your slots scatters that lead to the Dancing Lions Bonus round, where you can choose from a selection of multipliers and free spins.
3. Caishen's Fortune
In Chinese culture, Caishen is the god of wealth. He's known to lavish his followers with fortunes and prosperity, and luckily for you, you have a direct line to him right here in the Caishen's Fortune slot.
You'll come face to face with the god of wealth over 5 reels, 3 rows, and 243 ways to win (he sure does like to offer many ways to his fortune!).
As you try to summon Caishen, the Chinese character 'Fa' may appear three times as your scatter. Then the god, with his long black beard and friendly rosy cheeks, will descend on the reels to give you a selection of five different combinations of free spins and multipliers.
If you enjoy Caishen in this game, be sure to find his fortune again but even bigger in Caishen's Fortune XL!
4. Lion's Fortune
Chinese slots are some of our players' favorite types of games to play for their traditional themes and a rich lore that focuses on good fortunes.
One of the most popular games representing these sought-after features is Lion's Fortune. Two stone lions that hold your ticket to unimaginable wealth in the new year stand on either side of the main play, and 243 paylines open up the pathways to allow you to see them.
Cascading symbols tumble into place to edge you closer to the lions' breath of cash, and new reels turn Wild after different key levels of cascading wins.
Know a friend who would enjoy online slots like this? Share SlotsLV with them and grab yourself a casino referral bonus while you're at it.
5.    Gongxi Facai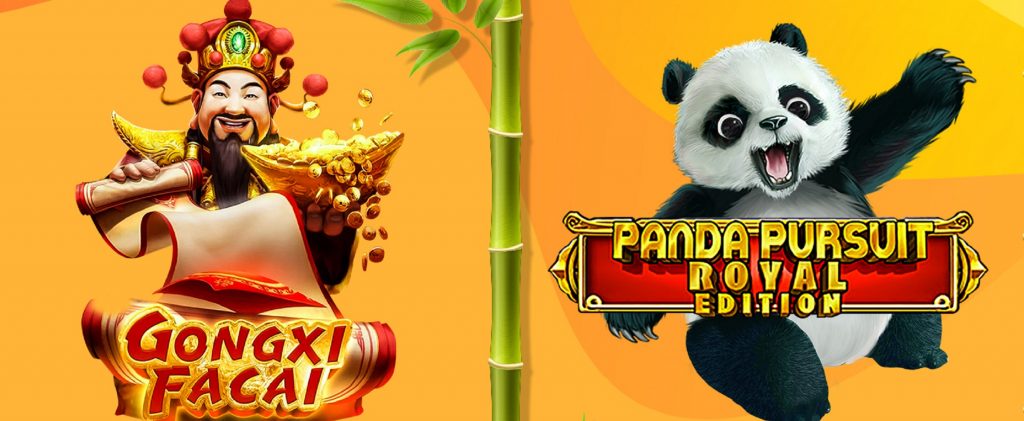 "Gongxi Facai" translates to "wishing you wealth and prosperity", which couldn't be more fitting for a slot online of this magnitude.
You'll have no trouble receiving the good wishes of Gongxi Facai as Caishen guides the reels to help you discover your true callings of a prosperous life.
In fact, he will never abandon you with his amiable grin above the five reels and an ingot full of gold coins that are ready to rain down when the moment is right. You can't help but be drawn to this joyful god's face, and you'll really be feeling his blessings when you land three scatters and get to choose from a selection of five different free spins with multipliers.
6. Panda Pursuit: Royal Edition
We could all use a hug and a little snuggle when the new year gets going fast, whether it's a western new year or Chinese.
In Panda Pursuit: Royal Edition, we've got just the cuddly creature to make your Lunar New Year warm and sweet with 5 reels and 4 rows, especially when there are slots multipliers up to 64x involved!
If you've got room at your party for just a few more, the fur-ball baboon, smiling koi fish, and jokester turtle would like to come as well, and they'll even bring their own party favors as the highest-paying symbols in the game.
7.    Da Hong Bao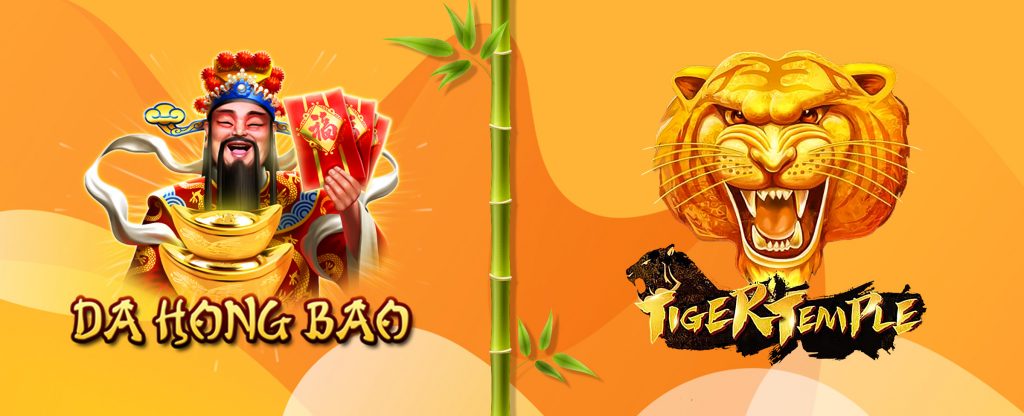 There are so many vibrant facets of Chinese culture that forge social connection and emphasize enduring wealth, and in Da Hong Bao, you get to gather up all of them in one electrifying game.
Caishen is there with his golden ingot, some plump tangerines for a tasty snack, the dragon from a dragon dance for entertainment, and Chinese firecrackers to put on a show!
More importantly, there are three different slots free spins rounds that aim to keep the party alive all throughout the symbols' celebrations.
Caishen is a generous god, but he's a practical one, too. His games go great with Bitcoins gambling so you can withdraw your winnings faster than he can descend on your reels and make you smile!
8. Tiger Temple
The fearless tiger is revered in Chinese culture for its power and protection. As long as you stay on his side in the Tiger Temple slot, you'll be shielded from all the evil in the world and coddled under the right side of his massive paws as he shields you with the force of free spins and empowers you with two types of re-spins.
On the unique setup of 5 reels and a row configuration of 3-4-4-4-3, you'll truly learn the meaning of "unpredictability", which is yet another trait the tiger possesses. That's especially true when you follow him into the Fortune God Free Spins round where your wins are awarded both ways.
These SlotsLV online slots are ready to be spun just in time for the Lunar New Year. The luck is going to be extravagant this year when the Rabbit comes out to play. We invite you to grab your lucky charms, join the party, and gather up a surplus of all the year's good fortune that is yet to come. Then, hop on over to your bank to celebrate the lucky year of the Rabbit!