Temple of Athena Hot Drop Jackpots Slot Game Review
The great god Zeus was overcome by a terrible pain in his head.
He summoned Hephaestus, the god of fire and forge, to open it with an axe, in a desperate attempt to discover the source. Hephaestus, a master metallurgist, did as he was asked and swung. Through the resulting wound, a towering goddess emerged, beautiful and battle-ready with her shield and helmet.
This great goddess was Athena; patron of the city of Athens and divine source of strategy and wisdom. From the head of Zeus she was born, and to the SlotsLV Temple of Athena slot she arrived.
And now that you've arrived at the Temple of Athena online slot review, you'll know exactly what she asks of you before you set foot in her temple! You'll know that, to receive the goddess' wise counsel, you should begin by raising your arm until her owl swoops in to land. Continue into her temple to discover exciting bonus features like mystery symbols and free spins. Oh – and three divine Hot Drop Jackpots, each ready to trigger at a moment's notice.
Athena, valiant and fair, gestures at you to join her at SlotsLV Casino. Should you heed her call, you're opening the door to the sorts of prizes usually reserved for the gods. But here, they've been left for some brave mortal to claim.
Should you spin it?
Athena was known for many things, one of which was as the patron of spinning and weaving. It's little wonder she glides over the reels so effortlessly. This is why you'll love to channel that all-knowing spirit of Athena inside the Temple of Athena Hot Drop Jackpots at SlotsLV:
✓ Incredible jackpot potential (3 Hot Drop Jackpots)
✓ Magical and soothing slots theme
✓ Straightforward features
✓ Retriggerable free spins
✓ Identical stacked symbols for easier wins
✓ Solid slots RTP
✓ Great for crypto gambling. In case you haven't done it yet, setting up a digital wallet only takes a few minutes! Then you can conveniently deposit with crypto to transfer USD and play the game.
Wielding such power and responsibility gifted by the gods is not for everyone. This is why you may not want to play Temple of Athena slot:
X Basic features
Game Overview: A Generous Goddess
From a balcony overlooking the sea (perhaps in the city of Athens itself!), you study the landscape that sprawls out before you. Gusts of pink flowers blow past your eyes and the earthy hues and cool pastels of the temple's grounds instills a sense of calm.
You see the striking Athena assume her place on your reels. The serene and supremely confident gaze of the goddess is one that can be held only by the divine. As if to flaunt her status, a unicorn appears nearby, as well as a hippogriff… and the mysterious owl she keeps for company.
Here is what you'll find inside one of the most stunning fantasy slots at SlotsLV:
5 reels
3 rows
40 paylines
Minimum bet: $0.40
Maximum bet: $200
RTP: 96%
Mystery symbols
Stacked symbols
Retriggerable free spins
Temple of Athena Features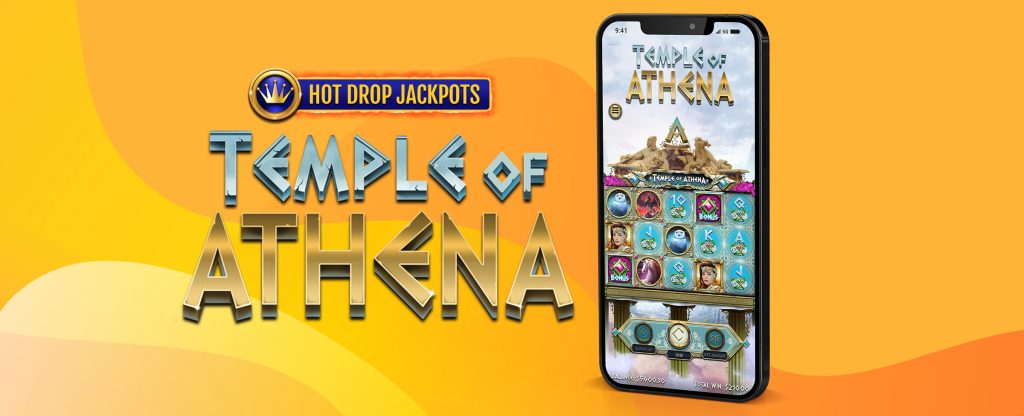 A subtle but distinct sense of power can be felt throughout the temple, and it only grows stronger as you open this particular game among all the SlotsLV online slots offered. Together with Athena, you'll take on the mighty slots features.
Wild
As the wind blows through your hair, so may the Temple of Athena Wild symbol which can substitute any regular symbol to help you form a win in this online slot.
Free Spins
A pink jewel is taken from Athena's lovely crown, and it is infused with the power of the scatter. If you land three of them on reels 2, 3, and 4, Athena descends from the heavens to award you eight slots free spins. If the free spins jewels appear yet again on the same reels, you are awarded eight more!
Mystery Symbol
This online slot's mystery symbols can appear anywhere on the reels, including during free spins. If they appear during the base game, they can transform into any other symbol, including the Wild.
If they appear during free spins, the mystery symbols will transform into one of the highest-paying symbols – also includes the Wild – in the entire temple.
Stacked Symbols
Each reel has large stacks of the same symbol. At first you won't know what they represent, since they will appear as mystery symbols. Then, before your eyes, the stacked symbols reveal themselves individually as regular symbols, giving you the best chance to score a win.
Three Types of Hot Drop Jackpots
Athena's owl companion was essential to her power and success. Inside the temple, having raised your arm to form a perch, the goddess's owl whispers to you the secrets of one the best types of jackpots, which are Hot Drop Jackpots.
The owl will no doubt remind you that Hot Drop Jackpots are jackpots that must drop at key intervals: once per hour, once per day, and – one at anytime! And this Epic Jackpot is bigger than Zeus himself!
To win a jackpot, you simply have to land three crown symbols on the reels. With that, a jackpot wheel appears before your eyes, awaiting a spin. Once it goes whirling, the only thing left is to see which Hot Drop Jackpot belongs to you.
If you love Temple of Athena Hot Drop Jackpots, you'll also love Fury of Zeus!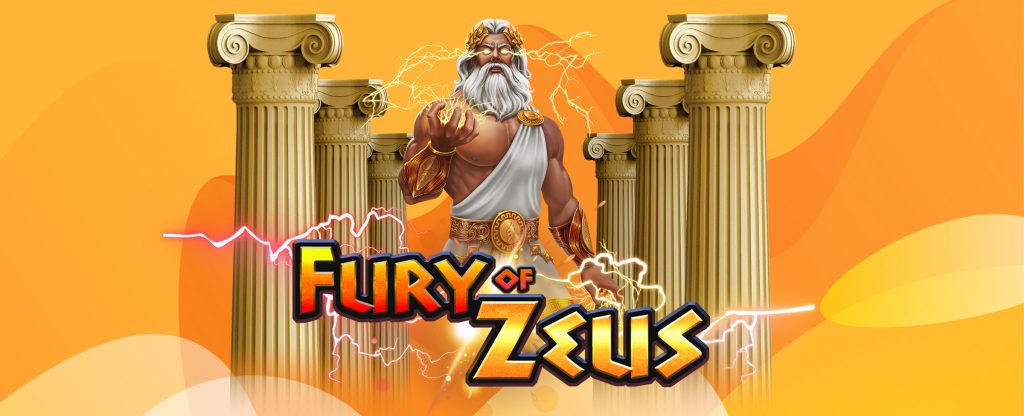 No story of Athena would be complete without mention of her father, the great god Zeus. When you play Fury of Zeus slot, Zeus unleashes his rage in the form of Wilds and free spins. If you dare to cross his path, you may also discover his randomly awarded progressive jackpot, which he can strike down on the reels after any spin.
Whether it's with Athena or Zeus or any other ancient Greek slots online, you can try our games as free slots on mobile or desktop if you play in Practice Mode first!
---
Having fun at SlotsLV? Then, refer a friend to join you to take advantage of the referral bonus!
---
Play Temple of Athena Hot Drop Jackpots Slot Game at SlotsLV Casino Now
As you see in this Temple of Athena slot review, Athena holds nothing back as you enter her world! The road to rewards is paved with slots free spins, stacked symbols, Wilds, mystery symbols, and Hot Drop Jackpots, and you somehow know that Athena placed each and every one of them there… just for you.