Oasis Dreams Hot Drop Jackpots Slot Game Review
Across the Atlantic and beyond the vast expanse of the African continent, there exists a very special place, with its undulating dunes stretched out as far as the eye can see beyond a lush, green oasis. Any traveler trudging down those dunes would think they were staring at a mirage.
It is, in fact, the shining star of the Old World; the vast Arabian empire, and all of its incredible riches: gold, diamonds, luxurious perfumes and the finest garments and draperies of the East. Oh – and one spellbinding online slot glowing red-hot with jackpots.
Seven jackpots, to be exact!
Yes, the SlotsLV Oasis Dreams slot is home to four fixed jackpots from a Hold and Spin game, as well as three Hot Drop Jackpots, two of which must drop at certain times, and one Epic Jackpot that can hit at any point!
That's where you come in! To uncover the secrets of the Arabian night, you must first forage through a royal palace to find a princess as fair as Jasmine, and her rubies and magic lamp. But we'll give you a head start! This Oasis Dreams slot review will put you on the right path to locate her and the trove of wealth she keeps close by.
---
GEOVANNY P. FROM FL WON $234K PLAYING OASIS DREAMS HOT DROP JACKPOTS AT SLOTS.LV IN MAY 2023!
---
Should you spin it?
Here's what you and your fellow adventurers can expect to experience in the Oasis Dreams Hot Drop Jackpots at SlotsLV:
✓ Enchanting theme
✓ Both fixed jackpots and Hot Drop Jackpots
✓ Multiple bonus rounds
✓ Good RTP
✓ Modern, high-end graphics
✓ Generous betting range
Don't forget – when you invite a friend along to play with you, the SlotsLV genie will grant you a referral bonus.
There may be weary travelers, however, who prefer to sit this one out, perhaps because:
X You prefer a classic slot
X You want more than 25 fixed paylines
If that's you, we have over a hundred other SlotsLV online slots waiting for you to play!
Game Overview: Arabian Nights-Style Adventure
When your trek through the desert brings you to this mysterious land of palaces and pyramids, the locals will greet you with tales of a princess in a palace, surrounded by riches beyond anything you can imagine.
Your interest is piqued in an instant. You set your sights on the pyramid's peak and set out towards it. And then you see her.
The princess looks back with piercing black eyes, her long, ebony hair like sheets of silk spilling over her shoulders. In cupped hands she holds red gems, a golden lamp, and a pair of swords. These highest-paying symbols are a whisper of the slots adventure that is yet to come. You nod knowingly to the captivating princess, and the two of you charge forward in the golden sand.
This is what you discover as you set off to play this slot online:
5 reels
3 rows
25 paylines
RTP: 96%
Minimum bet: $0.25
Maximum bet: $125
Treasure bonus
Free spins
Hold and Spin
4 Fixed jackpots
3 Hot Drop Jackpots
Oasis Dreams Hot Drop Jackpots Features
Before you uncover the secrets of the Arabian empire (including the many slots jackpot up for grabs), you'll want a reliable way to fund your adventure – and there's no better way to transfer USD than gaming crypto. Why? Because those jackpots are calling your name, and with a lightning-fast and super safe crypto deposit, you'll be running towards them without skipping a beat!
Wild
The princess isn't alone in this desolate land. The villagers speak of a man who travels the desert on his camel over reels 2, 3, 4, and 5, transforming any regular symbol to help you form a win.
Bonus Symbol
The glowing palace with the word Scatter beneath it, is your bonus symbol, and can trigger the Treasure Bonus feature.
Treasure Bonus
Follow the light of the three palace scatters to find your first treasure. When you do, it's decision time! Select one of two treasure chests to win either a slots free spins round or a Hold and Spin game.
Free Spins
If you select the free spins feature via the Treasure Bonus, prepare to be rewarded! Coming your way is a random combination of free spins and Wilds: 6, 9, or 15 free spins with 25, 100 or 200 additional Wilds.
As any savvy player will tell you, the more free spins you get, the more you can win with less money, making this bonus round a real treasure!
Hold and Spin
If you find anywhere from 6 to 14 golden coins within the sands of the base game, a path is formed for you to enter the Hold and Spin game. You can also gain access by selecting this treasure during the Treasure Bonus.
During the game, each individual space spins like its own reel. And if any gold coins land, they award a multiplier prize that ranges from 1x-100x!
Four Fixed Jackpots
Some golden coins are as special and valuable as the princess herself, as they represent a fixed jackpot which is awarded after the slots bonus round is completed.
Mini: 20x your bet
Minor: 50x
Major: 250x
Grand: 1000x – won by landing gold coins on all 15 spaces of the grid. Then you win the Grand jackpot prize, plus the added value of all the coins on the grid!
Three Types of Hot Drop Jackpots
With three Hot Drop Jackpots – along with the four fixed ones – there are almost as many major wins in this game as there are grains of sand in the Arabian desert. At least one, surely, is meant to float on a hot breeze until it lands right on your dusty sandals. Perhaps even two!
Now, to win one of the three SlotsLV Hot Drop Jackpots, you must spin for three crown symbols to land anywhere on the reels. Hot Drop Jackpots must trigger once per 60 minutes, once per 24 hours, and another that can hit anytime! You can watch them count down right before your eyes inside every Hot Drop Jackpots game.
If you love Oasis Dreams Hot Drop Jackpots, you'll also love Temple of Athena!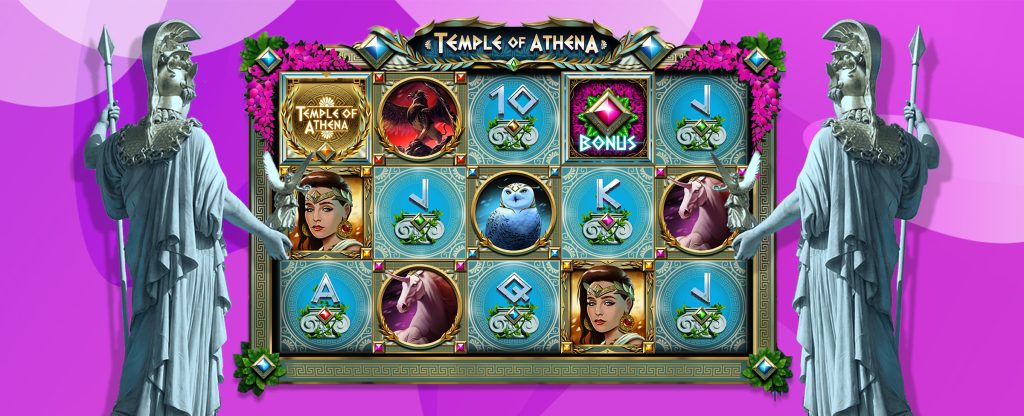 After you've completed this Oasis Dreams online slot review and traversed the desert with the beautiful Arabian princess, there's another feminine power that waits patiently for a visitor like you to ascend the palace steps. Her name is Athena: the goddess of wisdom and war.
Inside Temple of Athena Hot Drop Jackpots, you're invited in and free to explore her world, all adrift on a pastel-colored cloud.
For those who bow down respectfully at her gates, she offers eight free spins that can be retriggered, stacks of matching symbols, and three Hot Drop Jackpots – including the Epic jackpot that can drop at any time and award huge amounts!
Play Oasis Dreams Hot Drop Jackpots Slot Game at SlotsLV Casino Now
The wind blows softly over the golden sand. The palace looms as you approach it from a distance. As you draw nearer, you catch a glimpse of those onyx eyes and that glorious black hair, just biding her time until her slots adventurer finally arrives.
When you do arrive at SlotsLV Casino, just make a wager and rub the magic lamp inside this game. Maybe this will be your Arabian night, where your wildest dreams of multiple jackpot wins are finally realized! Let's make a wish.