REELS AND WHEELS XL SLOT GAME REVIEW
The beloved Reels and Wheels game is back for its sequel, but this time it's gone XL: bigger, louder, and more feature-full than ever before! Players who fell in love with the retro vibe and multiple jackpots of the original are going to swoon with delight when they get their hands on this gem and its super-sized reels. There's two added reels to rev up the spinning fun from the traditional 3-reel version, giving you more ways to win! Plus, XL has an added free spins feature with up to 10x multiplier, and extra symbols to help form those winning combos. Sometimes more really is more!
You still have the opportunity to land one of five incredible progressive jackpots across two bonus wheels. SlotsLV Reels and Wheels XL slot game is a truly extra-large extravaganza of prizes.
If that's tapped your curiosity, come along for the ride – let's get this show on the road.
---
JOEL F. FROM OR WON $1 MILLION PLAYING REELS AND WHEELS XL AT SLOTS.LV IN JUNE 2023!
---
SHOULD YOU SPIN IT?
There's no doubt that the Reels and Wheels XL slot offers a spinning good time packed with loads of winning potential on not one, but TWO bonus wheels!
Pros:
✓ That classic feel
✓ A pang of nostalgia
✓ Two bonus wheels
✓ 5 jackpots
✓ Loads of multipliers
✓ Straightforward design
✓ Generous betting range
✓ RTP is a solid 96%
✓ Max Win per Spin: 2,500x your bet
✓ A popular bitcoin slot
Cons:
X No story or characters
GAME OVERVIEW: RETRO FUN WITH 5 JACKPOTS
Just like the original version, this Reels and Wheels XL slot at SlotsLV is played over a hyper-realistic, retro slot machine. The fun is packaged up over 5 reels in 3 rows, allowing space for 20 generous paylines.
You spin through plump purple plums, rich red cherries, crisp, colorful watermelon, citrusy lemons, and shining blue diamonds. If the fruit alone doesn't get your mouth watering, the bonus symbols and allure of the five slots jackpots will have the job done five times over!
REELS AND WHEELS XL GAME FEATURES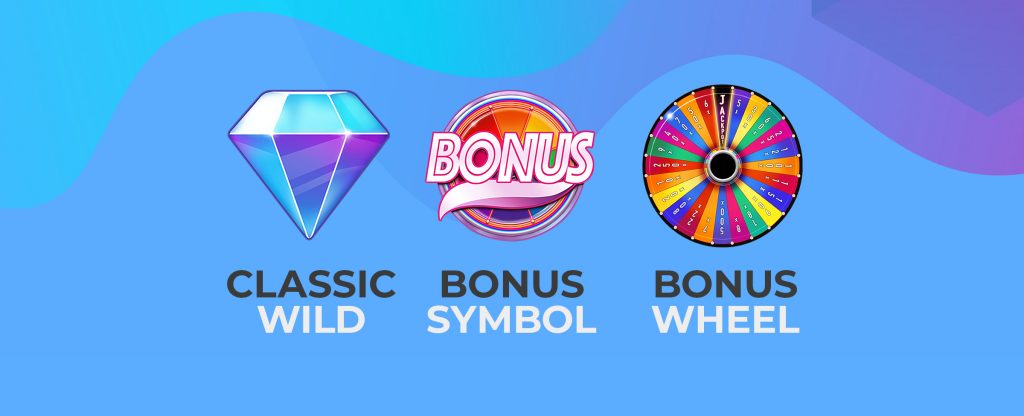 WILD
The wild is an enormous shiny diamond, and it can substitute any symbol when it lands on a winning line.
FREE SPINS
One of the upgraded features from the original Reels and Wheels slot are the Free Spins.
You want to score yourself an easy 12 free spins? Well, for that you'll need two bonus symbols on reels 1 and 3, and a free spins symbol on reel 5. You can even retrigger your free spins by landing three more bonus symbols. Even better still is that each win in the feature has the potential to be multiplied by up to 10x. He gets a zero, she gets a zero, you get a zero, everyone gets a zero!!!
BONUS SYMBOLS
The bonus symbols are truly the heart of the game. You'll need to land two bonus symbols on reels 1 and 3, as well as the wheel symbol on reel 5, in order to trigger the first of two Bonus Wheels. Just when you thought the thrills had maxed out!
BONUS WHEEL – YOU'VE ALMOST MADE IT…
The Bonus Wheel is your first heart-stopping chance to gain a massive prize. You'll be spinning a large wheel, whirling with kaleidoscope colors and 22 wedges. The wheel generously gifts you multipliers that range from 5x-500x, and among them sits one rather special wedge labeled "jackpot", which opens the door to an even bigger, better wheel to spin, if you are lucky enough. And you look like the lucky sort!
FIVE, READ 'EM, FIVE! JACKPOTS
We did say this game at SlotsLV was extra large, didn't we? Reels and Wheels XL offers something that most other slots of the same caliber don't, and that's five progressive jackpots. What a deal!
JACKPOT WHEEL
To get here, you've been through the first featured wheel, which was the Bonus Wheel. This next one is the Jackpot Wheel. As you spin through the base game, be sure to keep your eye on the expanding jackpots to the left of the screen. You'll have a blast as you excitedly watch the numbers continue to rise with each new spin of the reels done by players around the world (from biggest to smallest):
Vegas (expect a jaw-dropping sum here!)
Mega
Major
Minor
Mini
Let's review the steps to reach it:
Land three bonus symbols in the base game on reels 1 and 3, plus the wheel symbol on reel 5
Spin the first Bonus Wheel and land on the wedge marked "jackpot"
You're in – congratulations! Give the Jackpot Wheel a spin!
The ultimate Jackpot Wheel is truly magical because you're guaranteed to win one of five progressive jackpots which are wedged around the wheel multiple times. Of course, the biggest jackpot occupies only one wedge, because if it were that easy then the jackpots wouldn't be so jaw-dropping. And we've got to keep it interesting, right?
---
Love jackpot slots? Then, you'll want to hit spin on our Hot Drop Jackpots with hourly and daily prizes!
---
IF YOU LOVE REELS AND WHEELS XL, YOU'LL ALSO LOVE 777 DELUXE!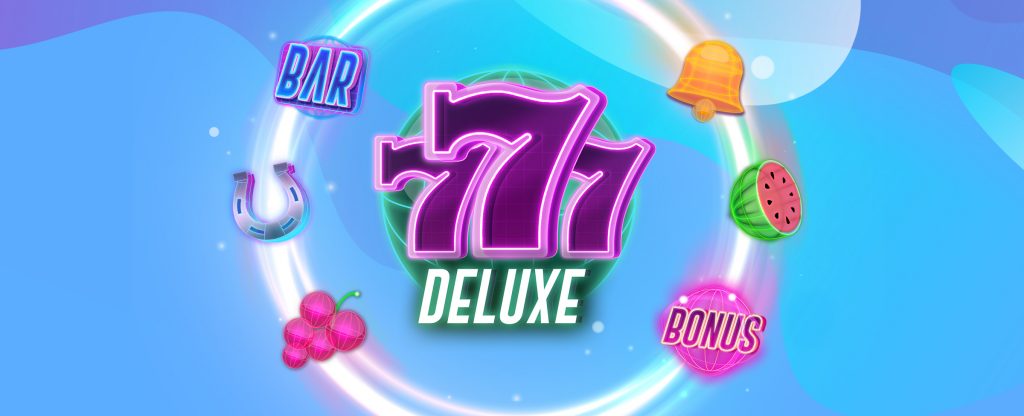 777 Deluxe is yet another trip to the corner store in the '70s where clunky metal slot machines rule the scene – but this time you'll have a deluxe 5 reels and 10 paylines. This game also boasts classic retro symbols like fruits, bells, and bars. A progressive jackpot lies within the bonus round which features 1 payline and 3 reels, plus seven more mini jackpots! We cover all the details in our 777 Deluxe game review!
PLAY REELS AND WHEELS XL SLOT GAME AT SLOTSLV CASINO NOW
Reels and Wheels XL is the perfect game to ignite your nostalgic fire while still sitting comfortably in the present. Open it up on your mobile and play straight from your phone's browser, play on your PC, or even in Practice Mode for free. Whichever way you spin it, these wheels are reely ready for you!
And let friends know about this exciting game and you could get a casino referral bonus.