LARRY'S LUCKY TAVERN SLOT GAME REVIEW
After a long, hard day at work, there's no better place to rest your chin than at the tavern with Larry!
When you play the SlotsLV Larry's Lucky Tavern slot, you'll be happy to find that Larry always has a bar stool reserved just for you, but there's a lot more than free-flowing taps of beer up for grabs at this happiest of happy hours. You'll feel right at home in the tavern: lifting a full beer to say cheers to another regular, taking a generous share of those free spins, chugging some Wilds… and maybe even tapping a few barrels full of real money in the bonus round.
So fire up your fiddles and polish those whistles, hearty brethren! A slightly tipsy, Irish-themed slot is about to stop on your street corner in this Larry's Lucky Tavern Slot review. Mosey on down, because you're about to be gulping up prizes with your best bud Larry – and this tab is on the house!
SHOULD YOU SPIN IT?
There's a lot to love inside the Larry's Lucky Tavern slot at SlotsLV; each sip of ale brings you closer to a terrific and tipsy treasure. Whether you're stopping in for a quick pint and a free spin, or sticking around past last drinks to enjoy Larry's banter, there's tons of reasons why you'll enjoy this online slot:
✓ 5 reels, 3 rows
✓ Upbeat, fun theme
✓ Plenty of free spins with multipliers
✓ Generous expanding Wild
✓ Wild multipliers
✓ Fun "pick me" bonus game
✓ High Slots RTP: 97.3%
✓ High max win per spin: 2,500x your total bet
✓ Tons of beer!
A night at the pub won't be everyone's bottle of brew though, and this is why some patrons might skip Larry's and head straight for home:
X Fixed paylines
X No progressive jackpot
X No Hot Drop Jackpots
GAME OVERVIEW: RAISE A GLASS TO LARRY!
The very second your toe taps at the entrance to the pub, you can hear the loud guffaws escaping from inside its stone walls. The patrons are having a ball inside the tavern, and it's Larry, with his green top hat, fiddle, big grin and protruding beer belly who's keeping the scene vibrant with free drinks, free spins – and Wild multipliers dance in, bringing music to your ears!
LARRY'S LUCKY TAVERN FEATURES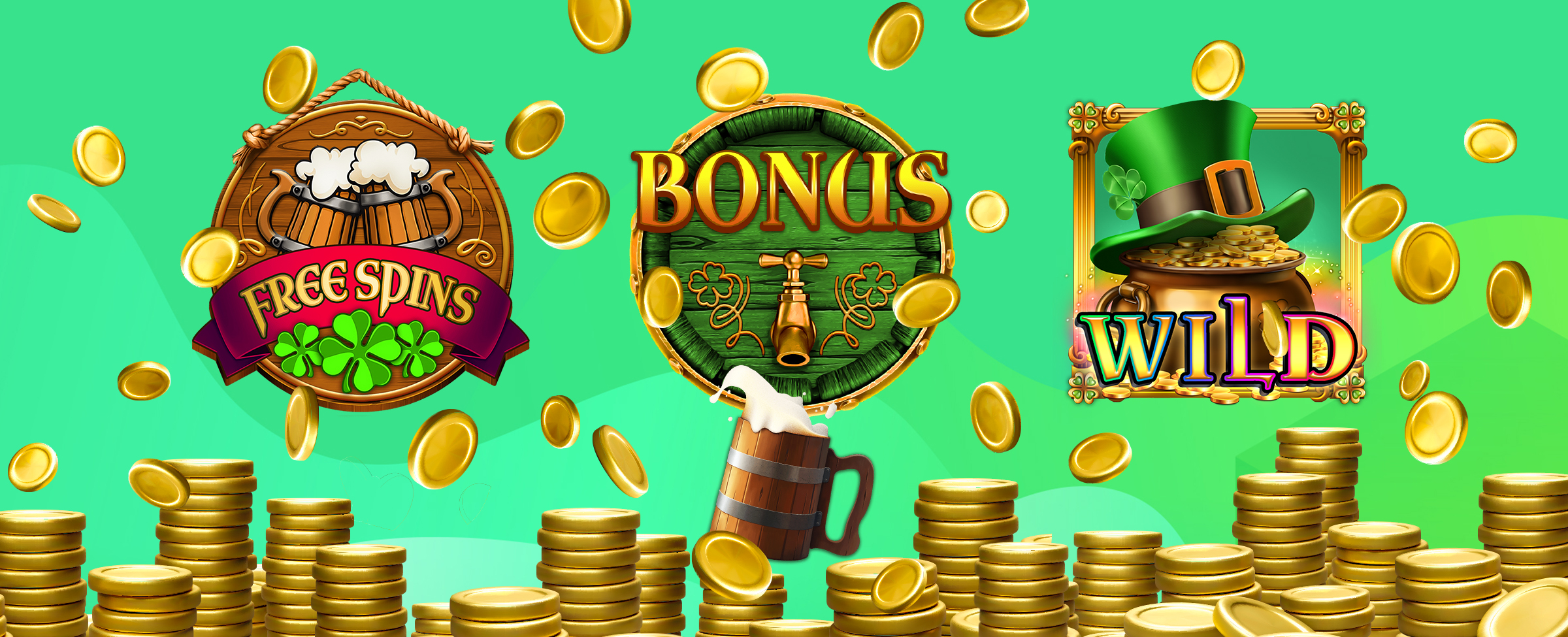 There are plenty of features to swig inside this raucous SlotsLV online slots tavern, so be sure to pace yourself!
WILD SYMBOL
Larry has removed his top hat and placed it neatly on a big pot of gold. That's your Wild symbol in this Irish slot, and Larry doesn't at all mind if you borrow it for as long as you're in his patronage. Whenever the Wild lands on the reels, it will replace that regular symbol and possibly help you form another win.
WILD MULTIPLIERS
Don't stop at just one Wild, though. Larry would raise his eyebrows if you drank and dashed after just one prize. The more Wilds you collect in this tavern the better. If you manage to pick up three on a winning line, that line is multiplied by three. Land four, and you're gulping down 5x your bet on that winning line.
EXPANDING WILD
Whenever you see the Wild appear on reel 3 during the slots free spins feature, a flash of light grows beneath and the Wild expands to cover the entire reel, revealing a dazzling rainbow glittered with gold, and even more opportunities to create winning combinations.
FREE SPINS
We all love a freebie at the bar, and the best way to get them flowing is to chummy up with the owner. Lucky for you, you've got a trusty (and lucky!) friend in Larry.
The free spins symbol in the slot online is a pair of overflowing steiners of beer clanking together harmoniously. When you get three free spins symbols anywhere on the reels, Larry takes care of your tab and gives you 10 free spins with 3x multipliers. What a guy.
Plus, just as you can always get another beer, your free spins can always be retriggered. Oh, that Larry, always out to make a satisfied customer!
FREE SPINS SCATTER
The free spins symbol doesn't stop giving! It pays out as a scatter with wins multiplied by the number of symbols you get:
3 free spins symbols: 2x your bet
4 free spins symbols: 10x your bet
5 free spins symbols: 50x your bet
BONUS GAME
The bonus symbol is a barrel of beer with a tap good and ready to release the lucky flow. When you land three bonus symbols in the game, Larry invites you to the special room in the back of his tavern, reserved only for his finest guests.
There, he presents you with three barrels inside this online slot – but they're not just full of beer. These barrels have special drinks with different real money prizes floating inside. You'll have to select the barrels and match three of the same type to get a sip of the prize which depends on the size of your bet. Who knew barrels of beer would become your casino lucky charm!
BIGGEST WIN
The size of your bet plays a big part in the amount you win, so make sure you're betting on the highest amount you can afford to have the best shot – that's one of the best tips for playing slots of any kind!
With a higher bet, you can do very well inside the free spins round with multipliers of 3x for every win, which can also be retriggered.
When you get four Wild multipliers in the base game, you could multiply your winnings by 5x, in addition to getting paid for possessing the highest symbol in the slot game.
---
Did you know that with crypto gaming, you can withdraw your winnings faster than any other transaction option?
---
IF YOU LOVE LARRY'S LUCKY TAVERN, YOU'LL ALSO LOVE LEPRECHAUN LEGENDS!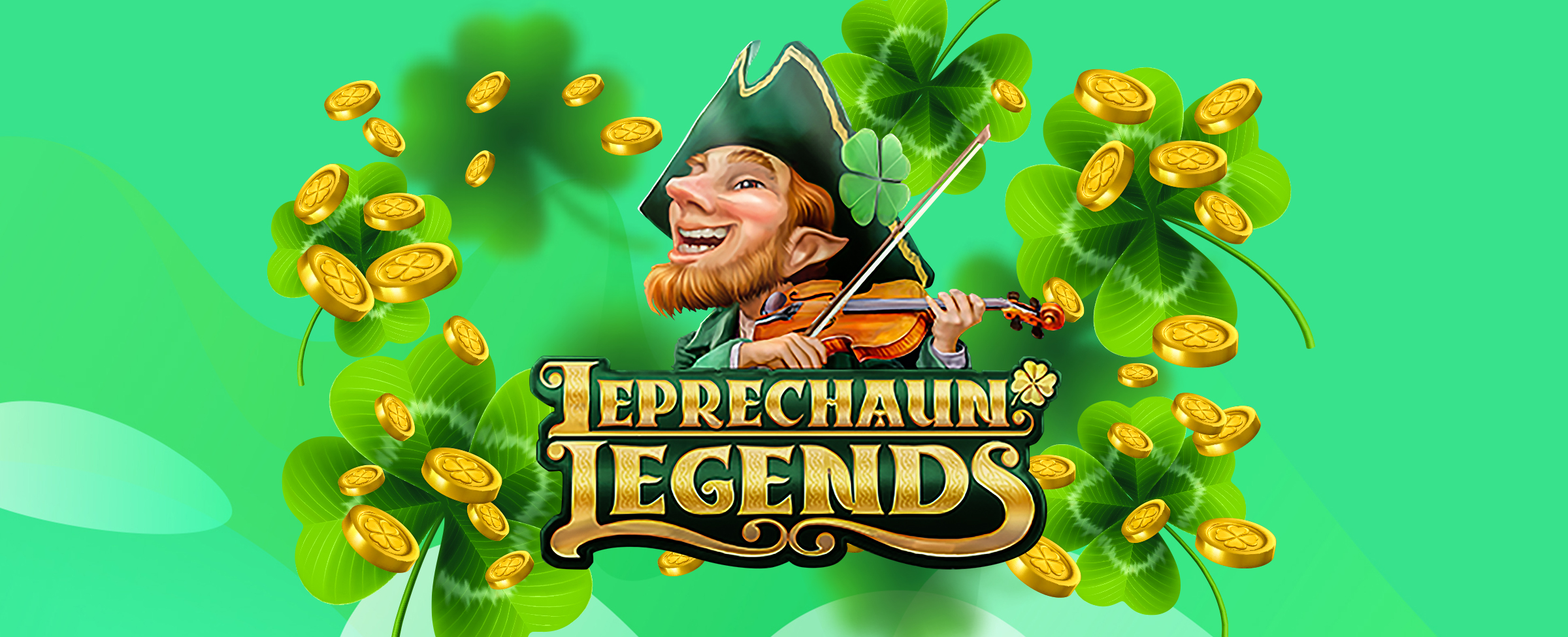 In Leprechaun Legends, you can take a breather from the pub and get some fresh air. There are lush, rolling green hills in this lilting leprechaun land, where you'll be thrilled to encounter three special slots features with traditional music, free spins, and multipliers under the rainbow, right next to the fat pot of gold.
PLAY LARRY'S LUCKY TAVERN SLOT GAME AT SLOTSLV CASINO NOW
The only thing that could make us love a night at the pub any more would be if Larry, in addition to keeping it real, was the reelkeeper, serving out endless free spins. Perhaps in the sequel…
Larry's Lucky Tavern is the place to be for good times with pals, and golden opportunities to pump up your paydays and pad out your wallets. Play Larry's Lucky Tavern slot today to see why this game is so popular at SlotsLV Casino!
And don't forget to spread the word about Larry and SlotsLV. If you refer friends, you could earn a casino referral bonus.