WHAT IS SLOTS RTP? RETURN TO PLAYER OFFICIALLY DEMYSTIFIED
You may think it's as simple as placing a bet and hitting "spin", but as it turns out, casino online slots have a lot more going on than just that.
To have the best experience from a slot, most experienced players look for ones with a good theme, the right volatility, a good jackpot, and most importantly, a higher casino RTP, or return to player.
If you're intimidated by the idea of RTP, we totally get it, and you're not alone. We're going to clear up any confusion about casino slots RTP, and give you the confidence to choose games based on their return to player and more.
So let's get to demystifying.
WHAT IS RTP?
RTP, or return to player, simply means the percentage of your wagers that are expected to be returned to you in the long run from a specific casino game, such as the SlotsLV online slots.
EXAMPLE: So if the RTP of a game is 90%, that means if you make one hundred $1 bets on that game, you could expect to win around $90.
RTP CASINO FAQ
Let's cut to the chase and get to the nitty gritty of RTP right now.
Q: What's the difference between RTP and house edge?
You'll be happy to hear that the RTP and the house edge are pretty much the same thing. Phew. One less thing to worry about! The only difference is that RTP refers to the average amount a player will get back, and the house edge refers to the average amount the house, or the casino, will get back. Two sides of the same coin.
Q: Where do you find a game's RTP?
More often than not, the game's RTP is clearly displayed within the paytable. The paytable can be either the hamburger icon with three horizontal lines stacked on top of each other, within the question mark "?" icon, or the small "i" icon. If it's not listed there, you could do a search for the game, and there's a good chance the RTP will be found on a forum or slots game review.
Q: What is 'volatility' in slots?
You often see those game reviews refer to both volatility and RTP. Volatility refers to how frequently and how large your wins in an online slot may be. If you see a slot that has "low volatility", that means it's likely to award wins frequently, although of a smaller size. If a slot has "high volatility", that means you likely won't be seeing wins too often, but when you do, they're going to knock you off your seat (think: the big SlotsLV progressive jackpot slots).
Q: Should you only play slots with high RTP?
Of course, it's generally a good idea to focus on slots with a higher RTP, because you'll make a good chunk of your money back over time. Having said that, some players prefer a game's massive jackpot over its RTP, preferring to sacrifice bigger wins in the short term in order to invest in making the big wallop of a prize that Vegas dreams are made of later on.
Q: What is a good RTP for slots?
Any game that has an RTP of 95% or higher is considered good. A game with 97% RTP or higher is considered excellent. Any game with an RTP of 94.99% or lower is considered low.
If you want to learn more about slots, check out our FAQ about online slots now!
WHY DOES RTP MATTER WHEN PLAYING SLOTS?
Sometimes you see a super cool theme and you want to dive in right away to see what that strange shark with a mustache is up to in the butcher's shop. Hey, that's totally fine! However, if you want to use a slots winning strategy to make the most out of your money, then you should focus on the game's RTP as well.
Choosing a game with a higher RTP means you are more likely to win your money back and keep your bankroll up. The more bankroll you have, the more games you can play, and that's the whole point!
SLOTS RTP AT SLOTSLV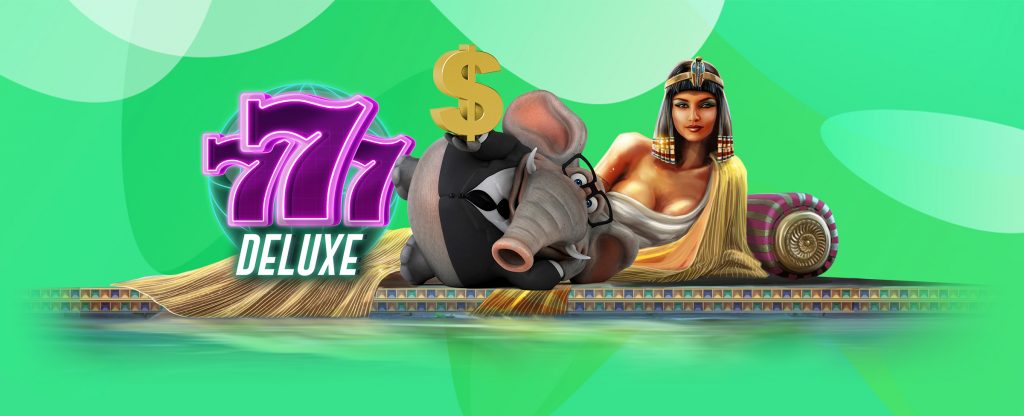 Now that you're an old pro at the ins and outs of return to player, let's see how the SlotsLV slots RTP looks for some of our most popular games.
A NIGHT WITH CLEO
This is an excellent example of when you should balance choosing a game based on theme, or RTP alone. A Night With Cleo has a lower RTP of 92.5%, and yet, it's by far one of our most popular slots. Why is that?
The reason is that this game comes with a massive progressive jackpot that's randomly awarded. Many players find it's worth it to wager towards a bigger ultimate prize, even if it means they won't get as much back in the long run (that's high volatility, remember? Sure you do!).
Even when you're not winning the ultimate progressive, the adult theme with Cleo's bare-all body is more than enough to pique interest for most players. You can read more about the best features in our A Night with Cleo slot game review too.
777 DELUXE
As one of SlotsLV's biggest winning games, 777 Deluxe checks all of the boxes for an excellent slot: high RTP of 96.18%, fun theme, and huge progressive jackpot. In other words, there's hardly a reason to pass this classic by, like we share in our 777 Deluxe slot game review.
GOLDEN BUFFALO
Yet another of our most popular games is slot with medium volatility and a high RTP of 96%. Golden Buffalo has astounding wins in the form of multipliers – 3,125x to be exact. It's a hugely popular game (as noted in our Golden Buffalo slot review) because wins are awarded fairly often, and the RTP means you'll keep your bankroll boosted over time.
Has the fog cleared away, and the meaning and value of RTP shone through like the rays of sun at high noon through your blinds? Just remember that a game's RTP is an important part of your slot strategy, and it's a great way to keep your bankroll up as you play your favorite games and some of the SlotsLV most popular slots over time. Try any game out in Practice Mode for free to see if you're feeling it, then lay down real money to make real money. Simple as that!