FAIRY WINS SLOT GAME REVIEW
The SlotsLV Fairy Wins Slot is an unexpected, whirlwind journey through a magical forest alive with wonders and potential winnings! Your four fairy friends take you by the hand on a quest through countless Wilds, free spins, increasing multipliers, and a progressive jackpot to top it all off. Every moment is complete with sparkling spellwork, mysterious encounters, and spirited friendship.
Players will fall in love with the allure of the fairies' beauty, but also with their generosity, as they reward all curious visitors to their home of luscious green.
Whether forest dweller or fearless adventurer, come forth with eyes wide open – these fairies are waiting within this Fairy Wins online slot review for their next playmate, and you're just the type of person they're fluttering with joy to meet!
SHOULD YOU SPIN IT?
The forest is absolutely glistening with treasure and mystery – an abundance of shimmering gold and colorful jewels practically poking from the treetops. There are countless reasons you would want to spin the reels of this SlotsLV online slot, including:
✓ Rapid growing progressive
✓ Free spins with increasing multiplier
✓ Higher scatter wins
✓ Magical theme
✓ Extremely high max win per spin (40,000x your bet)
✓ Works great for crypto gaming since your deposits and withdrawals are much faster
Some may find the magical forest is not to their taste, and this is why you may not want to follow the fairies' call into this slot online:
X Paylines are fixed
X Free spins can't be retriggered
GAME OVERVIEW: PICK YOUR FAIRY
To greet these online slots fairies, you need only feel the wind shift with the excited flutter of their wings to know where to go. The moment you step inside the forest and a fallen leaf crinkles beneath your foot, the four fairies that rule the land will emerge from their shelter in the trees.
The first fairy you meet in this slots game extends her delicate hand in a welcoming gesture, her beautiful hair glowing pink and shining with a tiara of gold.
The second fairy has eyes that burn with the fire of two blue suns, and periwinkle hair shimmering just as bright.
The red-haired fairy is your third, and she offers a wink with her kind eyes and a playful smile surfacing on cherry lips.
The fairy with green hair is a little warier, carefully watching you from afar, but you can always feel the gaze of her piercing, pine-green eyes as you are welcomed by the others.
The fairies work their magic to instantly lift your feet off the ground, leaving you now floating behind them as they whisk their way deeper into the ethereal forest, preparing you to play the Fairy Wins slot at SlotsLV:
5 reels
3 rows
20 paylines (fixed)
Min bet: $0.2
Max bet: $200
FAIRY WINS FEATURES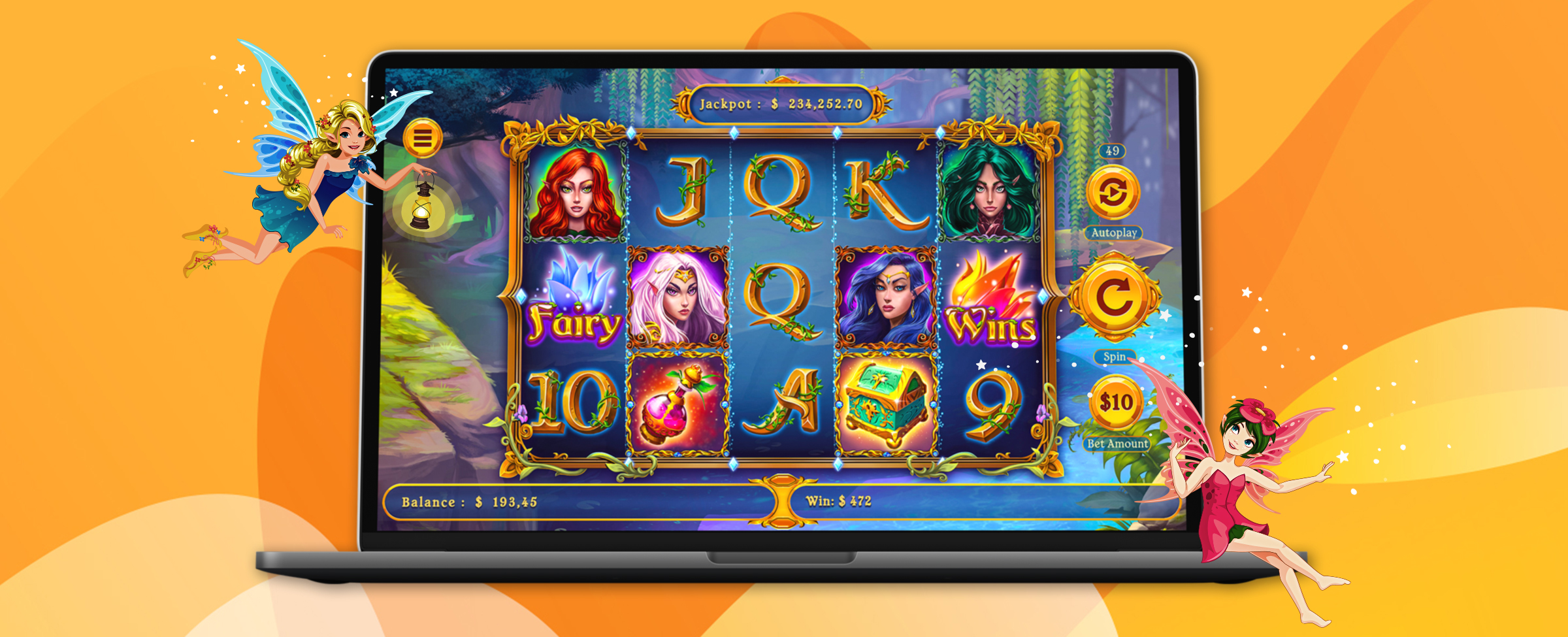 The forest is full of secrets, some hidden amongst the aged trees, and some resting with the fairies themselves! But you won't have to wait long to discover them, as the answers spring to the surface when just the right real money slots symbols settle onto the reels lined with curling vines.
WILD POTION
As you will quickly learn, the red-haired fairy is awfully playful. If she ever offers you a red potion on reels one, three, or five, don't hesitate to grab it and take a big sip! This potion is your Wild, and can substitute for all symbols in the slots game, except for your scatter and the "Fairy" and "Wins" logo symbols.
SCATTER TREASURE CHEST
As more magic of the forest unfolds, you may be lucky enough to unearth the elusive treasure chest overflowing with gold. That's your slots scatter, and it offers the highest wins in the base game where your wins are multiplied by your total bet.
"FAIRY" AND "WINS" SYMBOLS
These are the most important symbols in your adventure, as they act as the magical key to enter the bonus round. You need one "Fairy" symbol on reel 1, and one "Wins" symbol on reel 5. Then the true wonder of the enchanted forest is unleashed for you and the fairies to enjoy!
FREE SPINS
When you trigger the slots free spins feature via the "Fairy" and "Wins" logos, three of the four fairies descend from the trees to engage you in a game. They stand before you in a clearing of trees, their auras twinkling with sparks of dazzling light, and they offer you to choose among them.
Look into their eyes, now, for the fairy you choose will award you a unique set of magical free spins from 8 to 25. Once the free spins start, each "Fairy" and "Wins" logo that appears will still replace any other symbol, but now it increases the prize multiplier which could reach up to 10x!
A PROGRESSIVE JACKPOT WITH ANY SPIN
While the Wild, scatter, and free spins are bound to get you far along your journey, this online casino game happens to be one of our best progressive slots on top of it all.
The progressive jackpot is awarded at random, which means it could trigger at the conclusion of any game. You don't need to play on the max bet to be eligible for it, because these fairies are all about the welcoming and the love.
---
There's even more jackpots to explore at SlotsLV! Discover Hot Drop Jackpots and their hourly prizes, every day!
---
IF YOU LOVE FAIRY WINS, YOU'LL ALSO LOVE ROBYN!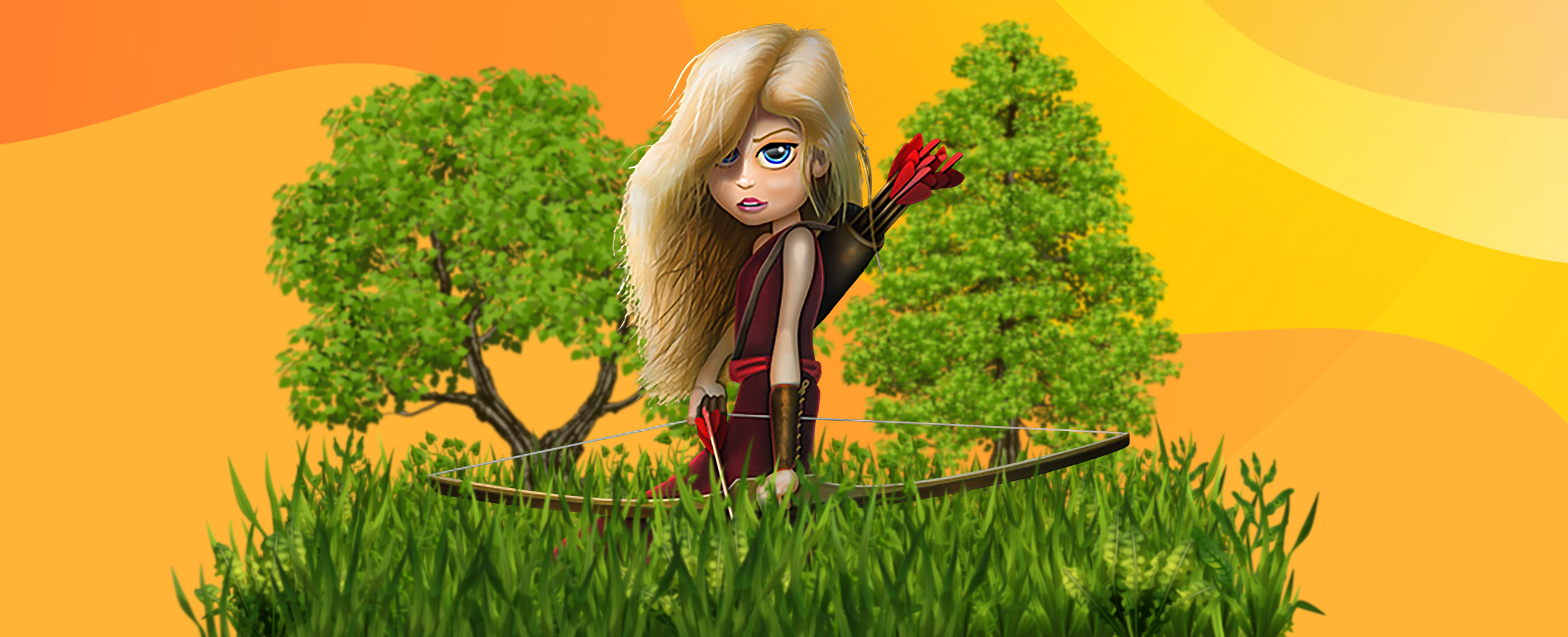 It's not only Fairy Wins that features strong female leads who know their way around the forest. Robyn may not be magical in the traditional sense, but her sharp shooting skills are otherworldly and sure know how to make a game feel spellbinding!
Each time Robyn shoots her arrow in the base game, those symbols under its tip are replaced by a non-scatter symbol. During free spins game, her shooting arrow transforms the symbols into Wilds, increasing your chances to win.
PLAY FAIRY WINS SLOT GAME AT SLOTSLV CASINO NOW
While that's a wrap for our Fairy Wins slot review at SlotsLV, it certainly doesn't mean the end of the game!
The fairies in this slot online are waiting to charm you with their magical home in the forest and adventurous games of chance as we speak! Don't forget that if you refer a friend to play, you can get a casino bonus dropped into your account after they make a successful deposit. Then the two of you can happily prance through the forest, chasing the progressive jackpot in the company of friendly, magic-wielding fairies! Your fairy adventure starts here!