Ten Times Wins Slot Game Review
Let's think back to a simpler time for slot machines.
You dig out a few coins, slide them in, and yank on that chrome-plated lever. The single reel kicks into gear. The familiar symbols spin wildly, eventually settling down on the payline. Aahh, look! It's a row of three cherries – score!
Bet you never imagined the good ol' days of simplicity would come back for another whirl! But we're bringing you those reels, and they're already spinning wins – at least ten times.
SlotsLV Ten Times Wins slot is a throwback to classic times, when your Bon Jovi cassette rarely left your Walkman. This 3-reel online slot will give you an instant sense of familiarity and comfort. But with more symbols. In fact, you can win up to 40,000x your bet!
With one foot in the nostalgic past and one planted firmly in the present, come along with us on this Ten Times Wins online slot review and see the best of the past AND present!
Should you spin it?
Ten Times Wins is one of the best classic slots you'll find online. It will warm your heart up with its retro simplicity, but at any instant it could also send it beating into an adrenaline-fueled flutter.
✓ Classic design with 3-reels and 3 rows
✓ 3 horizontal paylines, left to right
✓ Incredible max win of 40,000x
✓ Easy-to-read paytable adjacent to reels
✓ $0.01 – $90.00 bet amounts
✓ Wild Multiplier
✓ RTP: 95%
✓ Uncomplicated, simple slot and ideal for a relaxing escape
That said, this vintage slot online isn't for everyone, and that's just fine – there are hundreds of other SlotsLV online slots to explore. Why you might choose to skip this:

X Only one primary feature
X No progressive jackpot
Game Overview: A Nostalgic Adventure to Classic Slot Machines
It's a classic casino scene, similar to what you'd see in traditional Vegas casinos or Atlantic City.
This old-school slot features 7s and BARs (each in red, green and blue), as well as cherries. You can adjust the coins and lines to keep things as simple as you like.
To jolt that balance into high gear with a prize, just match up the same symbol on a payline. Three of the same symbols in the same color will award the highest, but even a random mix of colors with matching symbols will award you something. No need to memorize which symbol pays the highest, though, with the paytable neatly beside your reels!
Not everything about this throwback is old-school, though. Case in point: we're a crypto casino, which means you can keep one foot planted in today and make your deposit with crypto. You'll find it's much faster to transfer USD and more secure than a traditional transaction.
Ten Times Wins Features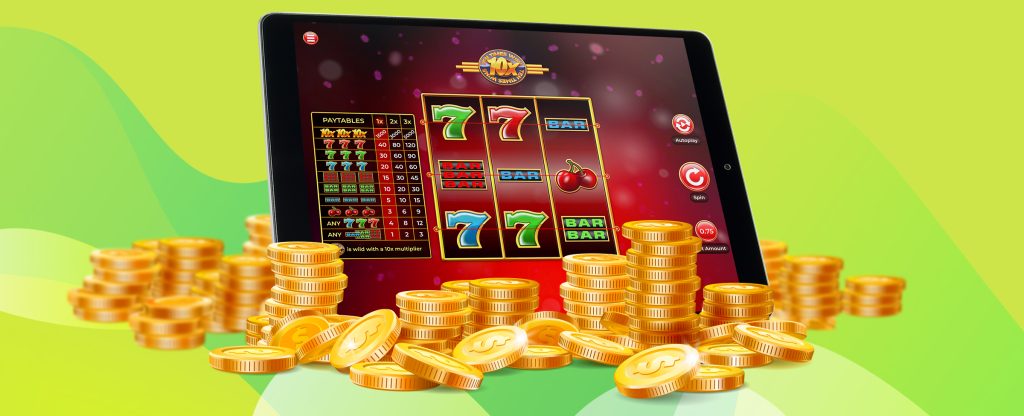 There's just one feature to focus on inside Ten Times Wins slot at SlotsLV. It will make your windbreaker billow and your high tops hover above the floor, though. It's the 10x Wild icon!
10x Wild Icon
Whenever the 10x Wild symbol appears anywhere on the reels, it acts as a Wild by transforming into any other regular symbol. If that new symbol helps you form a win, your entire payline is multiplied by 10x!
Why not bring someone along for the retro slot machines at SlotsLV? Refer a friend to play online slots with you and we'll give you a hearty thanks with a referral bonus.
If you love Ten Times Wins, you'll also love 10 Times Vegas!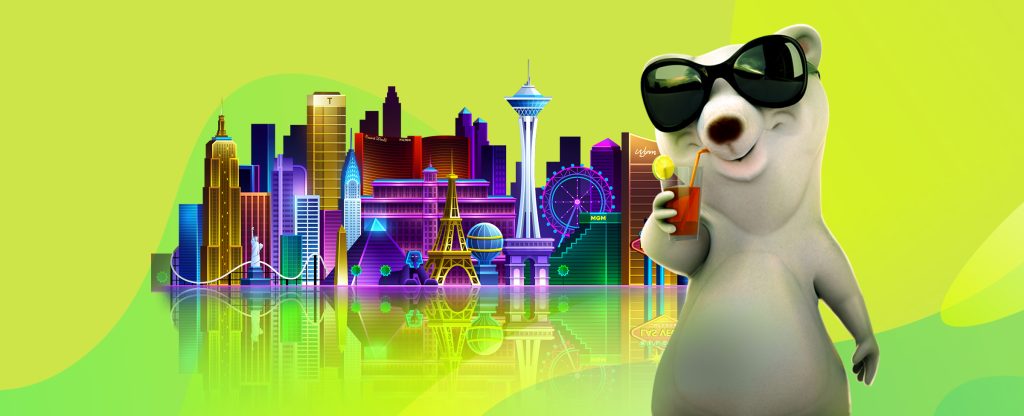 It's not only 10 Times Wins that will multiply your good times by ten. 10 Times Vegas has the same magic touch – and the same magic number!
Against the backdrop of Sin City, there are 3 reels, 3 rows, 3 paylines, sevens, bars, and cherries, just like in Ten Times Wins. A few other symbols fill out the reels, like horseshoes, coins, hearts, and grapes. But, in this slot online, instead of just one Wild multiplier, you now have three: a 2x, 5x and 10x!
Through the right series of respins, you could even end up winning a HUGE progressive jackpot!
If jackpots are your thing, then you'll eventually want to make your way over to learn about our Hot Drop Jackpots. These games have three jackpots that must drop by certain times, or anytime for the Epic jackpot!
Play Ten Times Wins Slot Game at SlotsLV Casino Now
At SlotsLV Casino, Ten Times Wins is your nostalgic adventure into the early years of slot machines, with all of the modern rewards. Forget sensory overload; this beauty soothes the mind and gently hauls you back to a time when life was a little less complicated… but once you land a few matching symbols or the Wild multiplier, you'll bounce right back into the thrilling here-and-now!