INSTANT INFERNO SLOT GAME REVIEW
For those who like it hot, there's no game out there that'll get the fire burning like the Instant Inferno slot at SlotsLV!
This online casino game takes red-hot wins to a whole new level. Each and every symbol is consumed by fire, and every lucky win stokes a brand new burst of excitement.
You won't find a storyline here with characters guiding you through a hidden land… but you will discover an underground world where rock n' roll rules the scene, and every step over the burning embers of classic symbols takes you one leap closer to the final prize… and potentially to your doom. (Sometimes it's good to be bad!)
Are you ready to brave the heat and enter into the Instant Inferno online slot review? We can't guarantee that you won't get burned, but we can certainly guarantee your wins will be on fire!
---
MONICA G. FROM TX WON $199K PLAYING INSTANT INFERNO AT SLOTS.LV IN DECEMBER 2022!
---
SHOULD YOU SPIN IT?
With so many games out there to choose from, you may wonder if a game that's so dangerously hot would be worth your bets. Rest assured, the SlotsLV Instant Inferno slot is hotter than the furnace burning with flames, but all that heat just stirs up life in the bonus round and scatters, and your balance will rise right along with your thermometer!
This is why you'll love braving the fire in pursuit of prizes when you play the Instant Inferno online slot:
✓ Double scatters = higher win potential
✓ Easy to win Pick Me Bonus Game
✓ Tons of Free Spins with Multipliers
✓ Solid RTP (96.63%)
✓ High max bet for higher wins
✓ Rockin' theme with guitar riffs
The heat 'aint for everyone, and this is why the faint of heart may want to steer away from the flames:
X Paylines are fixed
X No progressive jackpot
---
Loving the heat of Instant Inferno? Then check out Hot Drop Jackpots. Discover three types of jackpots to fire up your play!
---
GAME OVERVIEW: A SCORCHING HOT CASINO EXPERIENCE
As you browse our SlotsLV online slots, you begin to hear a noise… You can just barely make out the faint riff of a guitar, so you cautiously listen a little closer. It's at that fateful moment that the flames burst from Instant Inferno, grab you by the collar, and send you plummeting into the underworld, where the furnace fuels its flames.
This is what you discover the moment your feet strike the burning ember floors:
5 reels
3 rows
2 scatters
30 fixed paylines, awarded left to right
Pick Me Bonus Game
Free Spins + Multipliers
Bet Range: 0.3-150
A quick glance around has you witnessing a series of symbols. At first they appear as only flames, but as your eyes adjust you can see the flames are in fact sevens, BARs, Cherries, and a yellow bell with a pitch fork dangling from the bottom, taunting you to come closer to give it a ding.
As you get comfortable in the flames, the casino rock music with stellar guitar sounds amps up and enraptures your soul, and it's at that very moment the rock n' roll ruler of the underworld comes out to play with bonuses and features.
INSTANT INFERNO FEATURES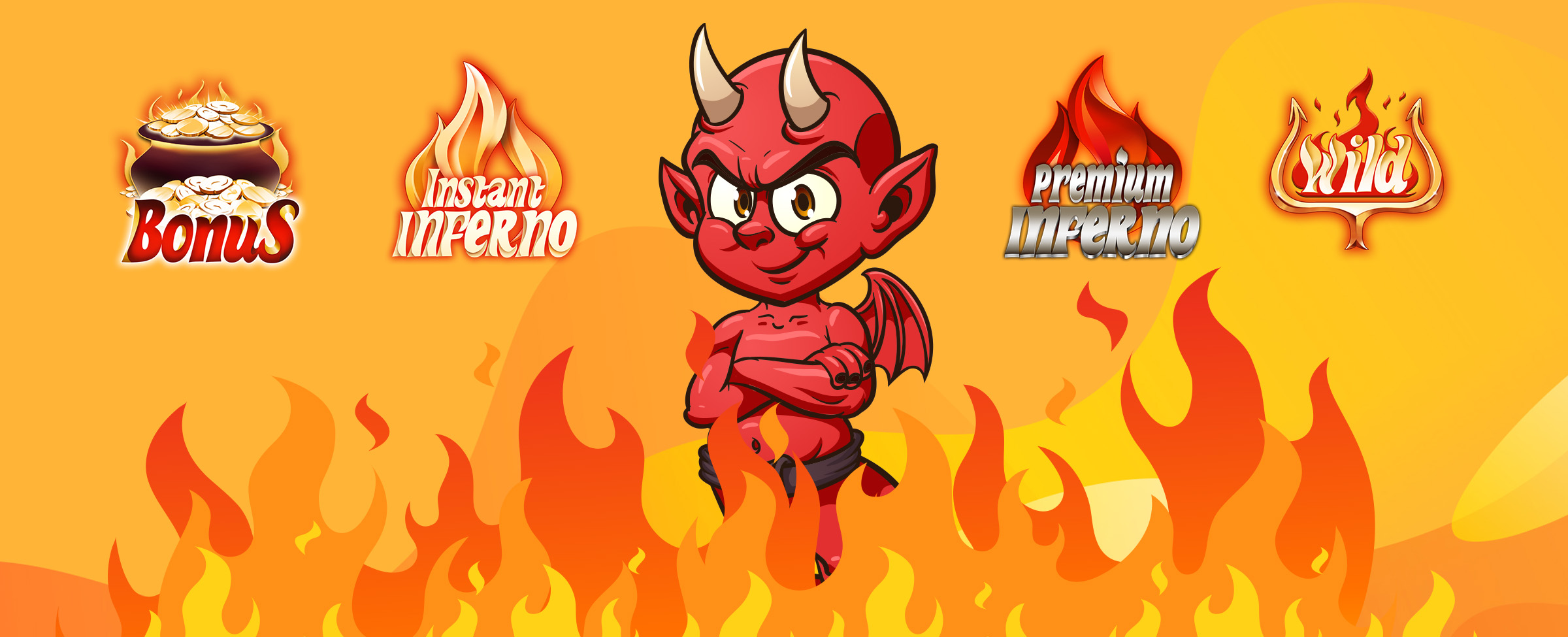 Don't run! This satanic ruler has many hot slots offerings to share, and you won't want to miss them!
SCATTER
Far into the distance you can see a hint of yellow emerging from the bright orange and red flames licking the sides of the reels. That is your first scatter, and it's one of the highest paying symbols in the base game, paying from anywhere on the reels.
PREMIUM SCATTER
The premium scatter appears anywhere on the reels in flame-red and orange, and it's hell-bent on making your balance rise. Like the regular scatter slot symbol, the premium scatter comes with its own paytable, and just five of them will award the highest prize in the base game.
WILD
When the ruler of the inferno warms up to you, he'll emerge from his fiery lair with a raging pitchfork and the word "Wild" engulfed in flames in the middle. He's offering you an online slots gift which can transform any regular symbol in order to help you win, so you'd better accept!
BONUS SYMBOL
The bonus symbol is a pot of gold coins with red hot flames licking the side of the metal pot. If you get just three bonus symbols on reels two, three, and four, you get to play the Pick Me Bonus Game for a sweltering opportunity to flip over tiles and win free spins and multipliers.
BIGGEST WIN POTENTIAL: PICK ME BONUS GAME
When you reach the bonus round via the bonus symbols, you're presented with 20 tiles. You have to flip each one to get a prize, until you match three with the same prize, which is how you unlock free spins and multipliers in the game.
To help you along, the red-hot ruler of the game has tossed a Wild tile in the mix. If you unveil this tile, it can substitute another tile to help you win, plus add an additional five free spins, and they can all be retriggered.
A prize like that is worth telling your friends! Have you heard about the SlotsLV Refer and Earn program? You could be fueling your account with unlimited bonuses; find out how!
IF YOU LOVE INSTANT INFERNO, YOU'LL ALSO LOVE TEN TIMES WINS!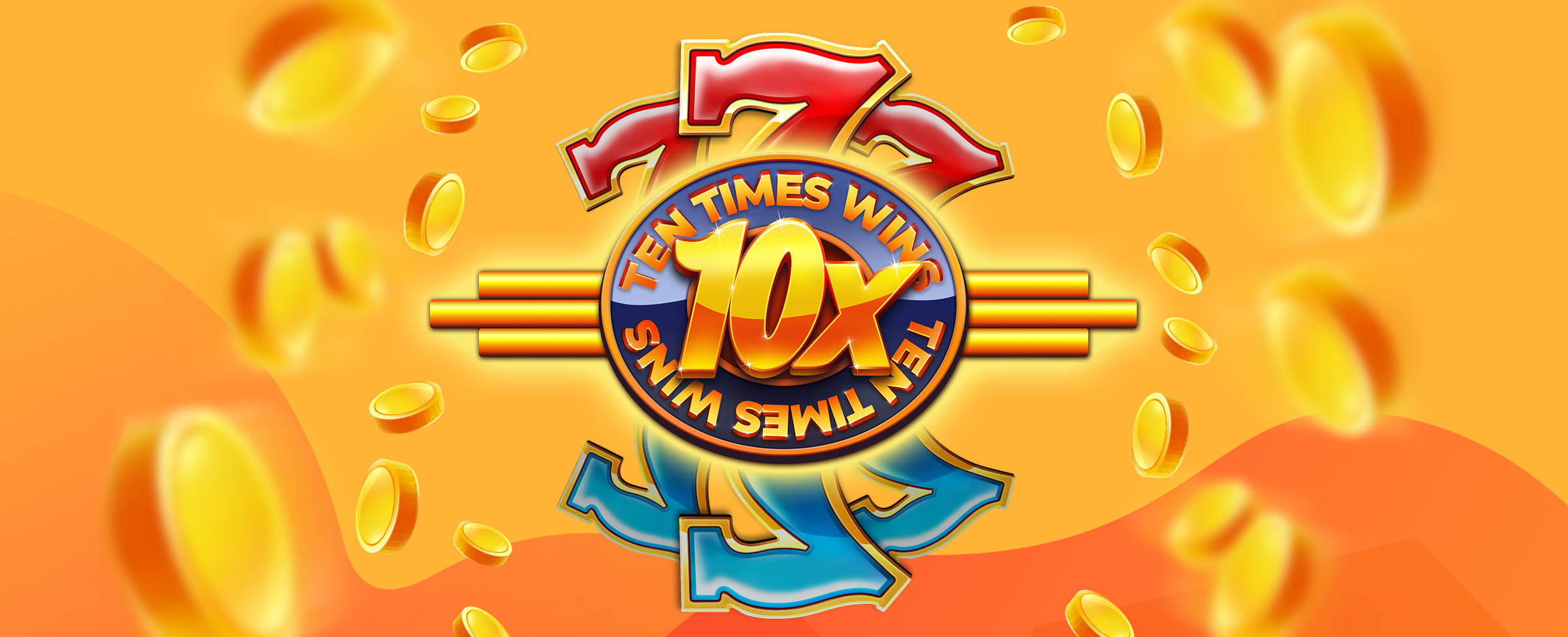 After this Instant Inferno slot review has engulfed your interest in a red-hot desire to play, you may want to grab some twigs from the fire and branch out to another similar game.
The bright, red background of Ten Times Wins will have you feeling right at home after smoldering in the Instant Inferno furnace, but you won't be sweating from fire – it's not that type of slots game.
Instead, you may find a droplet of or two collecting over your brow as your heartbeat races over the rapid-fire wins in this classic, retro-themed game. There are Sevens, Bars, and Cherries, but now you have a 10x symbol which lands on three paylines and multiplies your wins, up to a max win of 40,000x your bet!
PLAY INSTANT INFERNO SLOT GAME AT SLOTSLV CASINO NOW
If you're not afraid of some heat, then listen to the call. Head to SlotsLV Casino to play Instant Inferno, where prizes are all sizzling inside the furnace and waiting for you to descend into their lair, slip on an oven mitt, and grab ahold of them yourself. Before you do, check out our crypto casino deposit methods to fund your SlotsLV account. Crypto will have you on your way in no time at all!