Gongxi Facai Slot Game Review
At any given moment of your life, you may find yourself wishing for greater wealth and prosperity to come your way. In fact, it's probably a thought you've turned over in your mind dozens, if not hundreds, of times. Who hasn't indulged in such wishful thinking!
This is precisely why we've added a game like the SlotsLV Gongxi Facai slot to our lineup.
"Gongxi Facai" is a well-wishing phrase that translates to "wishing you prosperity and wealth". That's a motto we live by here at SlotsLV Casino, and it's that very wish that we hope to instill in your life right now from this very Gongxi Facai slot review!
To help you along your prosperous journey in this game is the god of wealth, better known as Caishen. He will observe from his quiet opulence above the reels, ready with a smile of encouragement as you spin for free spins and multipliers.
Should you spin it?
Gongxi Facai slot at SlotsLV is overflowing with gold and riches for anyone who hears the call for wealth and follows its sound. Here's why you'll love to play it:
✓ Interesting cultural theme
✓ One of the best Chinese New Year slots
✓ Soothing music
✓ Tons of paylines (243)
✓ Retriggerable free spins
✓ High multiplier potential
✓ High maximum bet ($40) means big winning potential
The life of opulence isn't for everyone, and this is why some may choose to pass on Caishen's offerings of wealth:
X No Hot Drop Jackpots with hourly and daily jackpots
Game Overview: This Way to Good Fortune
Caishen is the revered Chinese god of wealth. It's only through him that you can discover the unbridled riches that wrap themselves around these reels, waiting for their god's instructions. He stands just above your base game holding a golden ingot filled with gold coins, which topples over at key points in the game.
As one of our best slot themes to play based on Chinese culture, there is no shortage of good-luck symbols to encounter on the reels. The face of Caishen is your highest-paying regular symbol, but he doesn't work alone. The koi fish, jade pendant, and red envelope concealing lucky money are all spinning at Caishen's bidding.
When you gaze upon his kind, round face, you feel nothing but Caishen's goodwill, as you discover the game's wealth of features:
Video slot
5 reels
3 rows
243 ways to win
Wild
Scatter
Free spins
Multipliers
Minimum bet: $0.25
Maximum bet: $40
Gongxi Facai Features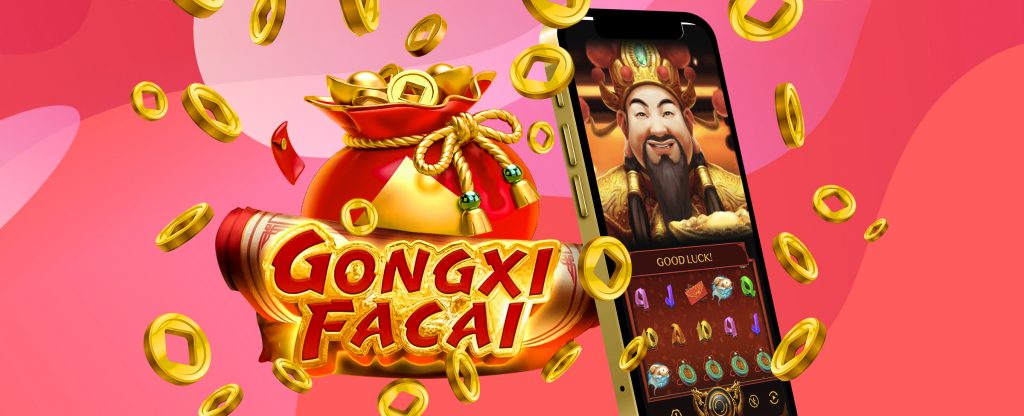 To be wished good fortune is one thing, but to live the life of the fortunate is another one entirely. It's only through these features that you'll discover the true might of Caishen's power… should he wield it to send giant piles of cash your way!
Wild
An extra-large golden ingot appears as a shining beacon, illuminating future fortunes, and it acts as your Wild symbol. It appears only on reels 2, 3, 4, and 5, and when one or more Wilds substitute regular symbols for a win, you are duly awarded, and so is your bankroll!
Scatter
The Chinese symbol is your scatter, which can pay from any position atop of any regular payday wins. This is also the symbol that can lead to the highest-paying feature: the slots free spins round. Want to know more? Silly question! Here we go.
Gongxi Facai Free Spins
The free spins round has been waiting in anticipation for you to land three scatters to make it come to life, and Caishen couldn't be more delighted to see you arrive. In an act of generosity that is so characteristic of his divine benevolence, Caishen first asks you to choose for yourself the number of free spins and random Wild multipliers you would like to contribute to each spin.
5 free spins with random Wild multipliers of 10x, 15x, or 30x
8 free spins with random Wild multipliers of 8x, 10x, or 15x
10 free spins with random Wild multipliers of 5x, 8x, or 10x
15 free spins with random Wild multipliers of 3x, 5x, or 8x
20 free spins with random Wild multipliers of 2x, 3x, or 5x
Any three scatters that appear during free spins can trigger the feature again for the same amount.
One more thing that Caishen will surely tell you once he's gained your trust, is that this and other SlotsLV online slots are better with Bitcoin gambling. You have the potential to strike it rich in a game like this, and with higher withdrawal limits and faster processing times, it's only through crypto that your winnings will arrive at lightning speed.
If you love Gongxi Facai, you'll also love Caishen's Fortune XL!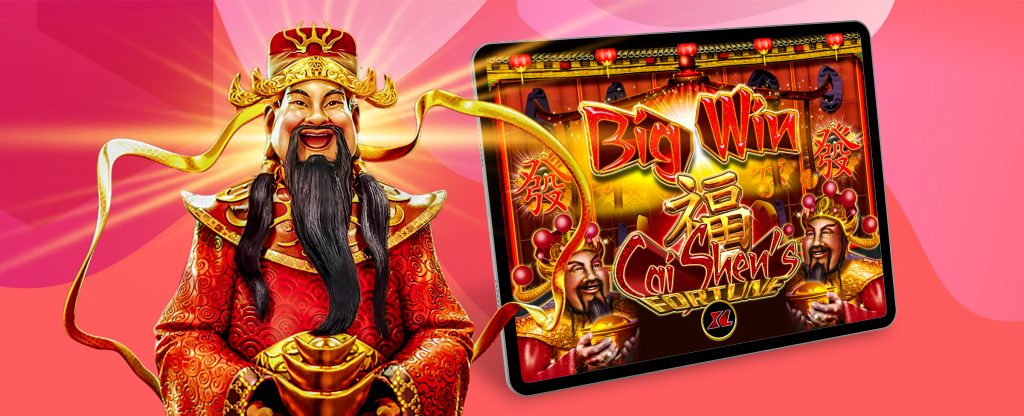 Caishen is a god who exists to spread wealth and fortune to all people who devote themselves to him. So, Gongxi Facai slot is not the only game at SlotsLV in which you'll find his shining, happy face!
In Caishen's Fortune XL, he's back with his koi fish, red envelopes, and jade pendants. You are also granted a selection of free spins and random Wild multipliers, which will be perfectly familiar to you since playing Gongxi Facai!
Caishen has more than enough cash to go around, so don't forget to refer a friend to join you in the warm glow of his Caishen's generosity. We'll give you a rather generous bonus ourselves when they make a successful deposit.
Play Gongxi Facai Slot Game at SlotsLV Casino Now
A final message as we reach the home stretch of this lucky Gongxi Facai online slot review: we wish you prosperity and wealth! And on top of the wishes, we've maximized your chances of achieving these things by introducing you to the SlotsLV Gongxi Facai slot. Take this inspiration and seize the moment! Accept the invitation of Caishen at SlotsLV Casino, and may he unleash endless riches over those blessed reels through his bountiful generosity!