BOO! These Halloween Slots Go Cha-Ching in the Night
On a gusty, ink-blue night when the moon hangs low in the sky, a grandfather clock strikes midnight and startles you. Then – something peculiar happens.
A cackle sounds from outside your window. A chilling sound – could it be a scream? – echoes in the distance, and the cacophony of distant chimes grow louder with each reverberating ring.
As if in a trance, your feet follow the strange noises into the night, until you stand before its single source: a hulking, heaped pile of SlotsLV Halloween slots, their surfaces crawling with jackpots and, bonuses that bite, and a flurry of frightening features! These scary slots go bump and cha-ching! in the night. But those screams you hear? Those aren't screams of fright; they're screams of delight as big wins overfill jackpot buckets like candy!
Follow the shrieks and squeals of these SlotsLV online slots for Halloween… but it's the prizes, not chills, that are multiplying.
Wicked Ways
Deep in a remote, desolate forest lies one witch's lair, a humble place shrouded in eerie mystique… so of course, you let yourself in.
A haunting orchestra plays as you enter, each note carrying with it a sense of doom. This October 31st, you will discover the secrets of the occult and the great witch's Wicked Ways! Get ready to fly off the broom handle!
You cautiously glide through the dimly lit 5×3 chamber. A potion bottle glows ominously on a dusty shelf next to a book of spells with dark incantations, and a black crow perches on a skeletal branch.
Amidst the sinister atmosphere stands the Wild bewitching witch, a sensual vision in a bright red dress on reels 2, 3, and 4. Her powers are mysterious, and… no siree! That's not your eyes playing tricks on you. The red witch has landed three times on one reel, releasing a spell that locks the entire reel in place as the others re-spin, just as it does in the round of 15 slots free spins.
Scary Rich 3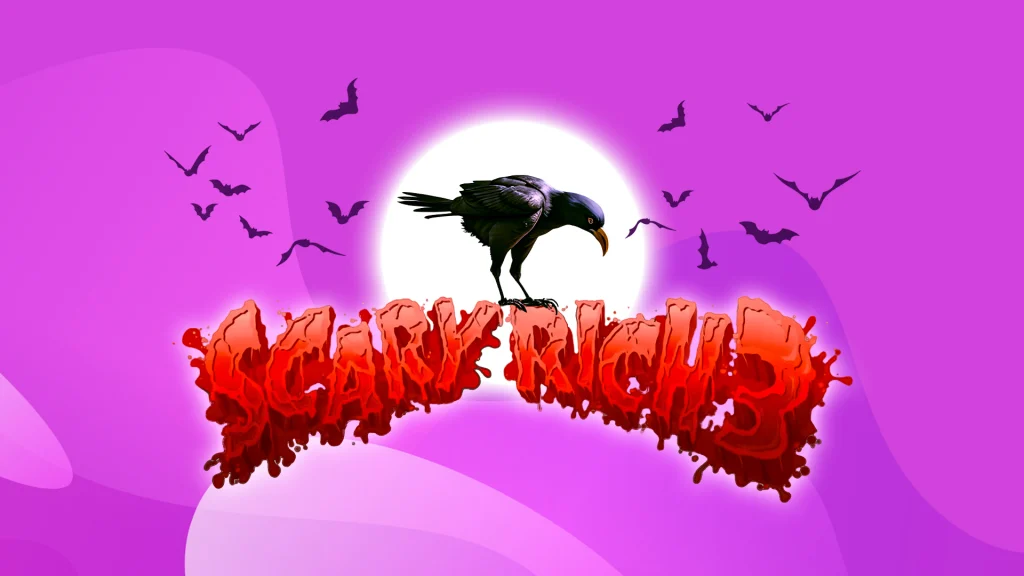 If anything should be on your fall bucket list, it should be getting filthy, scary rich!
Scary Rich 3 is dressed up as an old horror movie this year. You are the main character who slinks quietly through the mansion making floorboards creak, hoping you don't stir any of the resting ghosts and ghouls.
The mansion has doors on every side of the hall, and despite your better judgment, curiosity will get the best of you. It won't hurt if you just take a peek inside. You might find something helpful – lanterns, keys, old camcorders… while skulls and machetes send a delicious shiver of terror down your spine.
Some findings may result in a sigh of relief, offering up a humble prize, while others may cause you to leap in the air with fright. But the devil may care, because one of these findings takes the form of an expanding Wild during the bonus round, and another gifts you with up to 666 beastly free spins!
Potion Spells
It's well after sundown, and the silhouettes of the creaky, old trees sway angrily in the velvety-black forest. From within their midst, one mystical creature comes to life as the folk in their suburban homes drift off to sleep.
This is the witch of the slot Potion Spells, and when she puts on her tall black brewing cap and gets to work, it marks the beginning of the witching hour.
Her sinister cackles echo over the reels as symbols of mushrooms, feathers, eyeballs, potion bottles, and frogs await their fate on a 7×7 grid. Crouching behind a corner, so the witch doesn't spot you and use your eyeballs as potion-fodder, you watch winning symbols pile up to fill a flask. When it's full, it pours into a cauldron boiling over with a mysterious green concoction, triggering a new special slots feature with each flaskful, and even more winnings for you.
In the spirit of Halloween, Bitcoin slots like this one strike fear in the hearts of big banks. They are cast out of your transactions whenever you deposit with crypto to play games. Instead, you not only save money on fees and time on processing, but also pocket bigger bonuses from us. What a treat!
Joker Queen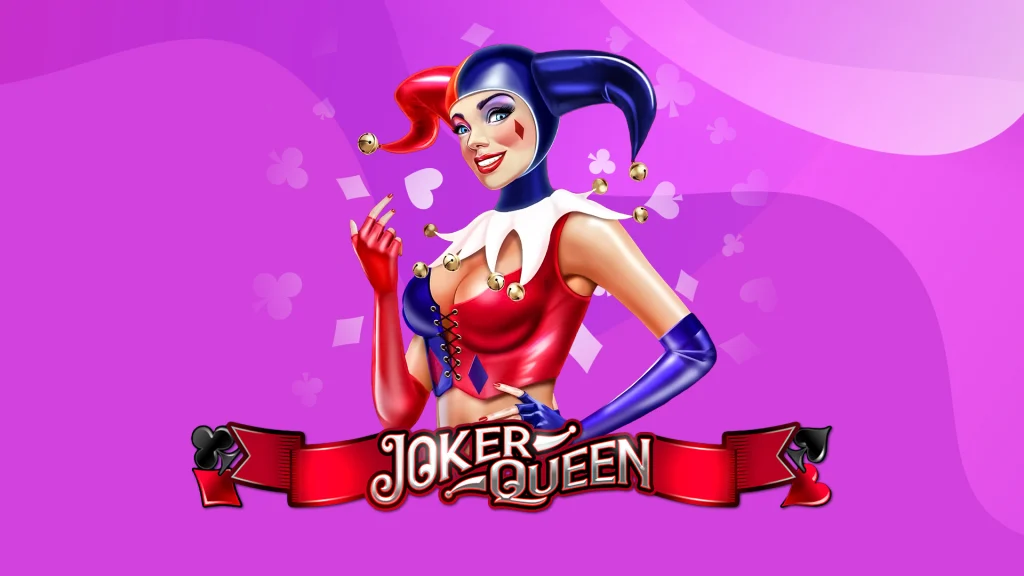 A vibrant, two-toned corset-suit with alternating diamond patterns of blue and red; a floppy joker's hat with its dangling tails and bells; and a stark-white clown collar jingling with even more thrilling bells: it's the old-fashioned joker getup, and it's always been one of the most popular costumes at Halloween!
In your regal game of Joker Queen, you slip into the bold red and blue suit. You can pluck most of its garments directly off of the reels, including your trusty four-cornered hat with bells, which lands as a stacked Wild.
Before you know it, your costume will fuse to your personality and you'll forget who's who; the Joker Queen scatter appears in threes, expanding over the reels, remaining sticky, and promptly triggering three re-spins.
And the award for best costume goes to… you! Or possibly a friend...
A Joker costume ultimately demands an audience to perform to. Invite some friends to play with you at SlotsLV, and we'll give you a referral bonus. And that's no laughing matter!
Lucky Dama Muerta
In the US, Halloween is technically October 31st. South of the border, just one day later, is the celebration of Mexico's Day of the Dead, which makes this transcontinental slot qualify as one of our top seasonal slots for fall.
The Lucky Dama Muerta ("Lucky Dead Lady") awaits you in the heart of a bustling Mexican town where colorful papel picado, or perforated banners, hang overhead. And the Muerta is dead-set on seeing her Wilds multiply your wins by 2x!
Like flowers poking through cracks in the sidewalk, Calaca scatters poke their bony arms from the grave in glorious purples and reds. They pursue the Lucky Dama with roses in their mouths, acting as scatters that award 15 free spins with tripled wins and unlimited re-triggers.
Opera of the Masks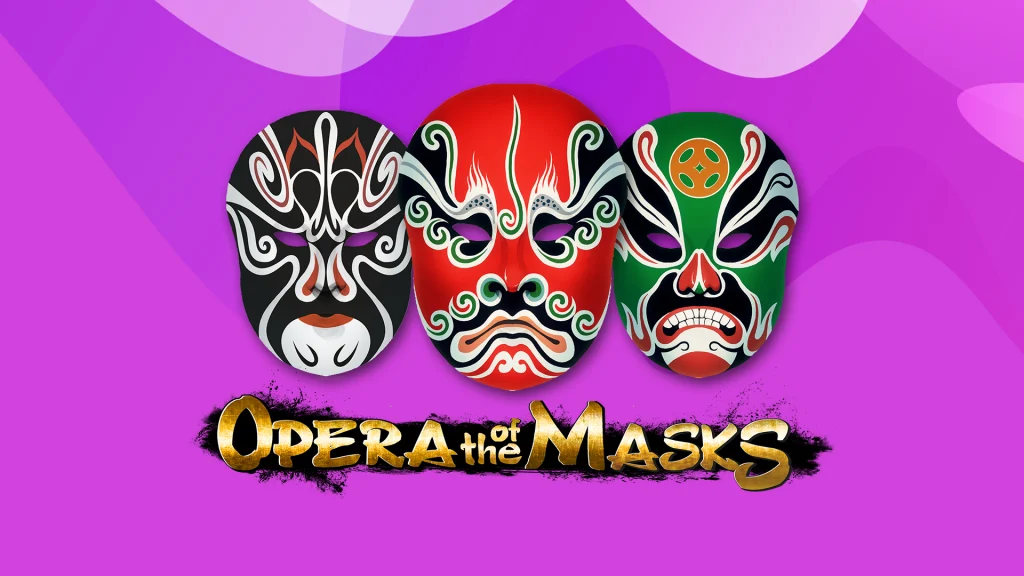 When you gaze upon the striking ornamental masks with their flamboyant contours, vibrant hues, and dramatic paper-mâché expressions, you may think you're out trick-or-treating. In fact, you're experiencing one of our most interesting Halloween slots from the audience of the Peking Opera in China!
The Peking Opera of the Masks, with its lively costumes and shifting masks, brings to mind hordes of joyful trick-or-treaters canvassing the neighborhood in hopes of being handsomely rewarded.
A story of rich symbolism comes to life on the 5 reels. After every spin, you are given a choice to purchase a re-spin on any reel as many times as you'd like, revealing the intricate layers of your own Halloween tales.
Miss Cherry Fruits Jackpot Party
We can't talk about Halloween and fall slots without mentioning the fun parties you'll attend!
The theme of the Miss Cherry Fruits Jackpot Party? It's the late 1970s, and the dress code is disco chic. A disco ball spins overhead as guests shake a shimmy in their bellbottoms and oversized shades, munching on fruit symbols and bursting into songs about jackpots.
To see them for yourself, you've got to be on the dance floor when the hostess releases six disco balls for the re-spin feature. That could only mean one thing: more big wins!
If you manage to collect multiple disco balls across horizontal lines, the DJ abruptly stops the music, the venue turns on the lights, and every eye in the party focuses on you. Filling three horizontal lines means you've won the Mega jackpot of 1,000x your stake, and you're officially the life of the Halloween party! It's either hot in here or you've caught a Saturday night fever.
Gasp! Did you hear that? It sounds to me like these Halloween slots at SlotsLV Casino are edging closer and closer to your screen. Get your costume ready, and set aside a special Halloween look for your slot-spinning finger. You'll need it to either run, scream, or dance your way into the jackpots of these horror slots.
---
Looking for more heart-stopping thrills? Try Hot Drop Jackpots, with hourly and daily jackpots that must drop before the timer runs out.