OLYMPIC GOLD MEDAL SLOTS
With the 2022 Winter Games drawing near, Olympic anticipation is officially at a fever pitch! Very soon, some the world's best athletes will be skiing, bobsledding, curling, and skating for the gold.
And the world's best casino players will be right there with them! To celebrate the upcoming events and give you a game to show off your talents, we've put together our own list of SlotsLV online slots that are fit for the gold at every spin.
Which characters and games are up for the gold this time around? This list of Olympic Gold Medal slots will have you spinning right alongside the big athletes and the slots big winners, so let's get your hands on some of those Olympic-sized accolades as well. On your marks… get set!
A NIGHT WITH CLEO: GOLD FOR SEDUCTIVE
Cleo is a sensuous and sultry woman… and she beckons you closer with her steamy gaze. It's no surprise that this voluptuous beauty is up for the gold medal in seduction.
To see just what Cleo has in store for the lucky visitors of her Egyptian palace, you'll need to show up just before dawn. The rising moon casts a glow over the palace, and Cleo has sent for a new lover.
As you enter the palace doors, you spin with golden Egyptian symbols through 5 reels and 3 rows, aware that the random progressive jackpot can strike in A Night With Cleo slot at any moment. Cleo loves to play games with the objects of her affection, so when three scatters lie across the reels, she welcomes you into her chambers for a private game of 15 free spins and 3x multipliers. You may not even notice your balance rising…
Cleo's not done with you just yet! After any winning spin in the base game, you can follow Cleo once more for the Double Up Gamble Feature. In the feature, you can guess which of Cleo's clenched hands holds the lotus flower. Guess it right, and you double your winnings, and Cleo rewards you with a special gift that only she can give. Wink wink.
Read our A Night With Cleo slot game review now.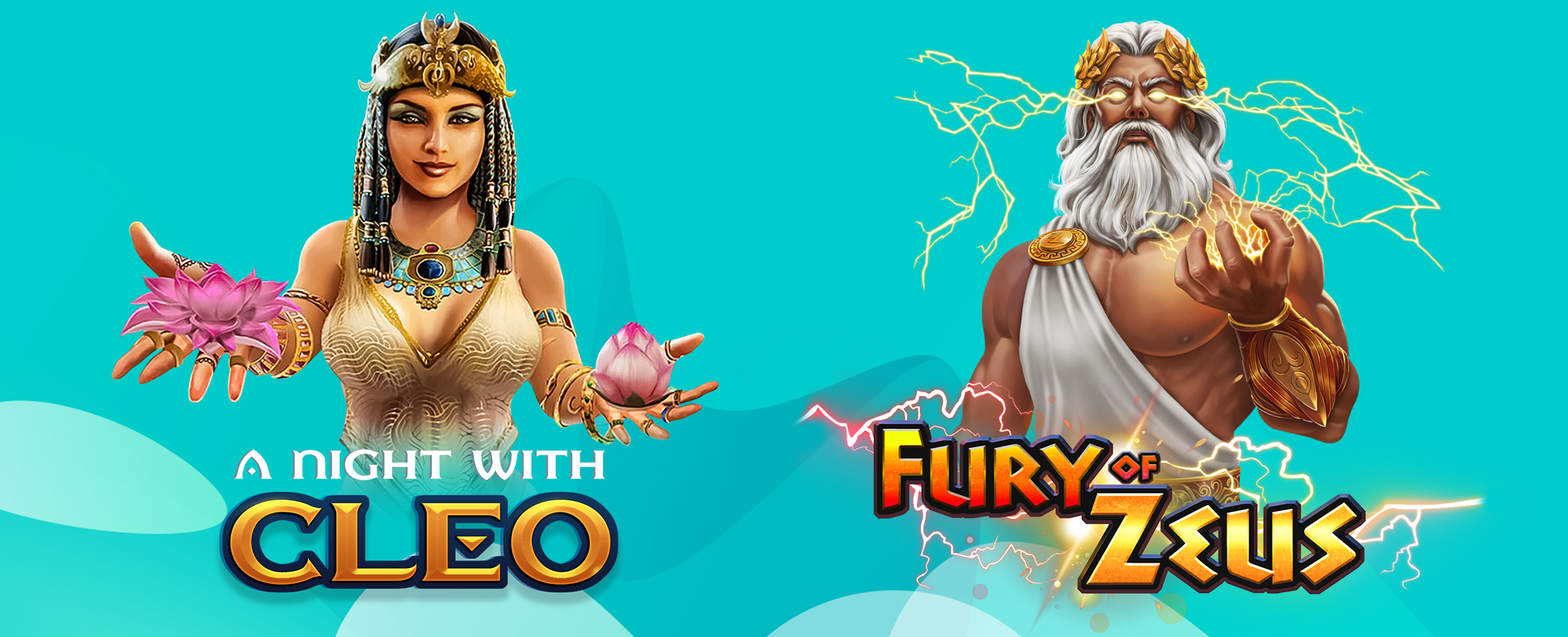 FURY OF ZEUS: GOLD FOR POPULAR
It's no coincidence that the Olympics originated in Greece, because the Fury of Zeus, the ancient Greek god of gods, is up for the gold medal in the category of most popular. There's something about the powerful air that blows around the pale orange atmosphere of Mount Olympus. It stirs up feelings foreign to mere mortals as they embark on their quest to the random progressive jackpot, waiting for just the right player to brave the godly mountain.
Zeus himself will welcome you as you step over the final notch on the ladder you climbed from Earth, and into the heavenly soil of this SlotsLV popular online slot. Hey, Zeus! Right away you'll be humbled and awed by his piercing eyes, glowing white with the rage of a thousand suns. Just behind him stands Hera, his wife, who is a most noble goddess… with just a tinge of vengeance reserved for any mortal who dares cross her path. Poseidon awaits from his sea kingdom, and Hades himself arises from the depths of Hell to welcome you to the world of the gods. Pleased to meet you: hope you'll guess my name!
But it's not the gods themselves that make this slot a gold winner for popularity. Its amazing features to maximize payouts, like the random progressive jackpot, triple multiplying Wilds, retriggerable free spins with multipliers, and scatter wins that really get the mortals lined up and bound for glory.
Read our Fury of Zeus slot game review now.
THUNDERCRASH: GOLD FOR NOSTALGIC
Something has you craving adventure, but you know it's not an online slot this time. Something… more familiar, and something more special calls your name. Thundercrash is just the game to stir your memories of arcade games from long ago, and that's why we've awarded it the gold medal in nostalgia.
Deep within the black expanse of space, there's a crew of space explorers who have been waiting for you to come aboard. When the doors of the ship glide open and you take your seat at the controls as captain, the crew briefs you on the journey ahead.
The first in command explains that there's a sinister force in the space just ahead. Your ship has power enough to barrel through and dodge debris and collect never-ending multipliers along the way, but an invisible force is moving just as quickly. Your ship could collide with the invisible forcefield at any second in the game, which would be the end for you and your crew.
Your job as captain is to collect as many multipliers as you can as you strive for that $100K max payout, and cash out before the ship crashes into the invisible barrier and loses all your winnings.
Do you have what it takes? The 1980s arcade afficionado believes you do, Captain.
Read our Thundercrash arcade game review now.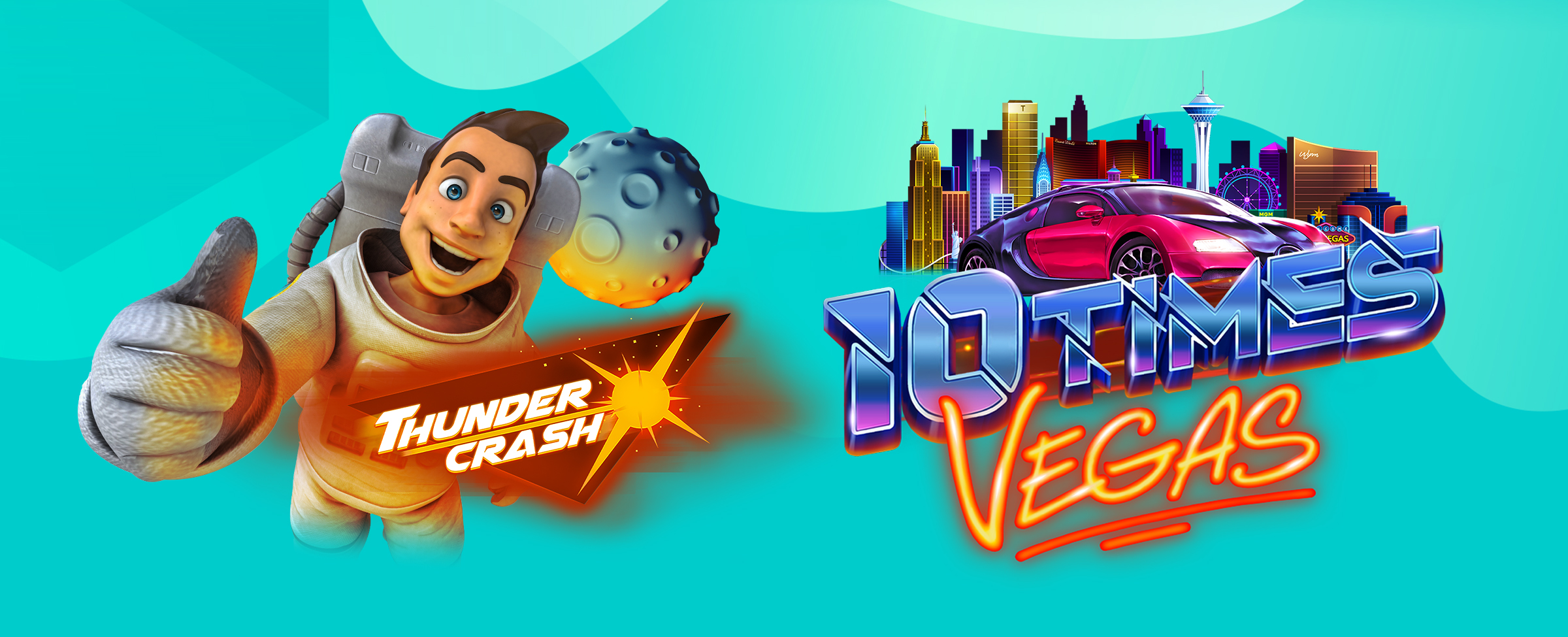 10 TIMES VEGAS: GOLD FOR CLASSIC
We couldn't think of a better online slot to win the gold medal for most classic than this new game. Welcome to Vegas!
10 Times Vegas takes place on a neon landscape behind the Strip of Las Vegas in a secret casino inside another realm. In classic Vegas style, you'll find grapes, cherries, hearts, gold coins, horseshoes, bars, and 7s doing their thing on all three reels. As you spin through the reels to the pleasant buzz from the hotel casino, you'll want to land three of the matching symbols on one of the three paylines to get a prize.
Instead of taking an alluring fella or lass to Elvis and his Chapel of Love, be sure to keep an eye out for Wild multipliers roaming the streets. These symbols come as 2x, 5x, or 10x. When you land three in a row, they award the biggest prizes. If you can manage to land a Wild on reel 3 and it retriggers reel 2 for a win, you get a shot at the progressive jackpot in the Jackpot Spin – a single classic one fixed payline.
Read our 10 Times Vegas slot game review now.
CYBERPUNK CITY: GOLD FOR STYLE
While all these other casino slots are effortlessly sweeping up medals in their own categories, we've got Cyberpunk City over here, stealing the show with the gold medal in style and sheer grit.
There's nothing quite so exciting for futurists as a spiky pink mohawk capping off a flowing ponytail; a cropped white pixie; a whole lotta cyberware; and a hardened, street-smart attitude that screams "don't push my buttons!". But of course you will! As soon as you arrive in Cyberpunk City, the rain will pelt your face in steady, fat drops. But there's no need to bring your own punk-inspired raincoat – inhabitants of this dystopian city are spontaneously fitted with the proper cyber wear and an edgy haircut, and teamed up with a crew of fellow cyborgs.
Taking instruction from the gun-wielding cyborg chick, you spin through 5 reels and 3 rows in search of the loot. As you dart around dark corners lit only by the fluorescent lights of late-night grocery stores and rundown office buildings, keep your eyes peeled for the high-paying symbols. They can randomly turn Wild at any time.
When your spunky sidekick with a virtual reality headset tells you to duck, you'd better do it fast. The SlotsLV progressive jackpot lurks just behind every corner, and it could jump out from the shadows at any time in the game.
Read our Cyberpunk City slot game review now.
Which gold medal slot are you going to try? There's an Olympic Gold-worthy Slots game for every player at SlotsLV. Will you get cozy with the history's most infamous seductress, join the gods on Mount Olympus, sail into space, take in classic Vegas, or sharpen up your look with some cyberware? Whichever slot you choose, you'll be well on your way to the winner's podium – wearing your own gold medal around your neck for the biggest jackpot winner, and the best slot player of the Games.