Seasonal Slots to Play All Year Round
What month is it again? April? July? September?
You know what? It doesn't matter! It could be any time of year, and the inspiration is never far to hop on a slots train and cruise around the calendar to play our best SlotsLV seasonal slots.
There's enough festive fun in a 12-month calendar to take us from January to December without a single dull moment. If you do it right, that is! Why do we wait for November to eat our hearts out on Thanksgiving-inspired slots? Why not put up a Christmas tree in the summer, or set off fireworks at a BBQ in the middle of the fall? There is no real reason, of course. We just tend to roll with the times.
But this is your time – and you'll travel if you want to!
Let's travel the whole year round with seasonal slots. We'll rip open sunny free spins in February, go to the beach with a bonus buy in hand in December, get spooky with expanding Wilds in May, and rush headlong toward a lucky 3,000x your stake in August.
No matter the time of year, you can be sure we'll have these online slots always in season to play.
New Year and Lunar New Year
January: the month of hope, inspiration, and new beginnings. And of course, who can forget the parties that lead up to it? You can have all that at any time of year with these holiday season slots.
Right now, there's an all-out Beer Bonanza of New Year's brews happening in this festive season slot. And there's always a top-up on hand, with re-filling beer symbols flowing after every win.
If you're on the fancier side, you may be spending New Year's Eve at the VIP party inside the room of Luxe 555, complete with adjustable multipliers on your paylines.
All partied out? Let's give it one more shot, because even when your Western New Year is complete, another waits eagerly in place. The Lunar New Year usually occurs in February, but you can celebrate it any time you'd like! If it's the Year of the Dog, you might take this slot for a stroll while it unleashes 1,024 paylines.
There's also Year of the Rabbit Hot Drop Jackpots for an outdoor celebration that might well end explosively – with jackpots that trigger either every hour, every day, and a progressive Epic Jackpot that can hit anytime. No rabbit's foot required for extra luck!
St. Patrick's Day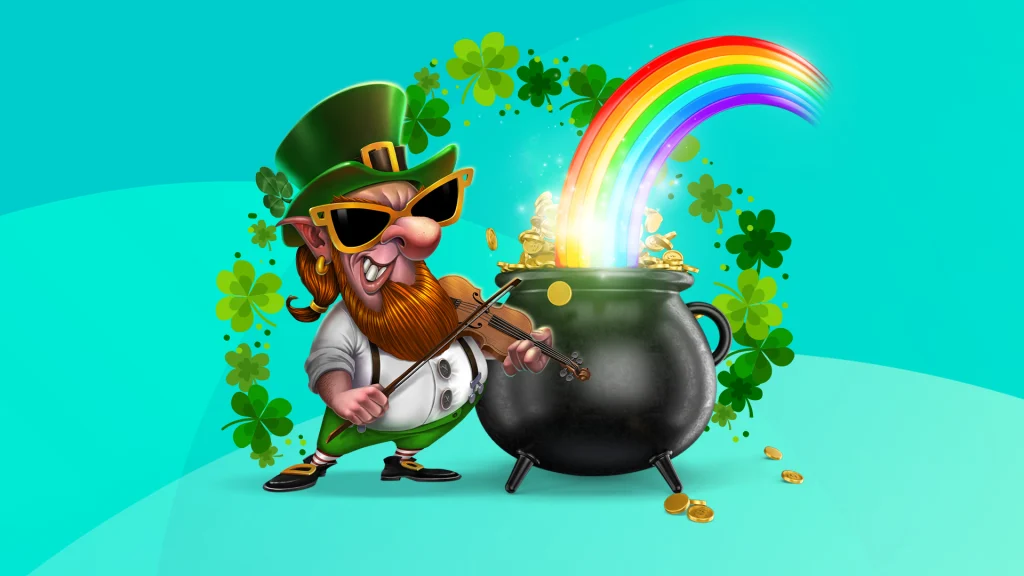 Are you feeling as lucky as you look? It doesn't have to be March in order to channel the luck of the Irish. They have it all year round, after all. You can try to bask in that luck when you sidle up to the bartender in the Irish slot, Larry's Lucky Tavern. He'll pour you his finest brew, and top it off with expanding Wilds and a bonus round out back.
When the jolly tavern has given you every last drip of satisfaction, you might join up with four friends – lucky friends – inside Leprechaun Legends. These guys will ask you not just to sing and dance with them; they will also offer you some mighty special features at the end of their rainbow. Come along and you can discover up to three magical lands with re-spins, free spins and multipliers.
When you've stocked up on so much luck that you're about bursting at the green seams, take a step into the theme-switching Fruit Million slot, for just one more pint of Guinness. You can change its theme to St. Patrick's Day Edition using the Chameleon feature. (There's also Valentine's, Halloween, Christmas, and four more themes to try!) Watch as your casino lucky charms result in a win of up to, oh, just 3,000x your bet. Nothing that a four-leaf clover can't do!
4th of July
July 4th is when we remember the beginning of our great nation's independence. But it also means you're going to take a mini vacay, spend time outdoors at BBQs and pool parties, and possibly catch up on some much needed R&R.
Feel like a trip out of town? We do, too! Let's hop on the jet of American Jet Set Hot Drop Jackpots with a bonus wheel, and Hot Drop Jackpots that drop all the time. Hot Drop Jackpots are an excellent winning strategy in slots online, since your odds increase the closer they get to the trigger point. Then: hey, it's July 4th. Let's watch those Hot Drop fireworks burst out in full color.
Then again, if you're more into the relaxation part of the holiday, any time of year is a great time to grab a lawn chair and get in touch with nature. We can point you to a relaxing Koi Garden, and it's just a few streets down. The spotted koi fish will soothe the soul, and free spins with multipliers will make you joyful that you chose to relax independently from everyone else.
A year-round tip: when you play these games through crypto gaming, and deposit and withdraw in one of several cryptocurrencies, it gives you the biggest crypto benefits of all. Then, it's all easy, breezy, fast transactions; added blockchain security; and as private as you want it to be.
Summer Break
Summer is here – even if it is really January, March, or November! – and the whole wide world is yours to explore.
How about grabbing some summer slots and hopping on a plane to Hawaii? In no time you'll be taking in the sights as well as the ukulele musical stylings of an amphibious Elvis inside Aloha King Elvis. This vacay is totally easy, too, since you can skip the tourist lines and buy your way into one of the best bonus rounds in slots with the Buy Bonus feature.
For a more adventurous holiday, head to the exotic Galapagos Islands to catch a glimpse – and hopefully a snap – of the blue-footed booby and giant tortoise. If you're lucky, the free spins round will trigger at random while you're observing the wildlife.
Of course, no summer break would be complete without a trip to the beach. In that case, jump on board with the Arrogant Pirates. They'll ask you to help dig in the sand where you set up your beach chair, but at least you might unearth a few rare shells and 10 free spins with tripled wins.
Halloween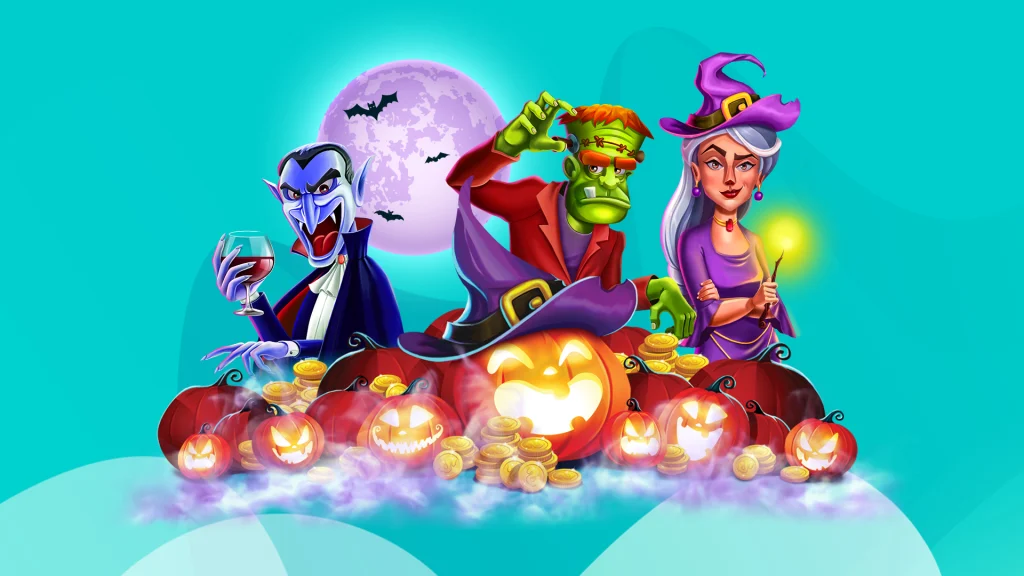 It can be sort of spooky in January or February with those shadowy winter days. But July or August have their own creepy-crawly moments… like, when the critters come out to play. Goodness: it sounds to us like Halloween is happening all year round!
Here, take these Potion Spells to control the ghouls of winter with refilling symbols and bonus round multipliers.
It might provide cover against the Vampires, who are still haunting under the March moonlight inside the Bloodlines slot, with its stacked Wilds and tripled wins. And what's that sound? The doors of Monster Manor must be creaking open right now, even if it is December, with an entire host of monsters of the night. If you see a black cat expanding Wild, hold off a second before you pet her, as she is not exactly as she seems.
Before trick or treating through these Halloween slots, consider inviting friends along to SlotsLV. You never know what kind of phantoms are creeping in the shadows at night, and if you get some brave soul to come along for the adventure, you'll receive a referral bonus to add to your jackpot bucket.
Thanksgiving
Thanksgiving can come around any time… if you're hungry for it. Feeling peckish on a Thursday in April or a Monday in June? Bring on the turkey and apple pie!
It'll certainly be a party for the ages, perhaps much like the celebration in Amigos Fiesta. Mind you, that's fi-esta, not feast-esta. Although it might as well be the same, given all the food and drink going around at this lively gathering. Just keep an eye on the heat meter, as it'll rise with multipliers for each non-winning spin. Then, on your next win, it generously pours all of those multipliers on your plate like gravy.
If you feel a rumble on your screen, it could be the NFL coming in a few months early or late in the Gridiron Glory slot, passing you stacked Wilds and up to 25 free spins.
Clash of Queens, on the other hand, is a tribute to those family members who can't seem to get along on every holiday. They deserve a heaping plate of mashed potatoes and gravy, too! And for kindly tolerating them, you can personally get a serving of two interactive bonus features and a win of up to 750x your stake.
Christmas
Ho, ho, ho, Merry Chris… wait a sec! Why is Santa flying through the sky in September?! Hmmm; because the workshop made a few too many toys last year? He has a surplus that he needs to unload before his BIG big day?
In Santa's Ways Hot Drop Jackpots, those gifts piled up in the sleigh are its three Hot Drop Jackpots – those ones that drop regularly and have a countdown. If your stars align over the North Pole, you'll meet Santa when the hour is just right.
For yet another Crazy Christmas adventure, ask Santa if he can take you back to his remote Arctic workshop in one of our most favorite winter slots. If you can lend a hand by screwing the doll heads on straight, he'll reward you with up to 25 free spins and multipliers up to 10x. Maybe even a progressive jackpot!
Let's not forget about Rudolph! He works hard, you know: Santa's head reindeer has a day job when he's not driving Santa's sleigh. If you're celebrating Christmas again already in January or February when the snow is still high, you just might find him inside Reindeer Wild Wins XL, pulling a sleigh in search of up to 25 free spins and Wild multipliers reaching 64x. If you stick with him, he might even give them to you. You know – for Christmas.
Seasonal slots at SlotsLV Casino can be played at any time of year, and that includes right now. No matter what month you find yourself bouncing through the holidays, the rules of online slots stay the same. Simply unwrap a bet, rub your charm for good luck, enjoy the escape and R&R, and feast on the greatest jackpot win of the entire year – with four seasons in just one day.