POTION SPELLS SLOT GAME REVIEW
The small, unassuming cottage stands burrowed amidst the shadows of the ancient forest, where the wind whispers all kinds of secrets among the wise trees.
From the outside of its stone-pebbled door, you can hear a brew of liquid spitting, popping, and bubbling over flames. A collection of leaves swirls on a gusty breeze, and you can just make out its message: these are the multiplier spells of the SlotsLV Potion Spells slot, spilling over the cauldron to conjure up 12,000x max wins!
With extra reels and rows lining the cottage walls, you can pluck a plethora of features from the shelf, filling up the central cauldron and unlocking up to five side features in the heart of that forest.
The magic is simmering at the surface of the "spin" button, but a mere mortal cannot locate the cottage and its potion spells on their own. So follow us inside this Potion Spells slot review to hit rewind and reveal just how you got here.
Should you spin it?
As the flames flicker and dance beneath the cauldron, many a player will choose to sway along with Potion Spells slot at SlotsLV, and this is why:
✓ No payline restrictions
✓ TV-worthy theme
✓ Fantastic visuals
✓ Evolving storyline
✓ Generous max win
✓ Option to skip ahead to the bonus
✓ Good RTP
Then again, such an eerie atmosphere could spook some would-be adventurers away, and this is why they may want to skip it:
X Complex set of features
X No Hot Drop Jackpots. But don't worry – we've got plenty of other games with must drop jackpots that trigger every hour and every day.
Game Overview: A Spellbinding Slot
Back inside the cottage, the air is thick with the scent of herbs and brewing Wilds wafting from the blackened cauldron. You're curious, and take a good look around.
The shelves of the Potion Spells game are teeming with the fixtures of some of our best magic-themed slots: vials of curious liquids, mushrooms, eyeballs, feathers, and frogs; all ingredients that you will soon put to excellent use!
As your eyes try to take everything in, this is what you discover:
7 reels
7 rows
No paylines! Your magic comes from snaring a cluster of five or more matching symbols.
RTP: 96.25% (without the Buy Bonus feature)
Minimum bet: $0.20
Maximum bet: $42
Max win per spin: 12,000x your bet
Tons of slots features
Potion Spells Features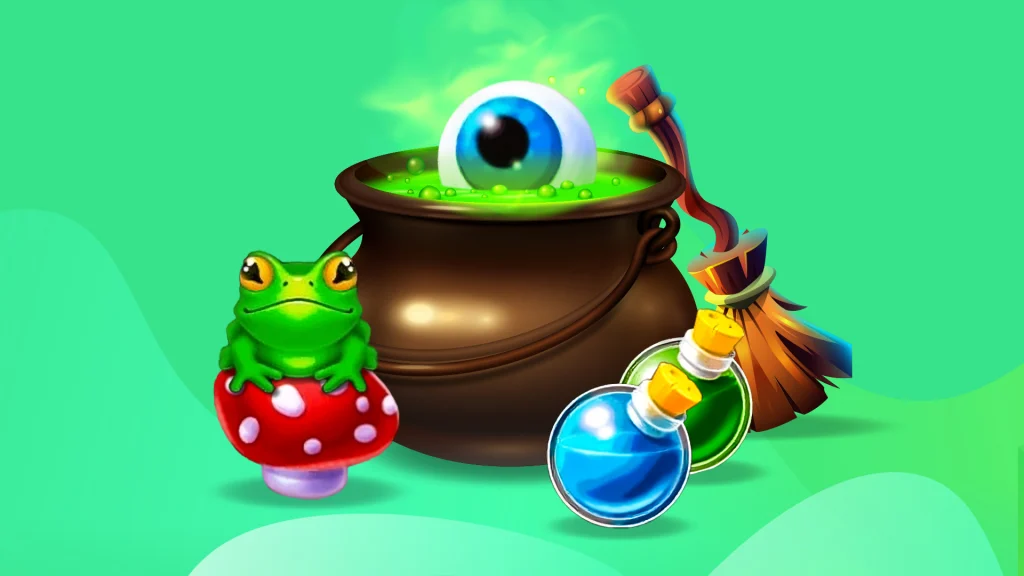 When you discover the mixture of features inside the Potion Spells slot, the stories come to life on your screen. But before we jump in to those, a great feature of SlotsLV overall is getting to use gaming crypto!
If you deposit using the crypto of your choice, expect high bank fees and dropped transactions to disappear in a puff of smoke. They'll be promptly replaced with bigger bonuses and faster transaction times that are reliably successful, all the while still seeing your game balance for all our SlotsLV online slots in USD!
Refilling
In the cottage of Potion Spells, there is no risk of running out of ingredients. Whenever winning combinations are formed, the symbols involved in those wins disappear and new ones take their place in line to cast the next spell.
Big Symbol
If the same four symbols drop adjacent to each other in the form of a square, they turn into one giant symbol of 2×2 which doubles your wins. This can result in even bigger slots multipliers if more big symbols are involved.
Backlit Symbol
The mysteries keep getting bigger within the cottage as the spins go on. After every spin, a randomly chosen low-paying symbol lights up. If they're involved in a win, they transform into two Wilds.
Scroll Wild
The scroll of spells is always near, appearing as your Wild which can substitute for any regular symbol in this slot online.
Second Chance
If your slots spins do not result in a win, a random number of symbols can turn into Wilds for another chance.
Progress Bar
The keeper of the cottage has given you a task. You must use your spins to gather ingredients for the cauldron. In what is one of the best bonus rounds in slots, four bottles above the cauldron fill up bit by bit every time new symbols are involved in a win. Each bottle fills up and topples over after 25 symbols are destroyed. Your spell awakens the powers of magic and one special feature is triggered at random.
Features from the Progress Bar
Detonation: 3 to 6 symbols are turned into Wild symbols which destroy 4 symbols surrounding it.
Promotion: One symbol at random transforms themselves, as well as its copies, into another matching symbol.
Separation: A Wild symbol is created in the center of the grid, and all symbols stretching diagonally from this point change into one matching symbol, chosen at random. However, Wilds stay as they are.
Reduction: All low-paying symbols are zapped away from the game.
The Pot
When the brew is about to bubble over and each vial has been emptied, your loud cackle of laughter joins with the head witch's as a new feature takes hold of your game. A giant Wild symbol of 3×3 appears, followed by two Wild symbols of 2×2. It ends with these dividing up into up to 9 individual Wilds for a huge win.
Buy Bonus
Your head will be woozy with all the concoctions swirling about the reels. If you want to cut to the chase and take control of the magic wand, you can activate the Buy Bonus to trigger the Pot feature on the next spin.
If you love Potion spells, you'll also love Alien Fruits!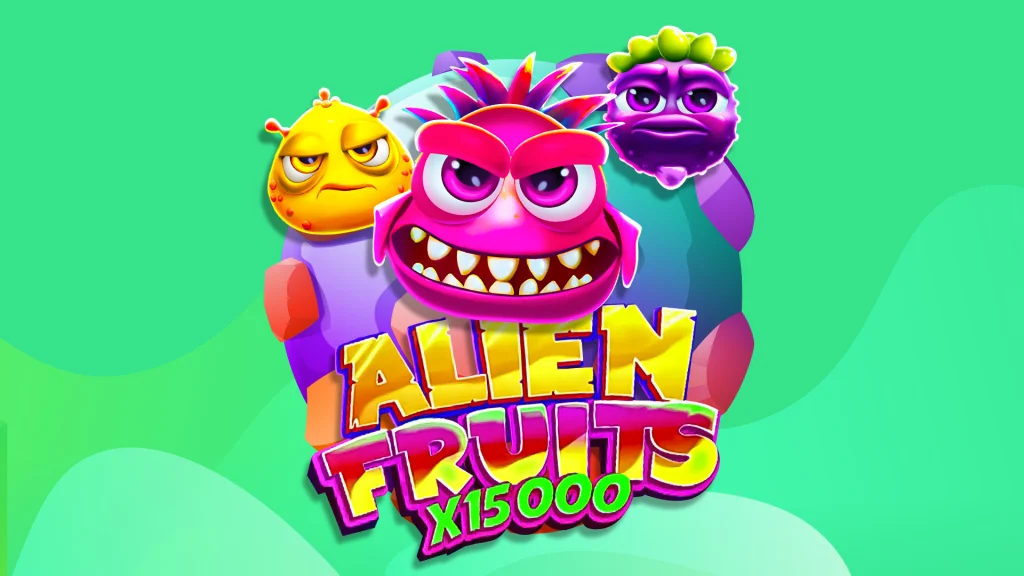 Now, be careful when you leave the secret cottage; one wrong step, and you just might be abducted by a 6×5 spaceship with Alien Fruits, sending you spinning off to another planet.
In this online slot, you won't find any paylines, either, but you will find a bizarre mix of alien creatures, flaunting an alien set of features.
The aliens are shaped like fruits, and they have the extraordinary ability to bend the laws of the physical universe to grant you up to 30 slots free spins and multipliers up to 100x. They even boast a Buy Bonus feature to skip ahead to the best bits at warp speed.
If you refer a friend to join you on your next adventure – into space, or otherwise! – SlotsLV will give you a bonus to help you on your journey.
Play Potion Spells Slot Game at SlotsLV Casino Now
For your final spell, pour a generous bet into a crystal vial and take note of the pointers from this Potion Spells online slot review before you hit "spin". After that, simply allow the payouts from SlotsLV Casino to bubble over the top of the cauldron and directly into your bank account!