THE BEST BONUS ROUNDS IN SLOTS TO PLAY TODAY
Although we love all of our games around here, even we'll admit that not all are created equal. Some slot games may be the bee's knees when it comes to the base game, but when you make it to the highly anticipated bonus round, they make you go… meh. If that's something you can relate to, then worry not!
We understand more than most the importance of incredible bonus rounds with generous winning potential. That's why we've curated a fabulous list of SlotsLV slots with bonus rounds that are fun, memorable, and yes, totally profitable! And they have your name all over them.
Hold on tight and prepare to be impressed: these games will turn that "meh" into a "holy mackerel!!" as soon as the bonus round strikes. Good times are just a few clicks away.
A NIGHT WITH CLEO: ADULT-THEMED GAMBLE FEATURE
Cleo has sent you an exclusive invitation, and in her exciting bonus round, you'll be glad you RSVP'd.
This game takes place inside the palace of Egypt's most seductive pharaoh – the divine Cleopatra. This adult-themed slot has a gamble feature that doubles your winnings just for making a series of correct guesses… but you may not even notice! When you enter the bonus game after any winning spin, you follow Cleo to her private chambers.
Each time she offers you a choice and if you happen to make one that pleases her, she eagerly removes a piece of clothing. If you guess correctly five times, and five separate garments later, you've effectively multiplied your winnings by 32x, and Cleo is totally bare. Fortunately, your wallet is not!
This bonus round is certainly one you won't forget in a hurry.
GOOD FISHES: ELABORATE FREE SPINS BONUS GAMES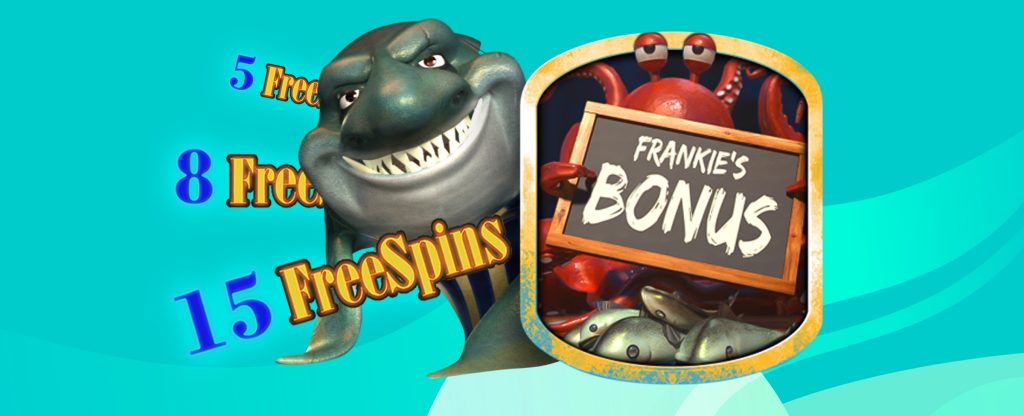 Frankie the fishy Mob boss has a stash of rewards that could be yours, in one of the most elaborate bonus features known to slots. Today we're playing Good Fishes.
When you land three or more of Frankie's bonus symbols on reels 2, 3, or 4, Frankie takes you, his top level associate, to his secret Frankie's Fishmonger butcher shop. You choose a fish in the shop, and Frankie takes his cleaver and slices it open to reveal your prize. In the Mob, you can always leave it to cleaver. Inside that poor gutted fish you could be awarded:
The Big Catch: 15 Free Spins with 1x multiplier
Fellow fish mobsters Jimmy, Tommy, Harry, and Stacks need to be locked up, and each of your spins can put them behind bars. If you find a bonus symbol, the mobsters are released and you get to spin for more fish.
All Ways Da Pays: 10 free spins with 2x multiplier
Bonus symbols on reels 2, 3, and 4 will award you an additional 10 free spins, which are extra generous as every win is scored left to right as well as right to left, paying for each way.
Sticky Wilds: 5 free spins with 3x multipliers
Each time a wild appears, it sticks in place until the bonus is finished.
Even more free spins with multipliers
There's three more bonus game options you could find in the fish: 15 free spins with 1x multiplier, 8 free spins with 2x multiplier and 5 free spins with 3x multiplier! If 3 bonus symbols land on reels 2, 3, or 4, you'll get added free spins too!
And anyway, who doesn't love a great Mafia story?
777 DELUXE: BONUS ROUND WITH PROGRESSIVE JACKPOT
When you play online slots Deluxe-style, you get to dust off the traditional retro fruit machine and bring it back to life with today's features… including a very modern bonus round.
To get in, you've got to land three question mark symbols in the base game. The screen jumps to life and transforms into a bonus screen, with one single payline and 3 reels at center stage. The stars of the show are multiple colored 7s that each carry their own multiplier.
You've got to land three of the same color, or simply a mix of any to win one of eight prizes. Landing three gold 7s on the reels is the ultimate prize, and it awards you the massive progressive jackpot!
Who needs all the extra fluff anyway?! 777 Deluxe is all about the time-honored, wealth-awarding 7s.
DRAGON'S SIEGE: CHOOSE YOUR OWN HEROIC CHARACTER
The gold is locked inside the castle, and only a brave knight like yourself has the spinning power to tear down the walls and tame the dragon for endless riches… but only if you dare!
This dangerously exciting SlotsLV bonus round is triggered when you line up the bridge and gate symbols on the reels. This is your first path along the journey to claim the gold. Once you cross the bridge and enter the gate to the bonus round, a line of heroic characters awaits, each vying for selection. Once you've chosen the right hero you'll both embark on the next path towards riches.
If you've made the right choice, you can win up to 25 free spins with up to 10x multipliers, and watch with delight as your bankroll turns to gold before your very eyes! To top it all off, you can win the randomly awarded progressive jackpot after any spin in the game. Does adventure get any better than this? Try Dragon's Siege for yourself today.
GOLD RUSH GUS: VIDEO GAME STYLE BONUS GAME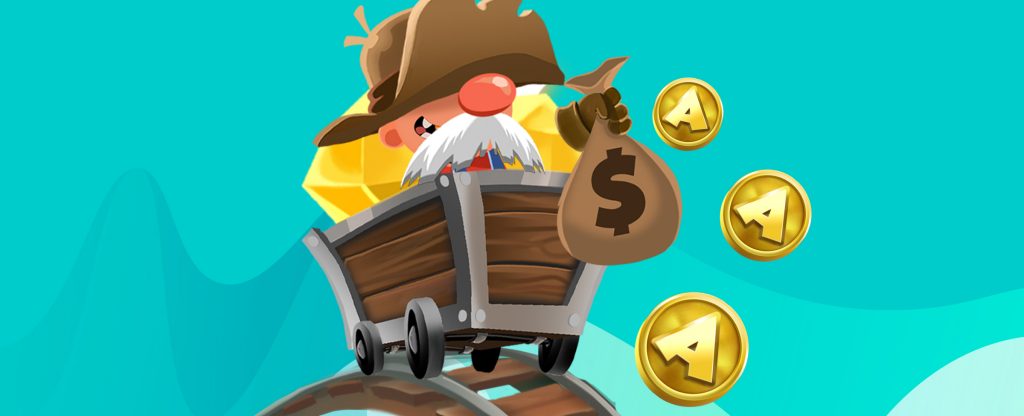 Gold Rush Gus has one of the coolest bonus rounds known to online slots – so you'd better get your driving skills ready!
The exciting bonus is triggered when you land two key symbols on reels 1 and 3. A treasure chest appears and if you find a treasure map inside, then buckle in and hold on tight. The map vrooms you off to a wild bonus round where you drive a rail cart that's careening down a mine at full speed. Does this cart even have brakes?!
As you barrel over the tracks, use those steering skills to sling your cart towards your gold coin rewards. To pocket them, you'll want to move fast! This bonus round is much more like a classic video game than a slot.
The treasure chest could also have three other rewards tucked inside instead of a map: an instant win, mini jackpots, or even the mega progressive jackpot! There's no doubt that regardless of which you discover, you'll be in full fun-mode with Gus.
REELS AND WHEELS: 2 WHEELS AND 5 JACKPOTS
If you ever watched Wheel of Fortune and wished you could be the lucky contender on stage, Reels and Wheels is here to sweep you away to stardom!
This game is brilliantly retro and brimming with color. As soon as you land just one bonus symbol on the payline, your entire game transforms into a bonus round. Just like that!
The first bonus round is a big wheel, and it has a new level of fortune: Slots-style! Each wedge, except for one, represents a multiplier ranging from 5x-500x. If you land on the Jackpot wedge, you're whisked away to yet another wheel… this time in a spin for one of five massive jackpots. Because sometimes, one just ain't enough.
So, what'll it be? Are you a mobster, dragon slayer, companion of a seductress, an old-fashioned gold digger, or a lover of the classics? When you play Slots online at SlotsLV, there's no better way to ignite the imagination than with exciting games boasting alluring bonus rounds to really shake things up. Enjoy the adventure, and we'll be waiting on the other side of your winning bonus round.