ADD ACTION TO YOUR SUPER BOWL WITH SLOTSLV
If any day of the year is guaranteed to crank up the thrills for sports fans of all stripes, that honor would surely go to the Super Bowl. Two teams (this year it's the Philadelphia Eagles and Kansas City Chiefs), one historical half-time musical performance (enter: Rihanna), tens of thousands of over-excited fans packed into a stadium, millions watching from home, and one coveted Lombardi Trophy.
And if you want to take Super Bowl 57 up a notch (heck ya, it's possible!), we've got just the thing.
We've pulled together our top SlotsLV NFL slots to complement the Super Bowl. Our sports slots are sure to add a boost to halftime, between plays, and your Super Bowl LVII in general.
GRIDIRON GLORY
It's Super Bowl 57, and you and your team are gearing up in the locker room preparing for the Gridiron Glory showdown at State Farm Stadium. You can hear the crowd in the stands going totally ballistic, and the energy levels are off the charts.
You huddle in for a pep talk. The quarterback has a determined set to his brow, and he's ready to take over the entire reel as an expanding wild to help you win.
The football team is ready to go, and each time you score a W, cheerleaders shake their pom-poms across the reels, replacing winning symbols with new ones to earn you more real money "points". You'll need to make at least three football scatter interceptions to score 15 free spins, or even more if you're quick enough. You can also win up to 10x multiplier during this feature, too.
There are 243 ways to win the Lombardi Jackpot on this 5×3 field, and you might even catch Rihanna in the front row cheering you on, right next to SlotsLV!
---
The easiest way to fund your fun is with crypto! Play at a best crypto casino like SlotsLV and enjoy all the perks of using crypto including fast payouts and bigger bonuses.
---
INSTANT INFERNO
If there's one thing we can count on during Super Bowl LVII, it's that we will see a ton of heat on the field, and plenty of spark in the stadium in Arizona. Whether it's from the players boiling with competition or their temperatures rising from cardio, the fire-fueled adrenaline on the field is as hot as an Instant Inferno.
Wherever you're watching the game, be sure to check out these reels that are cackling with dancing flames, almost as gracefully as the Eagles' Jalen Hurts as he led the offense to take down the San Francisco 49ers in the NFC Championship Game.
You've got two different scatters to help you win prizes, bonus symbols that lead to a Pick Me free spins round, and of course, a dry towel to dab the fiery sweat off your brow right along with the Chiefs and Eagles competing on the gridiron. Talk about coming in hot!
WORLD CUP FOOTBALL
Let's not forget about another type of football that is just as beloved around the world. These two sports go hand in hand when it comes to thrills, ecstatic fans, and in the case of the World Cup Football slot, fantastic jackpots.
The trophy in this World Cup competition will certainly be hard to get. But you've never missed a practice all season, so when this wild trophy appears on reels 2, 3, 4, and 5, you'll see that it replaces any other regular symbol with ease.
Communication is key in European football (just like it is at the Super Bowl), so be sure to call out to your teammates. When four of them stack on reel one, that reel locks and you get more respins. Go for a hat trick in this game, and you'll be getting up to 10 free spins which can all be retriggered, as well as the undying adoration from your fans in the stands.
Once you've joined SlotsLV Casino and give this football slot a practice play spin, then you're more than ready to suit up and hit the field. See you out there!
HOCKEY ENFORCERS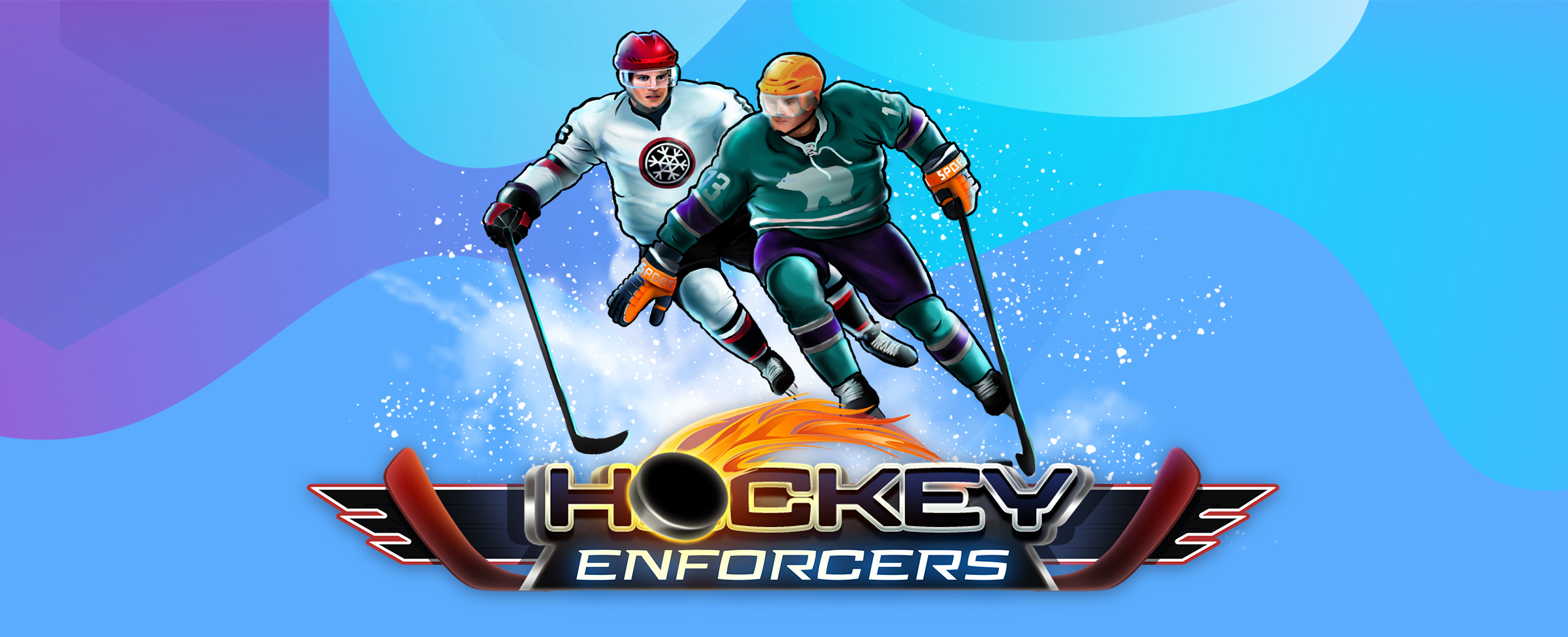 It's not just Super Bowl LVII and the halftime performance by Rihanna that has our heart rates spiking at roller-coaster rates. Hockey Enforcers sports slot packs just as much action into its reels as the gridiron.
Once you put on the uniform and get a rundown on the newest play from the coach, it's time to hit the ice. The single NHL player symbol will skate after goals and rewards his team with high points when he appears multiple times on any of the 243 paylines. Lookout for the puck scatter symbol; it brings you up to 25 free spins with a 10x multiplier.
In this SlotsLV online slot, the goal light does more than just help you celebrate. It can also stack on reels 3, 4, and 5 to help you form more wins. Don't forget to be a team player in this match, because your winger can turn some reels wild at random, but only if you pass him the puck every now and then.
---
Tell your team! Share SlotsLV with friends, coworkers, workout buddies, and more, and earn a Refer a Friend bonus per friend!
---
LARRY'S LUCKY TAVERN
People from all over the world love the Super Bowl, but not just for the football itself. There's plenty to enjoy besides watching the game, like the performances by Dr. Dre and Snoop Dogg last year at the Rams vs. Bengals showdown. Plus, there's still a huge cooler-full of brewskies to be drunk, and Larry's Lucky Tavern has all the selection you need!
Larry is a lucky leprechaun and he's always down for gameday. In this ale-themed game of 5 reels, 3 rows, and 50 ways to win, the wilds are your multipliers. Landing three of them can increase your bet by 3x, and landing 4 can increase it by 5x.
As you're clinking your beer mugs together in a hearty cheers (for the play of the game in Super Bowl 57, or for the chug that follows!), three or more cheers on the reels will result in free spins and multipliers.
If three bonus symbols run over the reels, you get to play the bonus game where you'll turn over barrels to collect three of the same beverage with three different prize values.
Bottoms up!
THUNDERCRASH
Just like the star players rushing the field at Arizona's State Farm Stadium in Super Bowl LVII, in the Thundercrash arcade game you will rush the sky in a competition with the stars.
Instead of being captain of your football team, you are now the captain of a spaceship. And instead of aiming to score touchdowns and secure a win, now you're aiming to score multipliers and escape the perils of space unscathed.
As the ship begins its rapid ascent through the black void, multipliers build up on your balance meter. Just like the defense on the gridiron on February 12th can never relax in the game, you've got to stay on the ball and make sure you hit "Cash Out" before your ship collides with an offensive lineman coming in for the tackle. If you do, you could be taking home a $100,000 real money trophy.
HOT DROP JACKPOTS
There's some down time in every football game, including the upcoming Super Bowl 57, so you may be looking for something to keep the action turned up to eleven. SlotsLV Hot Drop Jackpots are just the ticket to liven up commercial breaks (no matter how entertaining they may be!) and the gaps in between games. You can play from your mobile device straight from the couch (no Slots.lv casino app needed); just access it from your browser.
What could be more action-packed than spinning for over $1K in hourly jackpots? Not much, really; except perhaps winning the must drop daily jackpot worth on average $25K or the huge Epic jackpot that can drop anytime! All three jackpots (which update in real-time inside the slots) are available on several exciting games, including Reels of Fortune, A Night With Cleo and more!
So get spinning for these jackpots between plays, and you'll still have time to glance up and catch the defense making an interception just before the goal line!
Now you have the best sports slots and online slots for the Super Bowl! And as we gear up to view the two greatest NFL teams of 2023 battle it out for glory at State Farm Stadium on February 12th, you could be the star of your own epic showdown. Play at SlotsLV and add action to your gameday!