Gemhalla Slot Game Review
Gemhalla, the resplendent hall of the heavens, radiates with grandeur. Nestled in the celestial realm of the SlotsLV Gemhalla slot, also known as Slots-gard, it stands as the hallowed sanctuary of fallen heroes, where the virtues of valor and honor are immortalized.
As you venture through the towering spires of Gemhalla, you bask eternally in the boundless splendor of replenishing reels, free spins, and multipliers of up to 500x. You're hailed as the hero of the game, akin to Thor defending the realms in epic battles against their adversaries. You can even encounter the god of lightning and thunder standing proudly beside these very reels.
The doors to the grand hall of gems swing open in this Gemhalla slot review. Step forth, brave soul, and claim these gems and features as a reward for your valor.
Should you spin it?
For those who yearn for honor, glory, and riches, here's why you'll want to play Gemhalla slot at SlotsLV:
✓ Additional reels and rows
✓ Impressive RTP
✓ Bountiful max win
✓ Trendy Thor theme
✓ Mobile-optimized
✓ Perfect for crypto gaming: Depositing with cryptocurrency is not only an incredibly convenient way to fund your account, but you'll also still see your gameplay in USD.
If you'd rather steer clear of the great hall of gems, this might be why:
X No progressive jackpots
X No interactive bonus rounds
Game Overview: A Realm of Abundance and Opportunity
As the magnificent hall materializes before your eyes, a procession of ethereal Valkyries descends gracefully from the celestial realm. In their embrace, they carry the fallen heroes who have earned their passage through the hall's colossal doors.
At the entrance of this slot online, Thor, the god of thunder and lightning, stands proudly with Mjolnir clenched in his grasp.
Every warrior who enters Gemhalla is adorned with a Viking helmet on their head, a frothy beer in hand, a horn poised for sounding, and an axe to commemorate the battle that led them there—all serving as the highest-paying symbols in the grand hall of gems.
This is what else you'll discover in this most bold of SlotsLV online slots:
6 reels
5 rows
No paylines
Minimum bet: $0.20
Maximum bet: $200.00
Max win: 5,000x your stake
RTP: 97.17%
Refilling symbols
Gemhalla Features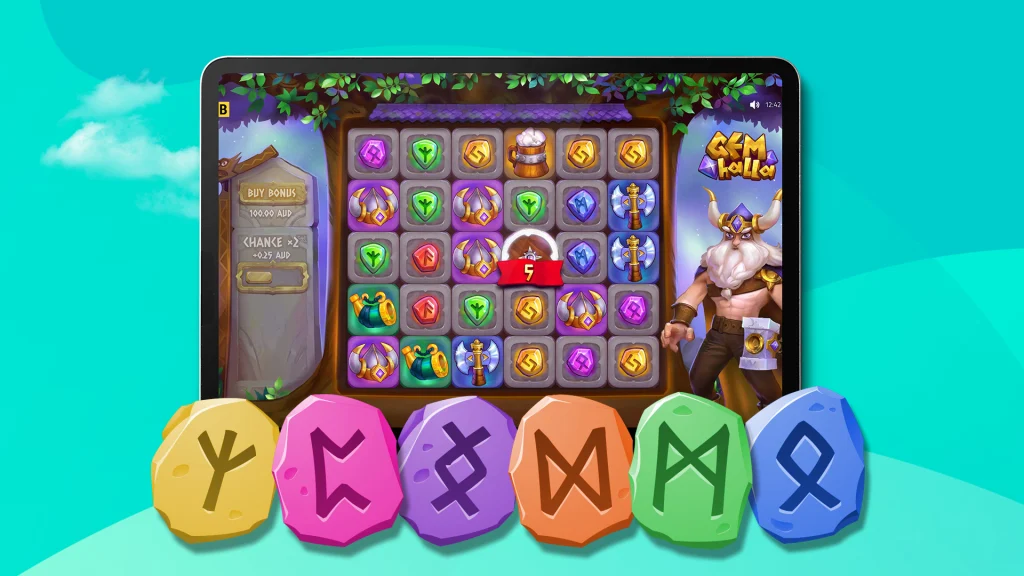 As the cascading gems align, your adventure mirrors that of ancient warriors, albeit with some more rewarding twists that will be unveiled in this Gemhalla online slot review.
Refilling Symbols
You gaze upon the oversized grid of one of our most valiant cartoon slots, and you're awestruck by the endlessly refilling reels. The symbols flow like the mead at Valhalla's eternal banquet, refreshing the reels to assist you in securing more and more victories.
Scatter
When your earthly journey reaches its end, a new odyssey commences aboard Naglfar, the ship scatter that transports you to your ultimate fate of slots free spins when you land four or more anywhere on the reels.
Multiplier Symbol
You are the chosen hero tasked with preparing for the ultimate battle, Ragnarök. There are four shields for defense, each possessing a distinctive range of multipliers spanning from 2x to 500x your bet. If you receive one or more multiplier symbols during both the main game and the free spins round, their values are randomly applied, tallied, and added to your spin's total winnings.
Free Spins
The free spins bonus round is your opportunity to showcase your prowess and earn enduring fame, with 15 free spins at your disposal. Should the scatter ship reappear three times during the round, your free spins are replenished much like a lavish feast with fine food and ale.
Buy Bonus
If you seek immediate triumphs in the slots game, you can gain access to the free spins round through the Buy Bonus feature, for a fee.
Chance x2
At times, though, having more opportunities suffices. Acquiring the Chance x2 feature automatically boosts your bet size by 25% while doubling your chances of landing scatter symbols.
Gemhalla is filled with the gods of multipliers and free spins. If you're in search of jackpots though, consider SlotsLV Hot Drop Jackpots. One jackpot must drop every hour, and one every day.
If you love Gemhalla, you'll also love Aztec Magic Bonanza!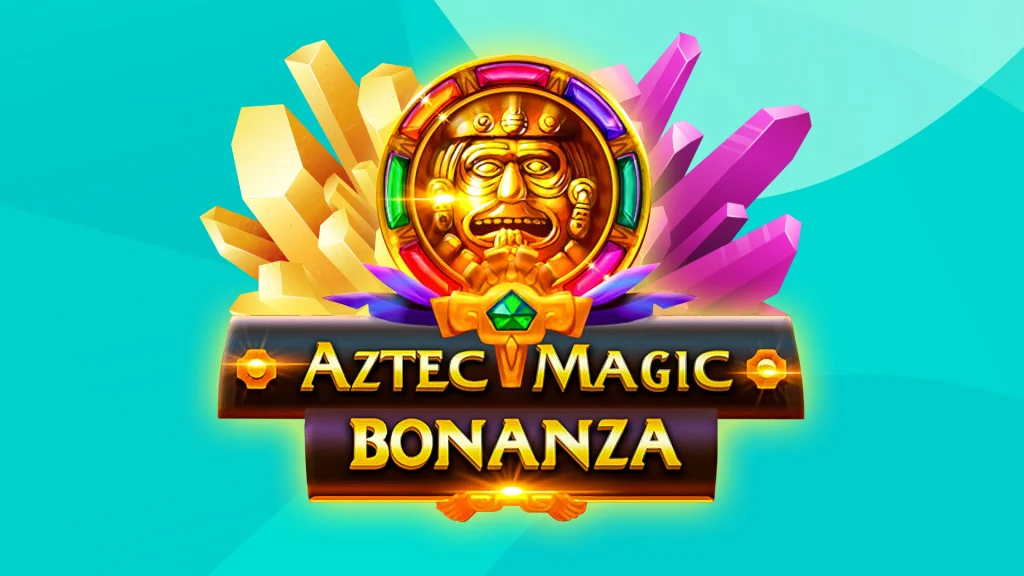 In the same way that your earthly deeds are rewarded in Gemhalla, you are also welcomed into Tlalocan, the location of the Aztecs' eternal feasting and revelry.
However, before you can revel in it, you must follow the twirls of Tlaloc, the rain god, inside the Aztec Magic Bonanza slot. Symbols replenish with a bounty of rewards, courtesy of the Aztec agricultural abundance. Up to 30 free spins cascade like rain from Tlaloc, nurturing your balance with possible multipliers ranging from 2x to 100x.
To beseech the Aztec deities directly, you can purchase entry into the round of free spins through the Buy Bonus feature or enhance your odds of triggering it with the Chance x2 feature.
If you want to boost your balance before entering paradise, make sure to refer a friend or a few to SlotsLV and we'll reward you with a bonus.
Play Gemhalla Slot Game at SlotsLV Casino Now
In the Gemhalla slot at SlotsLV Casino, you blaze your own path of legend. Perhaps, akin to the heroes of yore, you can secure your spot among the online slots immortals with a maximum win of 5,000x your wager and eternal appreciation and admiration for your feats as a slot warrior.