Bonanza Billion Slot Game Review
It's 5:00 PM, and you're walking through the grocery store, looking for something sweet and delicious to satisfy your craving. That plum over there looks perfectly plump… Strangely, a glow emanates around its edge like a crown. You reach for it, and at the first touch of your fingertips, the whole world changes!
The aisles fade away from stark white tiles to grassy, green hills. The bread shelf warps and bends into a pile of juicy watermelons and cherries. And the cheesy song over the loudspeaker mysteriously changes its tune to an angelic harp and the sound of chirping birds.
You've been swept up in a fruity adventure and kerplunked inside the SlotsLV Bonanza Billion slot, and now you really are in for a treat! Free spins, random multipliers, and bonus buy features are all shimmering over the hills in the yellow sun.
Every fruit and feature is yours to taste, and you'll see precisely how to bundle them up inside this Bonanza Billion slot review.
Let's go and explore!
Should you spin it?
There are a billion reasons why you'll want to play Bonanza Billion slot, but here are just a few:
✓ Sunny and cheerful theme
✓ Extra reels and rows
✓ Simple, but grade-A graphics and animations. In fact, it's one of our slots with the best graphics!
✓ Diverse features
✓ No paylines (easy peasy wins!)
✓ Good RTP
However, if you've already got your vitamin F(eatures) for the day, then this is why you may want to pass on the fruity paradise:
X Lower maximum bet
X No characters or storyline
Game Overview: Filled with Delights
As you explore the rolling green pastures producing extra-large, extra-juicy fruits of watermelons, plums, lemons, oranges, and cherries, even the stars, hearts, and gems are glossed over with a tasty candy shine.
Here's what awaits you in this online slot, just beyond the lime-green hill and under the bright blue sky:
6 reels
5 rows
No paylines
Refilling Reels
Bonus Buy feature
Chance x2 feature
Free spins
Random Wilds
Minimum bet: $0.20
Maximum bet: $33.00
Overall RTP: 94.04%
While this game doesn't have the ever-famous Hot Drop Jackpots, it's got a unique set of thrills on its own. You could always play for the Hourly and Daily jackpots when you're done!
Bonanza Billion Features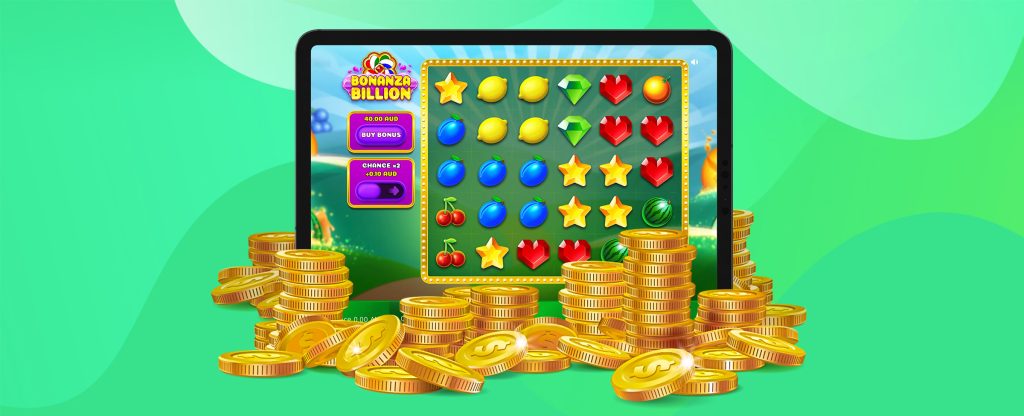 Here, take this empty basket because you've got a happy job to do in the Bonanza Billion slot at SlotsLV, plucking the lush slots features from the reels.
No Paylines
There are no paylines to hold you back from exploring. You simply have to land the minimum number of each symbol. The more symbols you get, the higher your wins are. Tap or click on each symbol on the grid to see how many you need and how much you get paid for each one.
Refill Feature
Every symbol that's involved in a win in this online slot will disappear and allow new symbols to instantly appear in their place, helping you score even more fruit!
Scatter
A colorful pinwheel may roll and tumble over the hills and topple over at your feet. Pick it up – that's your scatter symbol! It pays higher than any other regular symbol in the game, and you need at least four of them to lift you up and whoosh you away to a round of free spins.
Free Spins
A minimum of four pinwheel scatters will have you twirling around and around in a colorful tornado of free spins. The more scatters you get, the more free spins you get as well:
4 scatters = 10 free spins
5 scatters = 20 free spins
6 scatters = 30 free spins
Like some of our SlotsLV online slots, this one has retriggerable spins! Three more scatters is all you need to retrigger 5 more slots free spins.
Multiplier Symbol
A brightly colored bomb is a multiplier symbol that, when it lands, multiplies your wins at random from 2x to 100x. It doesn't stop exploding with the sweet flavor of multipliers until the tumbling sequence is finished!
Buy Bonus
In this fruity paradise, practically anything is possible. If you want to look over the horizon and skip the walk to get there, you can simply buy a round of free spins at the price that appears above the purple "Buy Bonus" button. The next spin will begin the bonus game!
Chance x2
The fruits and candies are bursting with sweetness, just like the Chance x2 feature is bursting with opportunity in this slot online.
Activating this feature with the purple button adds an extra 25% to your bet which infuses the air with magical potential and gives you a higher chance of playing the free spins bonus game.
Since we are a Bitcoin casino, you have yet another opportunity to level up your game. If you deposit and withdraw through crypto, your transactions are over in a flash of rainbow light. But nothing changes during your actual game because you can still view your balance in USD!
If you love Bonanza Billion, you'll also love Delicious Candies!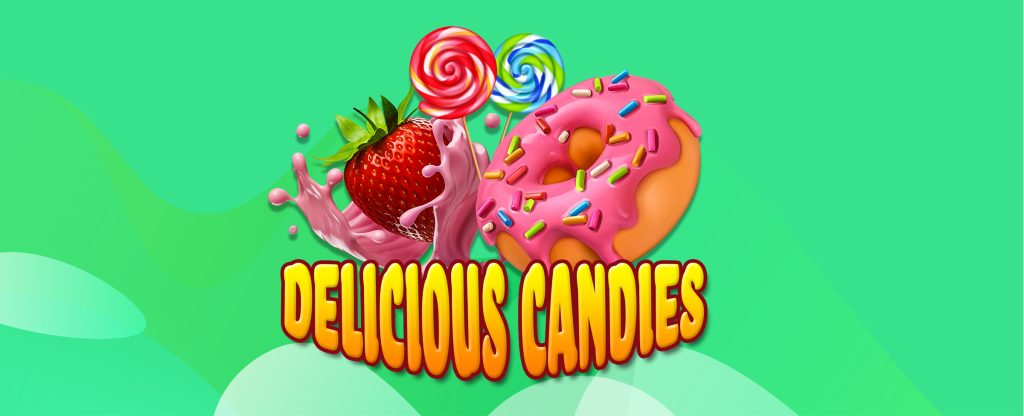 Was this Bonanza Billion online slot review not sweet enough for you? No problem! Play Delicious Candies slot and watch as cakes, donuts, and candies send you on a sugar rush!
You can even play it while you're on the go since you can play slots for free on your phone at SlotsLV. All while you sink your teeth into softly baked sprinkled donuts and frosted cupcakes. You'll fill up on free spins, bonus rounds, and winning multipliers awarded after consecutive non-winning spins.
And if you refer a friend to SlotsLV, we'll give you a bonus to explore the features of either of these games!
Play Bonanza Billion Slot Game at SlotsLV Casino Now
The features of our Bonanza Billion game at SlotsLV Casino really are that sweet and satisfying. Just a small minimum bet is all you need to taste the rainbow. Then you can lie down on the grass, look up at the clear blue sky, and watch as the bonanza of features swirl around your head for a billion wins!