MAKE IT RAIN CASH WITH MONEY-THEME SLOTS
At SlotsLV, it doesn't rain cats and dogs, it rains cold hard cash. Our big money winners are richly rewarded with the taste of a luxe life of champagne, cashmere and caviar… or a home disco and a collection of neon-colored silk tracksuits. Taste, after all, is matter of taste.
But one thing is inarguably delicious, and it's being showered in your own winnings. To help you get there, there's a slew of SlotsLV money-themed slots ready to spin on your way to jackpot joy.
Let's step into the eye of the storm to see what's swirling around us.
SHOPPING SPREE
You've got a VIP pass to the most prestigious shops in the city, and your hosts are ready to welcome you with a cosmo served with a twist.
As you strut into the stores with a spring in your step, adorned with designer threads, shelves of luxurious goods (which you can always afford, of course) will catch your eye. You may notice a few indistinct bags lying around. Be sure to look inside, because gathering three mystery bags over the 5 reels in this game will send you off to the Mystery Grab Bag Bonus Round.
Land five sparkling diamonds over these reels when you play on max bet, and you've got yourself a real-life progressive jackpot that would not only pay for those five diamonds, but leave plenty left over for a real spending extravaganza!
FAST & SEXY
What screams cashed-up better than hot cars? Fast & Sexy is all about flaunting your wealth and impeccable taste as you race through the city streets.
5 reels spin at full speed under the hood of your fine vehicle. When a Wild lands on the third reel, put the pedal to the metal and watch the entire reel expand over regular symbols, transforming them into another opportunity to score the big bucks.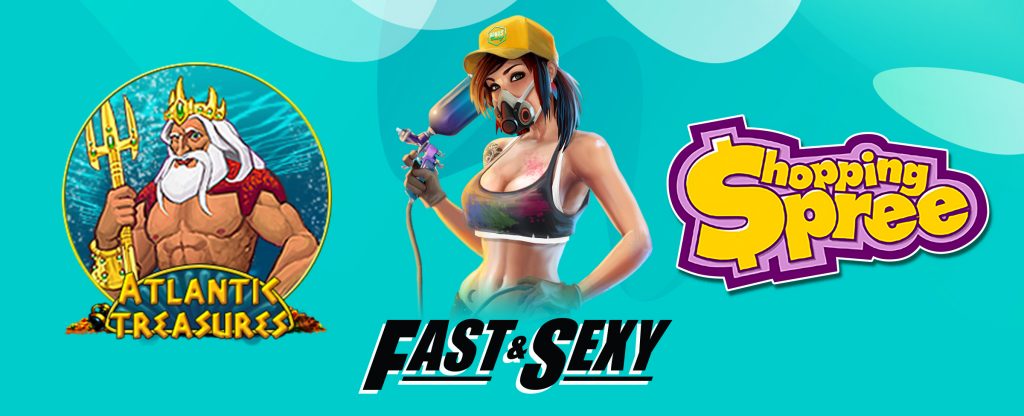 You're not finished showing off your fancy cars and arm candy just yet. When you land three bonus symbols on the reels, you'll race your way to the bonus round with three supercars concealing multipliers. Pick the correct car three times, and add an even greater level of wealth to your rapidly bulging bank account.
ATLANTIC TREASURES
The luxe life may have you walking on air, but it doesn't stop at ground level.
Just a few steps onto the coast from your window-lined beach estate is a secret land of lavish treasure lying just beneath the surface of the waving sea.
Leave your Fendi Gold shades on the sand and take the plunge towards untold treasures. As you approach the underwater gates, the King of Atlantis greets you with his golden pitchfork and a cohort of flirty mermaids.
If you catch the King three or four times on the reels, he'll reward you with 3x and 5x your bet. Before too long, you'll notice a faint sparkle shimmering in the distance. To catch the sparkle and win up to 50x your bet, you'll need to land three or more bonus symbols.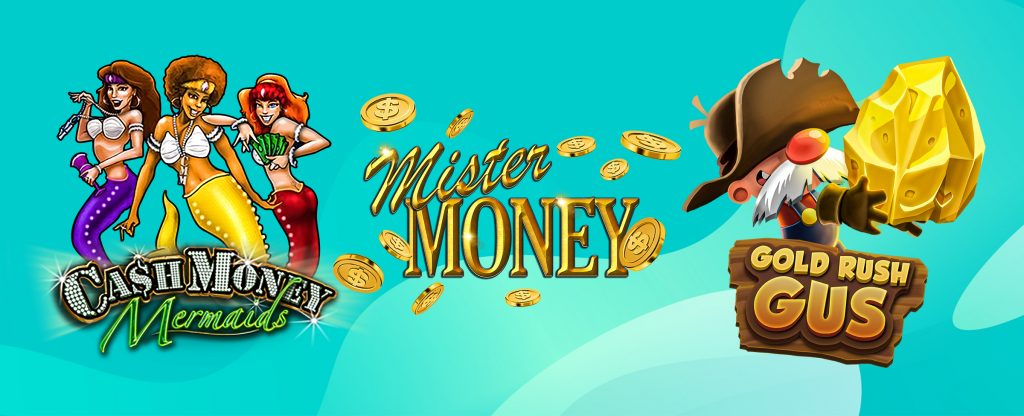 Once you've cashed in on this real money slot, don't forget to come up for air… you've still got three more adventures ahead!
CASH MONEY MERMAIDS
Keep your swimming gear on, because we're not out of the water yet! If you dive back in and swim over to the next town, you'll find yourself in a different scene of the underwater luxe life at Cash Money Mermaids. This town is bubbling over with Patrón at the ritziest party this side of the shoreline.
Money is no matter for these posh party-goers, and they love to lavish their betting guests with free spins and cash. Three or more Cash Money scatters trigger five free spins!
King Tune keeps the beat on the dance floor and the whole party goes wild when the fist-bumping Wild symbol lands on the reels and replaces regular symbols. Anywhere from 1-15 symbols may transform in your favor at the whims of King Tune and his funky party beats.
MISTER MONEY
Have you ever wondered what it's like to be the talk of the town in your finest designer threads? In Mister Money, you won't have too much time to mull it over, because your private jet is about to take off and whisk you away to your holiday home in the Alps.
Mister Money makes your most extravagant dreams come true. He's got bags of cash that stack up around his marble floors, luxury watches and, of course, a gorgeous woman to lavish with expensive gold jewelry.
Luckily for you, this wealthy Mister is looking for a new business partner. You've got all the right skills, so when you land three or more red diamonds over 5 reels and 3 rows in either direction, Mister Money gives you 15 money bags to select for either three free games or an increased multiplier.
GOLD RUSH GUS
If you don't mind getting your hands a little dirty, we know a super guy who's got a secret spot in the West where, as rumor has it, many a treasure hunter has struck gold. "Gold Rush" Gus is his name, and he's got all the equipment you need to follow his lead and start digging for gold.
As you swing your pickaxe over the hard earth, reels break open to reveal gems of all kinds hiding within. Dig your shovel in nice and deep and try to stuff as many colored gems as you can fit in your pockets.
If you manage to dig out five green or red gems, a mini progressive jackpot is yours. If you happen to find the glowing blue-white gem inside the treasure chest, then you'll want to sit down immediately, because you're about to swoop up the whole progressive jackpot – and it's enough to make you dizzy. Just don't forget your new friend Gus!
Whether you're spending money like it's going out of fashion, revving up the engine of your sports car for a ritzy race, diving into the sea for parties or maritime treasure, or joining your monied-up squad for an extravagant night out, be sure to bring your umbrella! These overflowing SlotsLV money slots are sure to rain dollar signs, and you want to make sure you can catch them all.
Forecast: cloudy with a chance of cash.