What's The Slot For Me In 2023? Take the Quiz!
As the world welcomes in 2023 with the soaring of fireworks into the night sky and the cheers of friends and strangers alike, you'll likely start to think of all the things you want to do in the New Year. And you might even be thinking of all the SlotsLV new slots you'd like to try, too!
While we have too many new games to count, because we get new games all the time, choosing the best new online slots for your casino 2023 experience won't be hard; they'll be hellooooooo easy!
SlotsLV Casino has gone to great lengths to whittle down a huge field of contenders to just a few of our very best new slot games. To see which online slot will be your new go-to going into the new year, kiss your 2022 slots faves goodbye (for now!) and answer a few quick quiz questions. Then get ready for your own, personal result!
The ball is about to drop with 2023's best slot, made just for you, in 3…2… and question 1.
Share Your Results on Social Media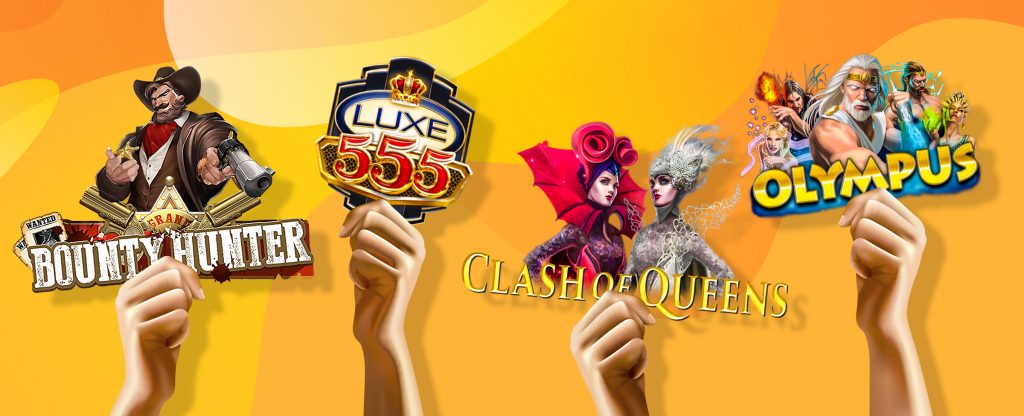 So which of these new slots will you be playing in 2023?
Will you be living out a fairytale with the Red and White Queens, relaxing into a life of luxury in the members-only room at an old-school casino, putting a gang of diamond thieves behind bars, or climbing the mountain of the gods to collect on heavenly prizes?
Be sure to let us know on Twitter @SlotsLV, which slot game we can find you in next year, and see who else got the same game as you!
More About Clash of Queens
When it comes to online slots, some would prefer to forget they're in a slot game altogether, and just jump inside the story and live it for themselves.
The Clash of Queens slot game is a fantastical escape for anyone with an active imagination, just like Alice had inside Through the Looking Glass. The story picks up from the moment you spin the reels and the Red and the White Queens begin vying for your attention.
Which Queen will you pledge your allegiance to? Your answer is important, as it will determine your fate of prizes.
For another surefire way to escape the world and live out your fantasies, try playing a game with Hot Drop Jackpots. These must drop jackpots trigger every hour, which is what every slot fantasy is made of!
More About Luxe 555
When you start your casino 2023 experience, you'll discover there's some online slots that always bring classic vibes. This includes Luxe 555: it's all about being lavish yet retro, and you can hear this game calling your name. Or, more likely, it's sending you an exclusive gold-leafed, hand-printed invitation. Dress code: Black Tie.
You're invited to lounge in style on leather-quilted walls, each threaded with gold. You don't need too many reels or rows to keep you occupied: 3 and 3 should do just fine. You're more interested in the flair of the features, like how you can select your own choice of multiplier prizes on each line. Stunning!
A classic game like this one is perfect to play with an equally stylish friend. If you bring one along, we'll give you a truly luxe referral bonus.
More About Bounty Hunter
If you were ever wondering who was on the naughty or nice list during 2022, the criminals inside Bounty Hunter leave you with no question at all. These thieves have been nothing but bad bad bad to the bone, and an action-loving, mystery-solving online slots player like yourself is the kind of sleuth fit to track them down and make them pay!
Or rather… make them pay you.
You'll be hot on their heels as you spin over the reels and put the bad guys behind bars to trigger re-spins. They may break out at some point in the event of a certain spin, but you thrive in the action so you'll know what to do: chase down four or more multiplying Wilds to multiply all your wins by 5x! Then the bounty will be all yours.
More About Olympus
An adventurous person like yourself will be ready to embrace any challenge in 2023, including climbing a mountain overseen by the Greek gods!
Climbing Mount Olympus is quite the undertaking, but you don't mind – it's right up your alley. When you reach the peak, Zeus himself will part the clouds to let you come through. Then you'll have to navigate the 243 heavenly paylines to discover a range of free spins and multiplier features – five different features to be exact! – that are the ideal complement to your bold and daring spirit.
If the gods are feeling generous in this new slot, you'll be rushing down that mountain with a mountain of cash!
---
SlotsLV is a crypto casino! You can deposit and play all these slots online with crypto for as little as $10!